Data Center Management is very crucial when you want to protect the data across your enterprise and avoid security breaches. It includes large sets of data and hardware systems that are part of the enterprise network.
The hosted devices within a data center need to be managed continuously, and most of such management can be automated now. A well-functioning data center management includes upgrading hardware and software/operating systems, managing data storage and distribution, technical support, backup policies, etc.
Whenever the end user raises an issue, it often ends up with a server, bandwidth, or application problem. The network admins need to go through multiple monitors and identify the root cause of the issue, from server performance and bandwidth bottlenecks to application performances. Motadata AIOps helps you find the correlation between the data and events.
Monitor Data Center Performance with Motadata AIOps
Motadata AIOps is a network management solution that helps monitor your data canter and offers a comprehensive management tool for your hybrid or on-prem data centers. You can proactively monitor the physical and virtual servers, applications, and bandwidth, managing all the issues from a single console.
Motadata offers a single console where all the issues can be monitored at once, be it server, bandwidth, or application problems. This makes it easy for the network admins to track the alarms in real-time, identify the exact cause of the issue and resolve the same before they disturb the user experience. It helps you improve the overall efficiency of the data center and manage them effectively.
Monitoring Network Devices with Motadata AIOps
Motadata AIOps, a data center management solution, helps monitor all your network devices and interfaces and ensures all the devices are connected well and efficiently. For example, monitoring routers, firewalls, and L3 switches would help build concrete network infrastructure.
You can also monitor the flow and traffic data transmitted across the network and VLANs. Keep track of uplinks and ISP links to enhance your performance and efficiency of network operations.
Server & Application Monitoring
Get complete visibility into physical and virtual servers along with virtual cluster, host, and virtual machine performances with Motadata AIOps running on both Linux and windows machines. Manage multi-vendor storage environment usage and ensure that your storage devices function optimally.
Perform capacity planning and forecasting with Motadata AIOps, which can help you clearly understand forthcoming issues and required investments. Get a complete view of the performance of your IT infrastructure with end-to-end mapping of applications, web servers, databases, and connections to the servers.
Monitor Performance Critical Metrics with Motadata AIOps
Motadata AIOps discovers business-critical applications and databases based on credential profiles. Once they are registered on the portal, Motadata automatically provides the performance metrics based on your device type and severity.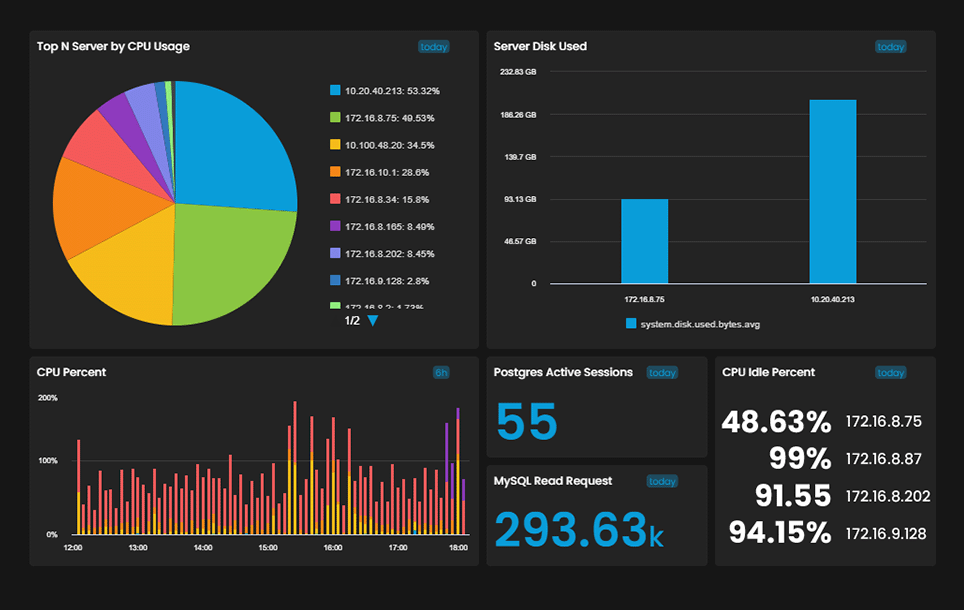 It lets you monitor both your physical and virtual data center servers with the help of monitoring protocols and collects device performance metrics. Get insights about the key metrics such as sessions, Database I/O, caches, transactions, etc. Configure policies for specific databases and set thresholds to get alerts.
Motadata AIOps also monitors CPU temperature from the single console, allowing you to identify whenever the hardware devices are overheating and fix the problem before any damage is done to the devices. In addition, UPS monitoring lets you keep track of the different metrics such as voltage, and current battery status, ensuring dependable network uptime round the clock.
Comprehensive Dashboard
Create dedicated and customized dashboards to showcase all the information about your network infrastructure in a single pane that provides a detailed and complete overview of data center operations. Add widgets as your requirements and know about your data center's health and performance.
Stay up to date and get real-time information about your data center's performances so that any performance-related issues can be discovered and resolved instantly.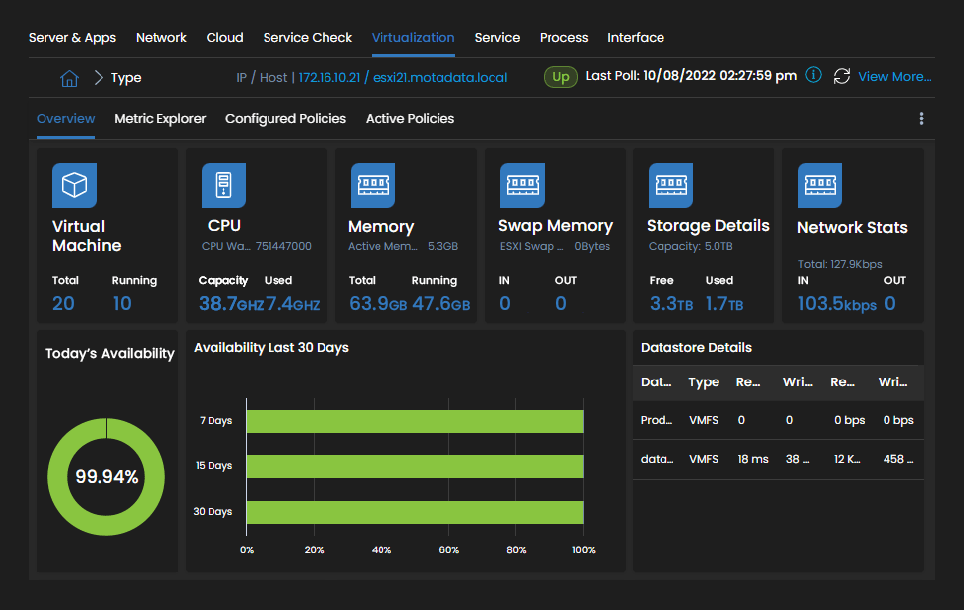 Topology Visualization
Visualize your data centers and network infrastructure with Topology mapping and get complete visibility of the enterprise with Motadata AIOps. Get the status of every server and network device from the topology and a visual representation of the overall status of your data center.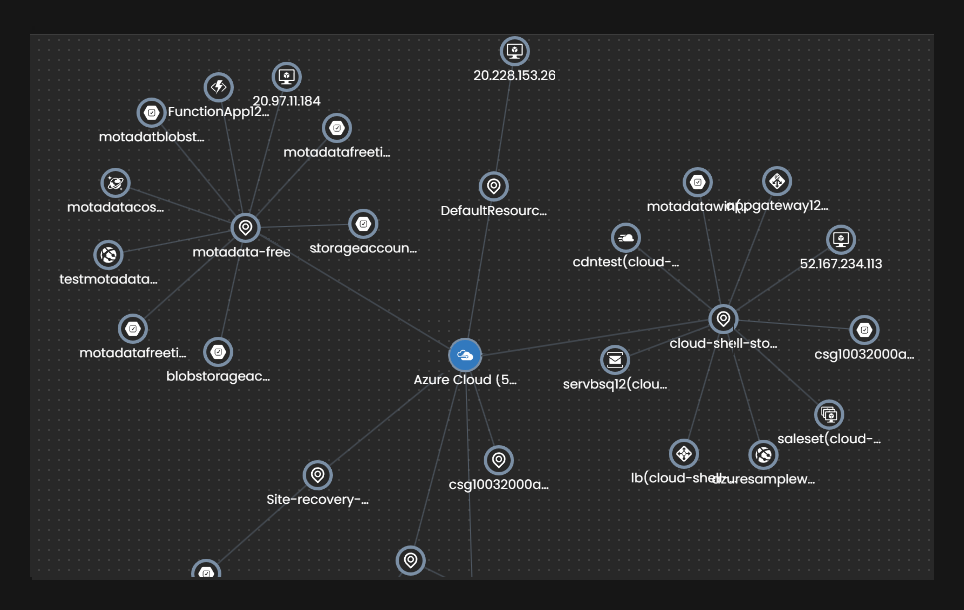 Get the out-of-the-box detailed and rich report, providing you complete insights into Data Center operations, their status, health, and performance. The reports help you execute capacity planning and plan your upcoming investments.
It also helps you meet your SLA compliances and ensure every process and operation perform efficiently and meet your requirements. This makes your enterprise network healthy and robust, helping you offer an optimum user experience.
Motadata AIOps is an advanced monitoring solution built with AI-ML abilities that keep your Datacenter and IT infrastructure robust and healthy with efficient performances. In addition, the anomalies and forecasting abilities make it a powerful monitoring solution that saves you from hazardous issues and resolves them before they cause any inevitable damage.