It is essential to monitor configuration changes and manage security compliances within Cisco switches to get better visibility into network infrastructures. With Cisco management, you can also automate mundane network operations, meet enterprise compliances, and generate detailed, actionable reports as well.
Motadata AIOps helps you manage switch configurations, compare configuration details and versions, and automate firmware upgrades. As a result, you do not need to manually connect your devices with Telnet or SSH to make changes to the devices. Instead, with Motadata AIOps on board, you can manage Cisco switches and modify them directly from the console.
Cisco Switch Configuration Management
Managing the number of switches with complex IT infrastructure can be challenging. Motadata AIOps lets you manage the Cisco switch inventory operating across the network. It stores the backs up of Cisco switch configurations and restores the same based on requirements and circumstances, managing Cisco switch configurations.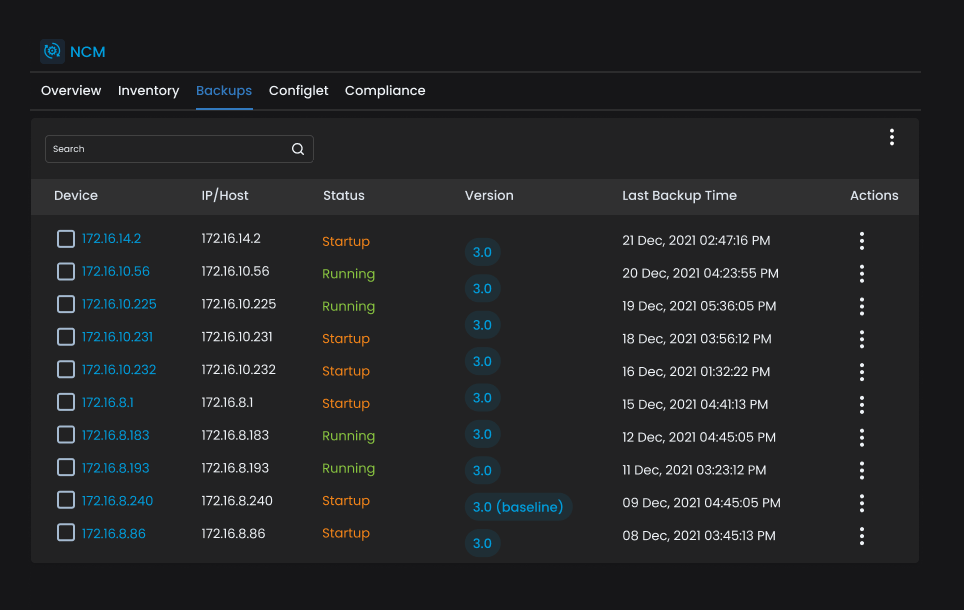 The Baselining lets you configure a golden configuration and compare and discover the configuration changes with discovered Cisco switches. In addition, version comparing provides you the information about Add-on configures to be added or missing in the discovered Cisco switches.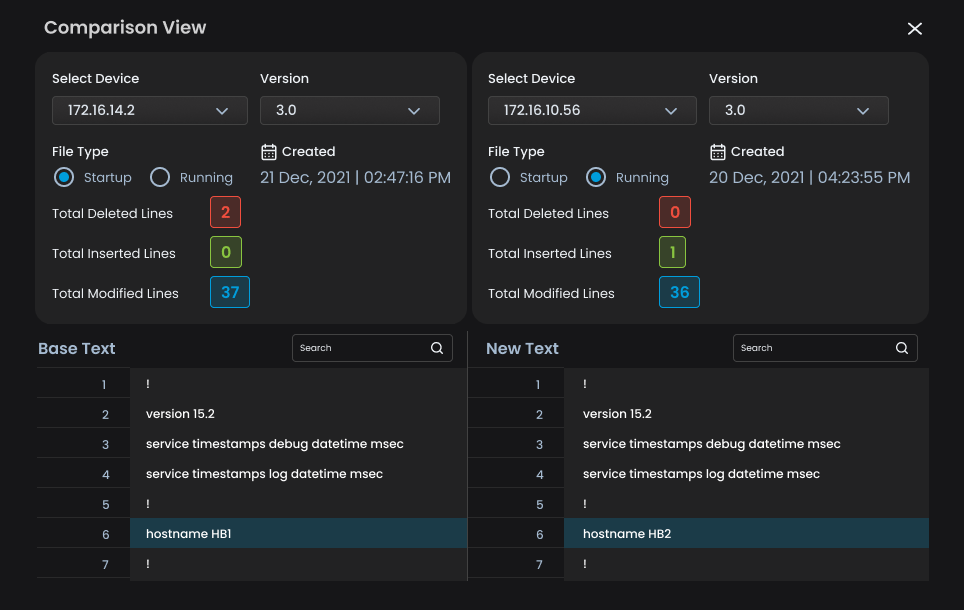 Template-Based Architecture
Motadata AIOps provides out-of-the-box templates for all versions and models of Cisco switches and switch series like SMB, Catalyst, and Nexus and discovers the Cisco switches without any human intervention.
With Cisco switch management, many configuration tasks must be performed periodically, such as enabling/disabling SNMP, changing the description of interfaces and assigned VLANs, and checking port availability. With Cisco switch management, certain tasks can be automated, saving a lot of time and human effort.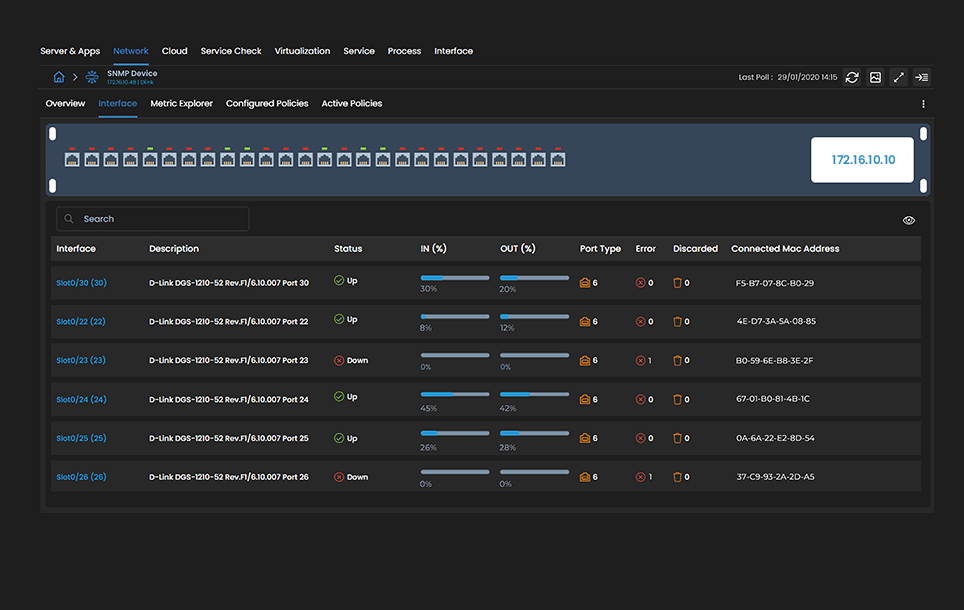 You can configure a set of commands and actions with Configlet, a configuration Runbook, which can provide support to meet the various requirements based on use cases. From automation to executing Runbook, configlet can make every task perform efficiently.
Meet Security Compliances
The complex architectures and number of hardware devices make the entire network more vulnerable and open to security breaches. Cisco Switch Management provides a set of standard security compliances with pre-defined rules and policies.
It also displays the score for each security compliance, such as CIS, HIPPA, PCI, and CISCO SOX, which can help you make decisions to enhance the security and make a secure, robust and powerful network infrastructure.
Monitor Critical Metrics and Out-of-the-box Dashboards
Motadata monitors critical performance metrics and lets you analyze the same to make confident decisions and resolve the issues that disturb the network operations. As a result, get complete visibility into network transmission and obtain efficient network performance.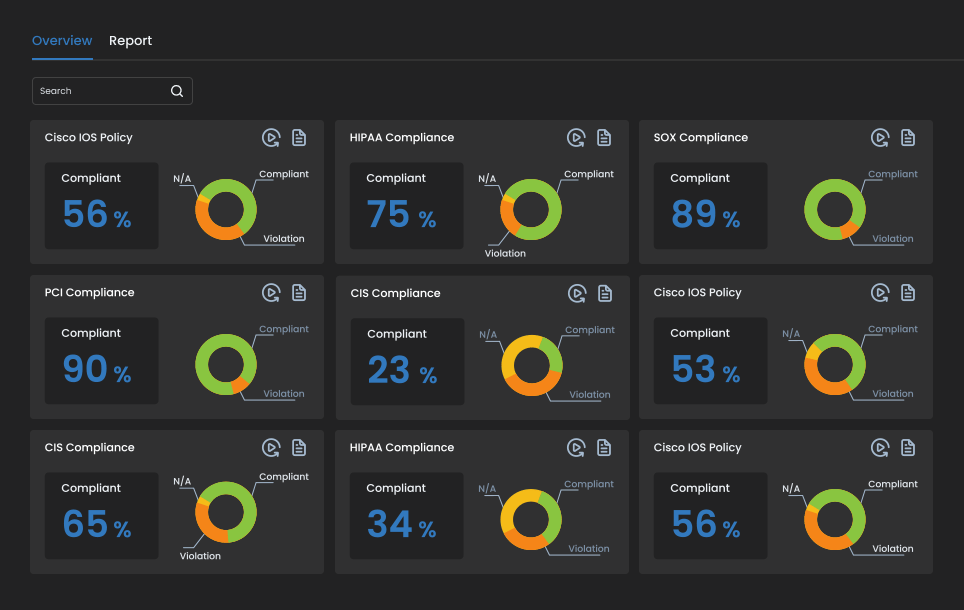 You can get out-of-the-box customized and pre-built monitoring dashboards that provide complete transparency into the switch operations and keep an eye on all critical metrics in real time, making it a proactive approach rather than a reactive one.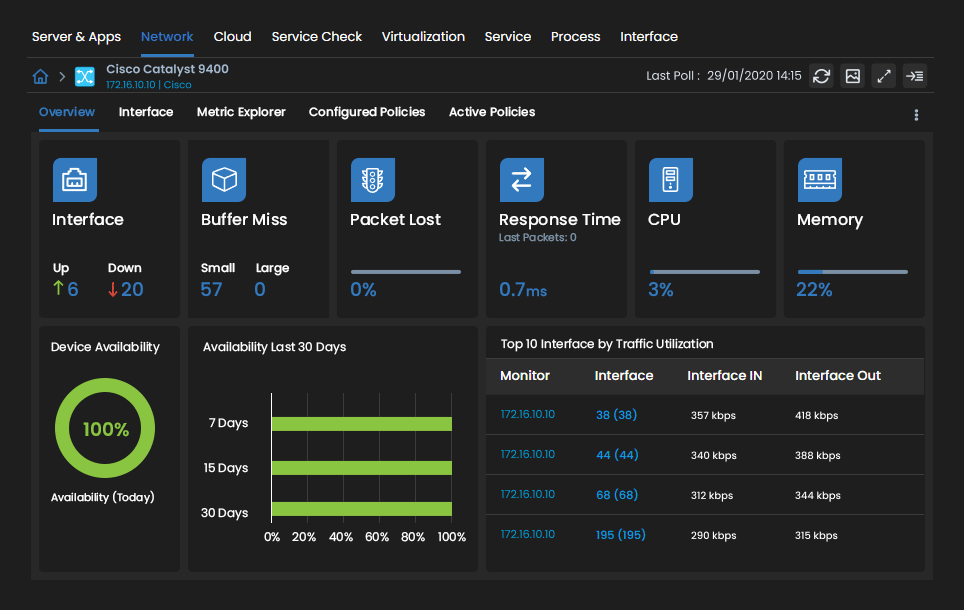 Comprehensive Reports with Motadata AIOps
Configure comprehensive out-of-the-box compliance and audit reports that help you keep your Cisco switches and overall network secured. It also offers by-default network configuration reports with running issues, configuration changes, and configuration analysis information.
The EOL and EOS reports provide complete visibility into capacity planning and let you make confident decisions with future upgrades. It also offers compliance reports, performance reports, and customized reports.
As Cisco switches run business-critical network traffic, Cisco devices are one of your environment's most crucial network elements. Cisco devices are responsible for processing and transmitting data across the globe. A significant investment in Cisco devices makes Cisco management essential to monitor, and Motadata AIOps provides a complete Cisco switch management with AI-ML capabilities and a wide range of features.