Alongside Hyper-V and VMware, Citrix technologies have contributed to a larger part of IT enterprises by providing virtual machines and remote devices. The end user gets a unique dedicated OS and a system with every virtual machine. Monitoring the Citrix worker host/session server is never enough with different tiers running the Citrix Services.
Motadata AIOps, a citrix monitoring tool, lets you monitor, diagnose and report the performance of Citrix virtual applications and desktops. Complete visibility, correlation of issues, and detailed root cause analysis of performance issues with Motadata, providing maximum uptime and optimum performance.
Citrix Monitoring With Motadata AIOps
Citrix Virtual Apps offer secured and remote access to Windows applications and desktops from any remote device, which can be vulnerable and slow. With Motadata AIOps, you can discover the factors that slow down the applications and performances running on a Citrix Virtual App Server.
Motadata AIOps, a citrix monitoring tool, helps drill down the root cause of the problems occurring in virtual apps and improve overall performance and user experience.
You can also analyze the Citrix logs with a customized and pre-configured log parser. It captures Citrix Virtual Apps and Desktops configuration changes and administrator activities in the form of logs to diagnose and troubleshoot problems. Monitor remote desktops more closely and track and interpret every activity with Citrix Xen log parsing.
Citrix Xen Discovery
Motadata AIOps lets you discover Citrix Xen and Citrix Xen clusters with the help of credential profiles. Once the virtual machines are identified, you can display the key metrics and configuration details under the virtualization category.
Proactive Monitoring & Critical Metrics
Motadata AIOps helps you monitor the number of failed database connections, growth of virtual app servers, license servers, and busy XML threads. By monitoring these factors, you can view the critical performance metrics of the virtual app server.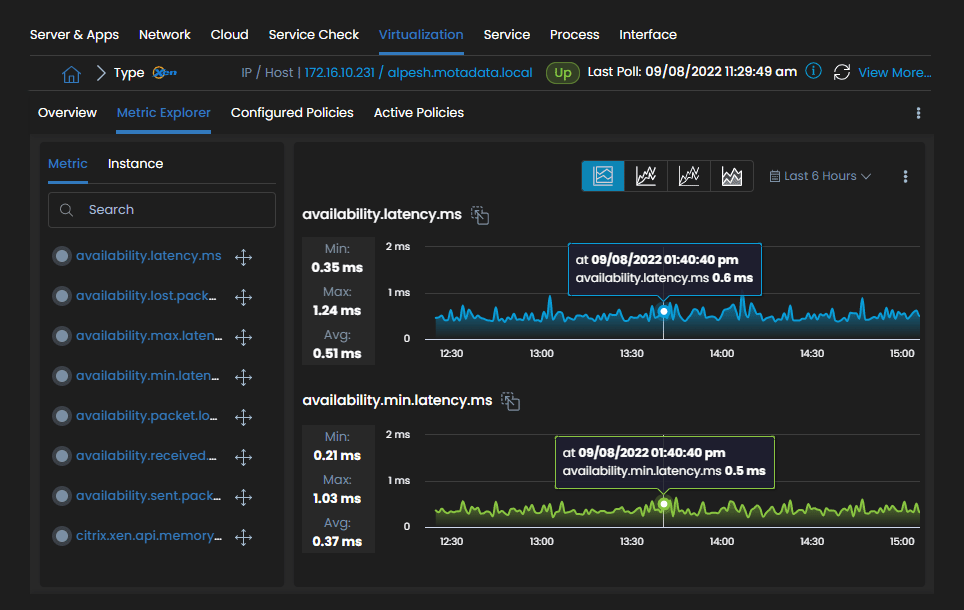 You can display the metrics that impact Citrix Xen's performance and make confident decisions with the help of a citrix performance monitor, Motadata AIOps. Metrics such as packet lost/sent/received, memory allocation/used, CPU percentage/sockets, etc.
Discovering Delays & Network Latency
Motadata AIOps lets you track the transaction time and the number of requests processed at a time, which helps discover load on XML brokers and bottlenecks in transactions.
When an application is hosted on a virtual app server, Motadata AIOps, a XenServer performance monitor, lets you monitor the round trip time and available bandwidth and determine the network delay between the client and virtual app server.
Dashboard & Alerts
The virtual machines and Citrix Xen make the network architecture complex, making the visibility across the infrastructure challenging. Motadata AIOps is complete enterprise network management tool that helps you visualize each Citrix Xen and cluster with comprehensive and detailed dashboards.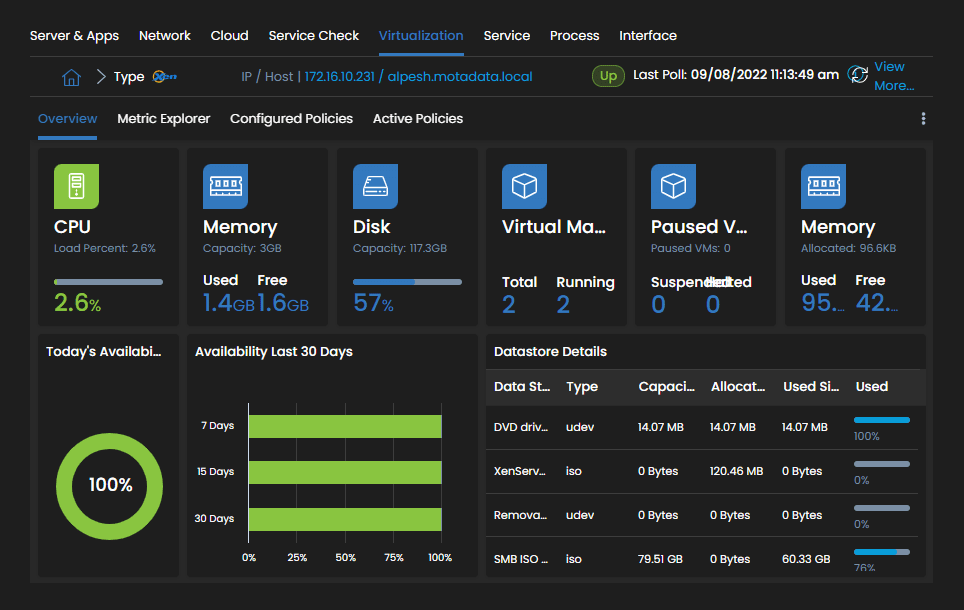 Motadata AIOps provides out-of-the-box Citrix Virtual App Server Performance alerts the network admins whenever the configured thresholds are met. The prioritized and important notifications keep your inbox clean and notify only when it matters.
Motadata AIOps is designed with Deep Learning Framework and AI-ML facilities that identifies and eliminates the VM issues, helping the virtual environment perform seamlessly. By monitoring Citrix Xen and Citrix Xen clusters, you can nullify the security threats and stay one step ahead by monitoring logs and events.