The Network interface performance and network traffic rely on each other. Therefore, monitoring the Network Interface can help obtain healthy performance and nullify slow network traffic. Motadata AIOps helps you with comprehensive bandwidth analysis and performance monitoring.
Motadata AIOps offers one comprehensive end-to-end solution to resolve network performance issues, monitors interfaces proactively, and gets real-time insight reports of traffic and interface parameters.
Network Interface Monitoring with Motadata AIOps
Motadata provides a single screen to monitor each and every application, device, and interface. It also comes with a hand full of capabilities as mentioned below.
Identify, diagnose, and troubleshoot network performance issues
Track response time, availability, and uptime of SNMP-enabled devices like routers, switches, etc.
Monitoring critical events using SNMP Traps
Find the root cause of slow network and quickly solve it with remedy actions
Utilize network bandwidths and monitor overall interface performance alongside network flow data
Monitoring Switch Interfaces
Network devices do the heavy lifting in network operations, handling routing and forwarding, and be the point of contact for WAN and the internet. The distributed and access switches build network infrastructure in an IT organization. Motadata helps you discover all the switches in a network by discovering the core switch.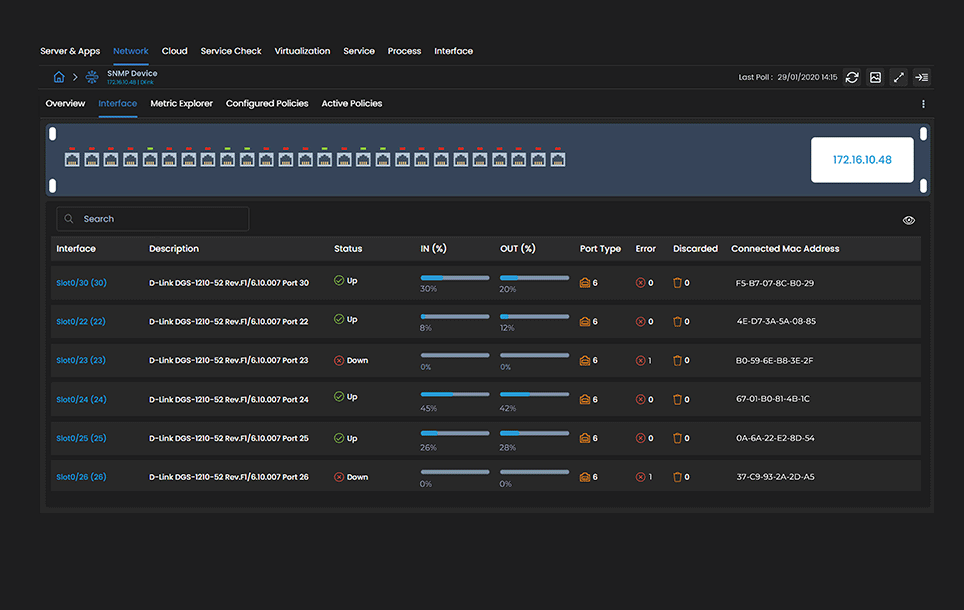 It maps switches, firewalls, routers, and interfaces, providing you a holistic visualization of your network architecture. The mapping helps you discover the interfaces with performance issues. For example, configuring uplink dependency can prevent unnecessary alarms when the core or distributed switch is down.
Bandwidth Utilization & Traffic Trends
With the unusual traffic, organizations often go through bandwidth issues. Sometimes, the heavy traffic makes the network slow; otherwise, bandwidth often goes underutilized. Motadata AIOps monitors the network data coming from NetFlow, sFlow, JFlow, etc. This leads to identifying the usage of bandwidth consumed by applications, users, and protocols. With Flow monitoring and packet capturing, Motadata can discover, diagnose and resolve network performance issues.
Businesses that rely on crucial cloud-based services must prioritize bandwidth allocations. Motadata AIOps helps obtain bandwidth utilization and improves the quality of service.
Monitoring Key Interface Metrics
Motadata AIOps lets you monitor various interface metrics such as error rate, discard rate, etc. In addition, the Router metrics, such as bandwidth usage, buffer miss, CPU and memory usage, response time, etc., help you make routing decisions.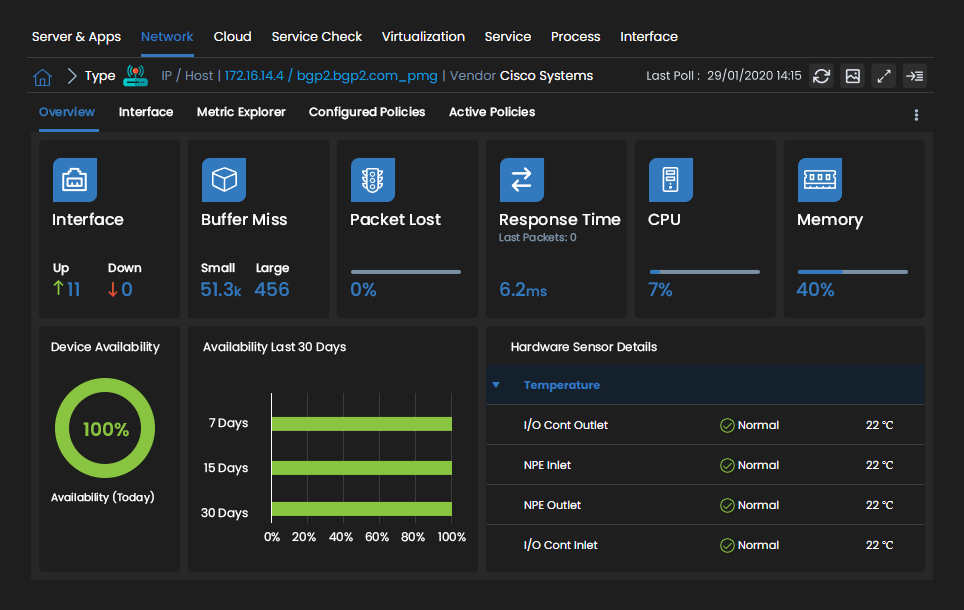 It is challenging to update the description and details of each and every interface manually as it consumes lots of time and effort as well. Motadata AIOps simplifies the process of interface monitoring and updates metrics automatically.
Interface Visualization & Dashboard
Motadata AIOps offers detailed interface graphs of various metrics such as Discard rate, Interface utilization, interface traffic, error rates, etc. The graphs are helpful for monitoring the performance of interfaces for a particular time period.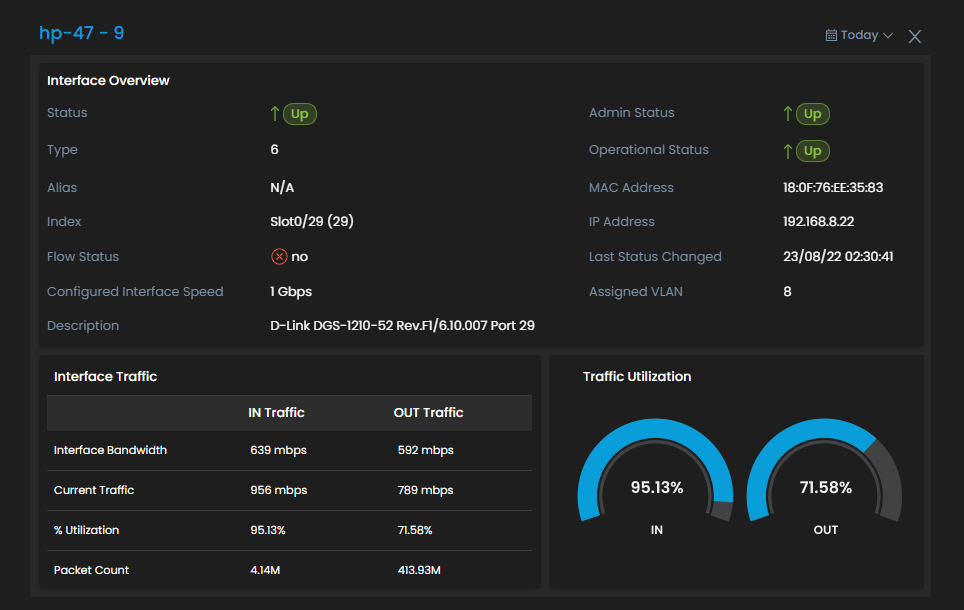 The graphs can also be generated as reports, which can be helpful for audit or presentation purposes. In addition, Motadata AIOps offers pre-built, default, out-of-the-box reports for such monitoring metrics, which can be helpful for capacity planning and decision-making.
AIOps powered by Motadata is one unified monitoring solution created with cutting-edge technologies like Artificial Intelligence and Machine Learning. It makes the network smart by monitoring all the network interfaces.
It also detects the data silos as well. Data Silos is a situation where a large part of the organization goes through inefficiency and improper utilization. The monitoring tools eliminate them and improve the network's overall performance and health. AIOps can help you make your network healthy by following intelligent and forecasting monitoring techniques.