It is essential to analyze the data and get rich information from data to make confident and required actions. Motadata AIOps offers customized and insightful network management dashboards that help identify network issues, making network admin's tasks easy.
Motadata AIOps is a comprehensive network management solution that transforms the monitored metrics data into actionable intelligence information at a centralized console for the enterprise. In addition, the IT admins can customize the dashboards as per their requirements and scale them to meet IT management needs.
Dashboards for Network Administration
Addressing issues immediately and displaying real-time data on dashboards to trace the metrics
An alerting and reporting capabilities supported by dashboards to reach the root of network problems and discover the cause of the incidents
Customized widgets to keep a close eye on prioritized and crucial metrics. Export the metrics in various formats such as pie, graph, bar, grid, sankey, etc.
Keeping critical alerts on the dashboard and ensuring the good health of network and network devices
Get default dashboards for various departments and requirements such as business value, infrastructure view, or categorize view
Navigate between different dashboards, screens, and views easily with NOC (Network Operation Center) view
Get an out-of-box tailor-made dashboard for each technology stack, providing an eagle-eye view of critical aspects of the infrastructure
Top Network Management Dashboard with Motadata AIOps
Motadata AIOps offers unique and out-of-the-box top ten dashboards with various measured metrics. It represents the top metrics from the entire network architecture from the monitored network services, devices, and metrics. Here are some of the examples of the Top Ten dashboards.
Top Ten Nodes by Average CPU Load
Top Ten Volumes by Disk Space Used
Top Ten Interfaces / Wireless Clients by Traffic
Top Ten Errors & Discards
Top Ten Nodes / Components by Current Response Time
Top Ten Nodes by Percent Packet Loss
Top Ten NetFlow Sources by % Utilization
Top Ten Monitored Processes by CPU Load / Physical Memory / Virtual Memory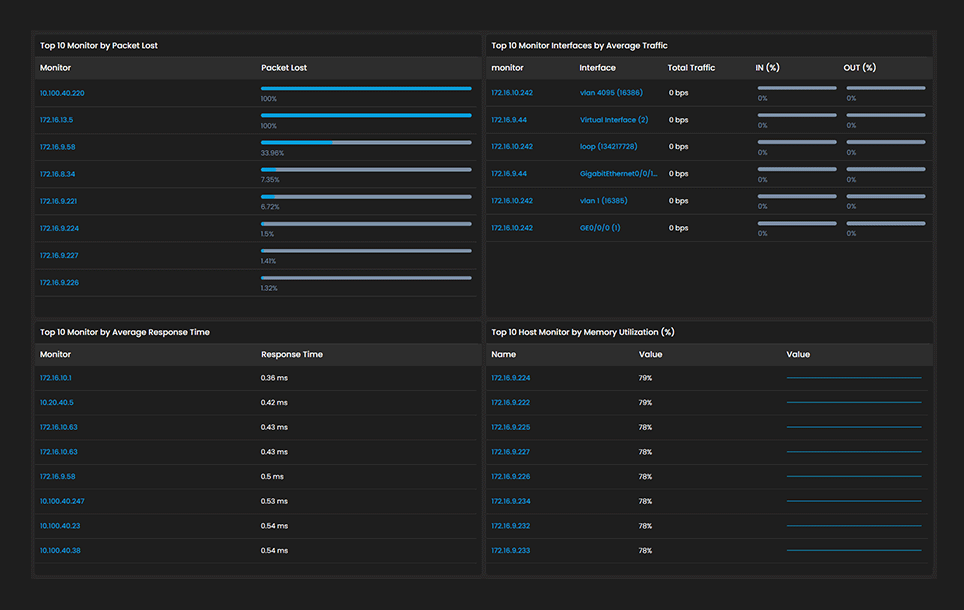 Comparison Dashboards & Snapshots
Motadata Dashboards are advanced and powerful and offer a range of varieties. The comparison feature lets you compare two specific metrics' performance at two different timelines. For example, a dashboard, comparing real-time live CPU usage with yesterday's CPU usage.
You can compare two devices based on their performance metrics as well. For example, a dashboard comparing live bandwidth usage of two different network devices.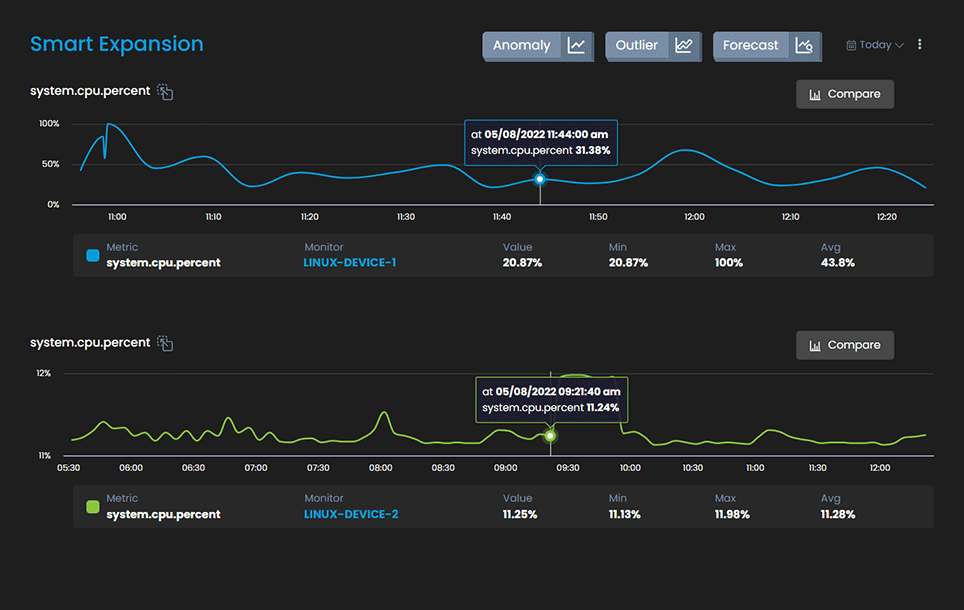 Motadata lets you capture a dashboard snapshot and share it without any third-party tool integration – instant and handy.
Problems Area – Motadata Alerts
Motadata AIOps offers you a particular Network Management Dashboard dedicated to showcase the live issue and alerts going on across the network. You can view the critical alerts priority-wise and take actions according to the criticalness.
Get complete visibility into network operations by live Motadata alerts, showcasing the overall health of network devices and services.
You can add custom widgets and KPIs per your preferences and priorities, helping you make confident decisions and enhance your network's performance. In addition, the AI-ML abilities predict the potential alerts and showcase them on dashboards, helping you resolve the issues before they cause any hazardous damage.