Deep Visibility Combined with
Full-stack Monitoring and Analytics
With a single and common platform for monitoring, log indexing, visualizing, and alerting on all events across your hybrid infra, we help IT operations leaders deliver better business outcomes through Data-Driven intelligence. Discover and monitor the cloud services, VMs, containers, networks, devices, logs, events, and much more under one advanced AI-powered platform.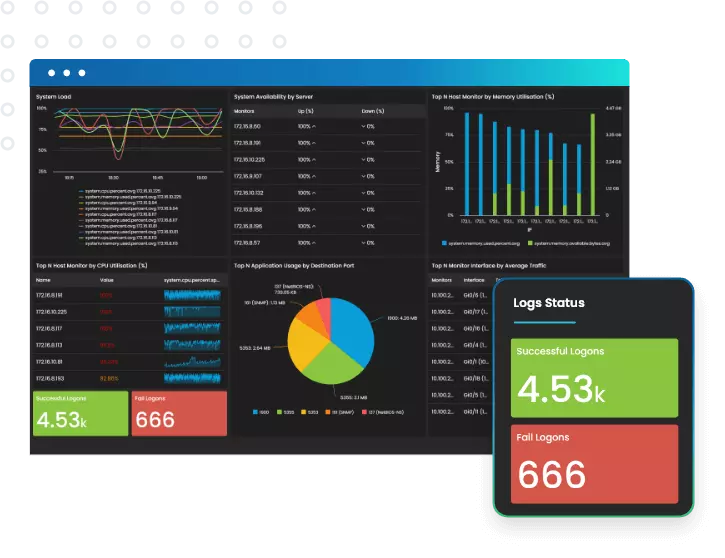 Where
Nothing Stays Unmonitored
Motadata AIOps provides extensive data collection capabilities both with the agent and agent-less methods across your on-premise, cloud, and hybrid infrastructure.
Access monitoring apps for thousands of devices and technologies across your network, server, application, and cloud layer.
Collect everything with an agent or agent-less collection including metrics, logs, events, traffic, and streaming data.
Eliminate point monitoring tools by bringing all your monitoring data to one place to gain deep visibility.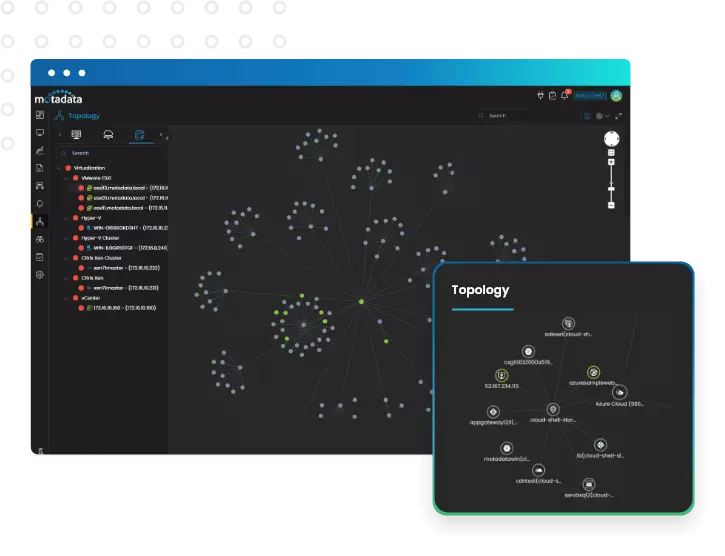 Execute
Faster Deployment and Auto Configuration
With auto-discovery and pre-defined monitoring apps, your hybrid infra resources are seamlessly added to Motadata AIOps in real-time.
Topology Views: See continuously changing IT relationships based on discovery protocols and even network traffic conversations.
Dashboards & Reports: Comprehensive visualization and dashboard capabilities that take your monitoring experience to the next level that requires no query language.
Advance Data Explorers: Advanced and AI-Driven data explorers help you understand data and track the impact of every metric/process running in your stack.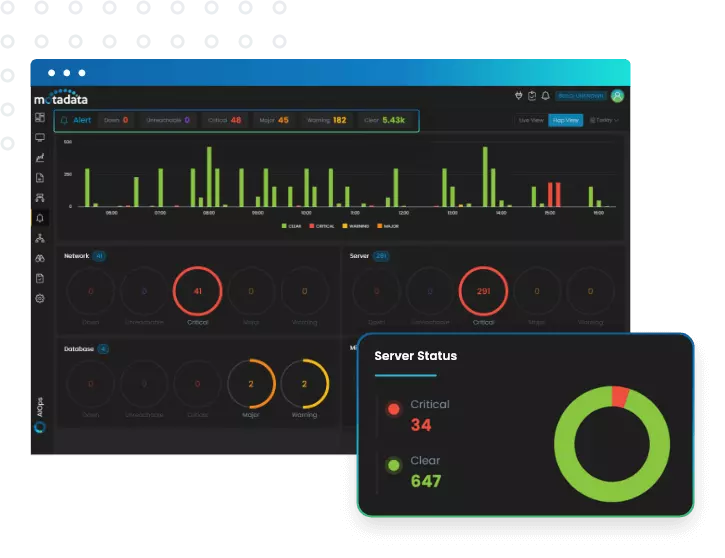 Acquire
The Right Signals
DevOps and IT teams need the right event context to confidently identify the critical and the not-so-critical issues
Machine learning-powered alerting gives capabilities to extract meaningful insight to separate signals from noise.
Real-time scanning for auto-discovery and dependency mapping to correlate IT service dependencies.
Low-level data collection on agents – as low as per second for rapid identification and resolution.
Level up your Infrastructure Monitoring with
Motadata AIOps
Motadata AI-Powered NMS
The Perfect Solution
For Automated Network Performance Monitoring
Monitor every bit of your IT infrastructure with a multi-vendor Network Management System.
Get end-to-end performance monitoring.
Provides complete 360-degree visibility.
Provides a single dashboard for all metrics.
Gives actionable operational intelligence insights.
Explore Infrastructure Monitoring
Infrastructure Monitoring powered by Motadata monitors anything and everything that makes your infrastructure healthy and smart, and your business grow.
Motadata NMS
Your One-Stop Solution for Entire IT Infrastructure
Motadata's unified NMS services offer a highly scalable AI-driven solution for Service Assurance, Orchestration & Automation, enabling companies to meet their network management objectives. Motadata will also give you network observability with a comprehensive application and infrastructure perspective so you can find and fix issues quickly.
By TEAM
Learn how different teams can leverage our platform to improve their productivity and streamline their internal processes.
By USECASEs
Learn about the problems that our AIOps and ServiceOps platform can solve and the benefits they can provide.
Our Success Stories
See How Companies Like Yours Use Our Platform For Actionable Insight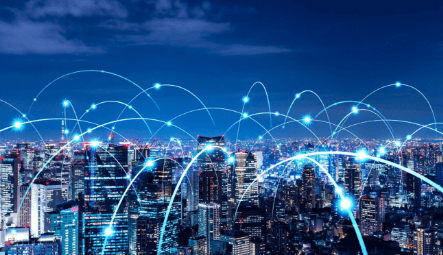 TELECOM
More than 50 metrics analyzed per device
RADWIN, Israel selects Motadata as OEM Partner for its integrated NMS product suite for carrier-g...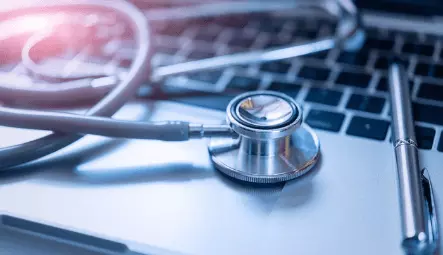 HEALTHCARE
1200+ Assets Monitored and Managed
Motadata helped Emirates Healthcare to streamline IT operations with Smart Automation, to handle ...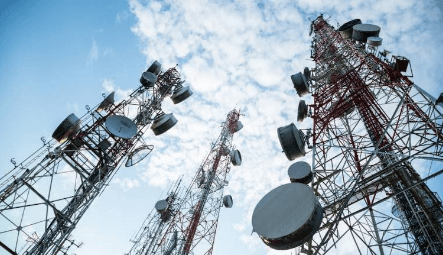 TELECOM
More than 27 GB of log data processed per day
Bharti Airtel, A leading global telecommunications company selected Motadata for its unified feat...
Do You Have Any Questions? Please Ask Here We Are Ready to Help You Out
If your question is not listed here, please feel free to reach out.