With the complex and robust network infrastructure, the need to monitor the same system also increases to grow your business and perform efficiently. Therefore, monitoring Ubuntu, specially when it keeps track of your capacity, health, and activities occurring on your applications and hosts, becomes inevitable.
Motadata AIOps tracks all the computer resources, detects potential issues, and helps resolve the problems before they cause any hazardous impacts on the system. It also helps you identify service failures and improve the overall end-user experience.
Better Network Performance with Motadata AIOps
With minimal dependencies and an Agent-based Monitoring, Motadata AIOps can be configured on your system to monitor all your Ubuntu machines and ensure better performance. With the help of a packet agent, Motadata AIOps captures the packets on your network interfaces, helping you resolve the issues efficiently.
Motadata AIOps supports both agent and agentless monitoring to collect logs, critical metrics, and events. The AI-ML abilities help detect the anomaly. In addition, you can also configure threshold-based alerts based on metrics and filters to get notified whenever something goes wrong across the infrastructure.
Complete Visibility
The wide range of features lets you monitor dozens of Ubuntu-specific metrics such as CPU, memory, processes, disk utilization, and much more. These metrics provide rich and actionable insights into activities and events, making the system more transparent than ever.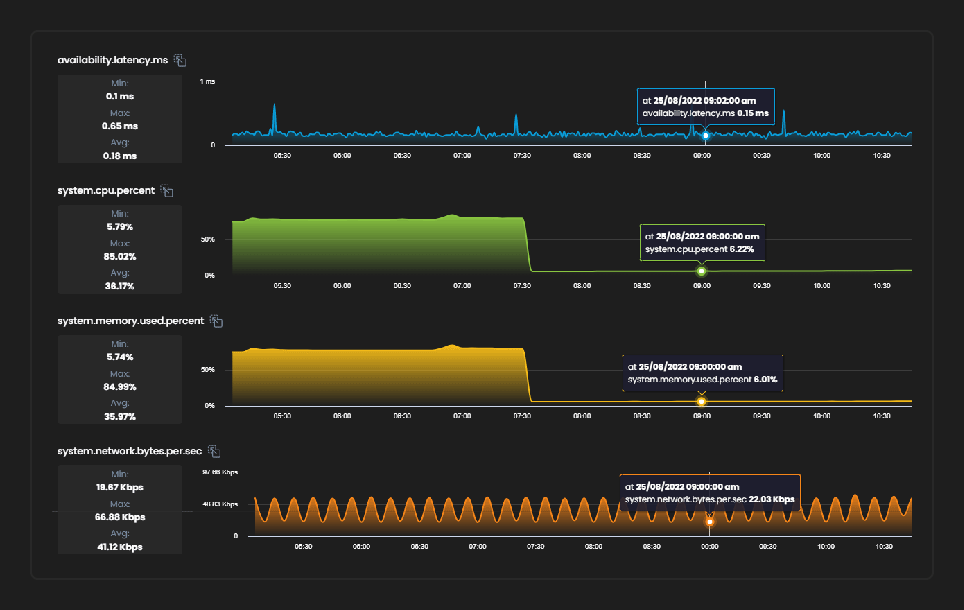 The credential profiles can be configured for the Ubuntu system. Then, with the help of SNMP and SSH protocols, you can collect the metrics data, get the key insights, and trace all the activities and metrics of these system components.
Troubleshoot Faster with Motadata AIOps
The log data collected from various devices help correlate with performance metrics and troubleshoot issues of Ubuntu hosts. Get logs from various resources such as Ubuntu machines and applications at a centralized pane, making it easy to analyze, control, and identify the problem-causing elements.
You can drill down into errors efficiently, making troubleshooting and debugging more effective than ever. You can also compare two metrics of a particular device based on time duration and severity.
Key Performance Metrics for Ubuntu Monitoring
Motadata AIOps helps you perform efficiently and keep your server up and running by monitoring the key performance metrics. Metrics such as CPU usage, system load, disk utilization, memory utilization, and process signify your network's overall performance and health. You can keep your Ubuntu host performing effectively by monitoring such metrics.
With the complex architecture, monitoring the key metrics and debugging the Ubuntu performance issues can be challenging for the system administrators. Motadata AIOps helps you ensure optimal performance of various system elements such as application servers, web servers, containers, databases, VMs, etc.
Out-of-the-box Dashboard & Reports
Get out-of-the-box network management dashboards with host-specific and Ubuntu metrics. You can also add or customize the metrics in the dashboard based on your priority and requirements. Combine metrics and logs and display them under one centralized dashboard.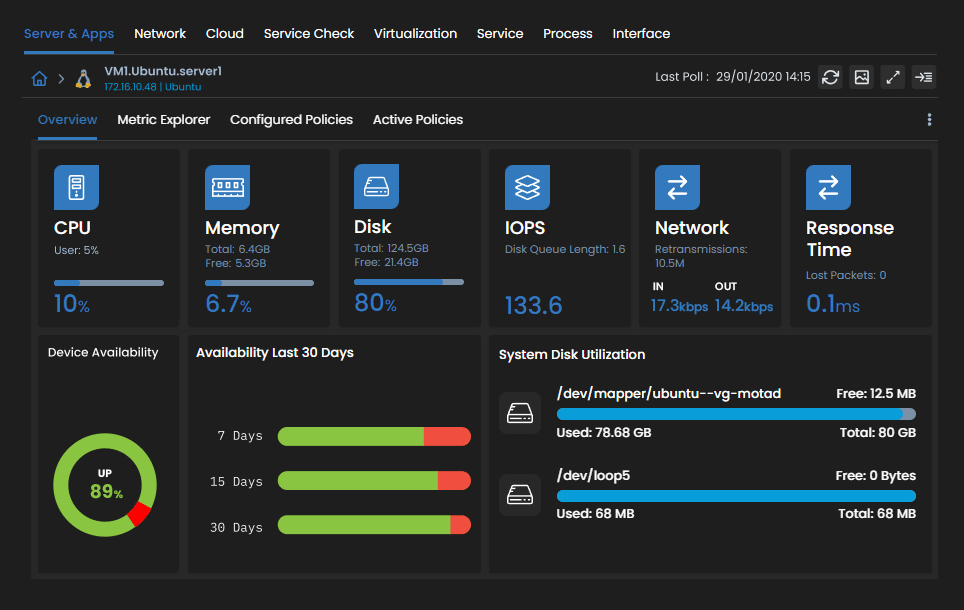 The detailed and rich reports provide you information about your favourite metrics with charts, components, and filters. It helps gain visibility into your Ubuntu and provides an overview of your entire network operations, performance, and health.
Motadata AIOps lets you compare the performance across your system and identify the performance bottlenecks. It also discovers the root cause of the problems fasters and efficiently to minimize the risk associated with performance outages.
It is an advanced monitoring solution that provides a holistic approach for your IT enterprise. It leverages your overall performance and offers the best user experience that enhances your business value and growth. This is possible with Motadata AIOps' plethora of monitoring statistics, a wide range of features, and supported devices, making it an advanced and powerful monitoring solution.