IT enterprise consists of various network elements, making the network architecture complex and crucial to manage, such as switches, routers, wireless devices, firewalls, etc. If these devices are not monitored properly, the network will face many issues, resulting in downtime and inefficient performance. Thus, monitoring the whole network architecture and network devices is very important.
The network management protocols help network devices to share the configuration and other information with the management or monitoring solution more easily. For example, a protocol such as SNMP comes with a pre-configured SNMP agent for most network devices. One such internet protocol lets network devices share the network activity and performance information with Motadata.
SNMP Performance Monitoring
SNMP protocol is one of the most industry-accepted protocols that is easy to configure and implement. With SNMP monitoring, the network administrator can track the performance of SNMP-enabled network devices, discover and resolve network issues and perform capacity planning.
It does not only offers Network Performance Monitoring, but you can also manage various network resources such as UPS, printers, NVR, and other SNMP-enabled devices with Motadata AIOps. In addition, the auto-discovery ability lets you identify all the SNMP-enabled network devices from the network and add them to the inventory with the help of credentials profiles.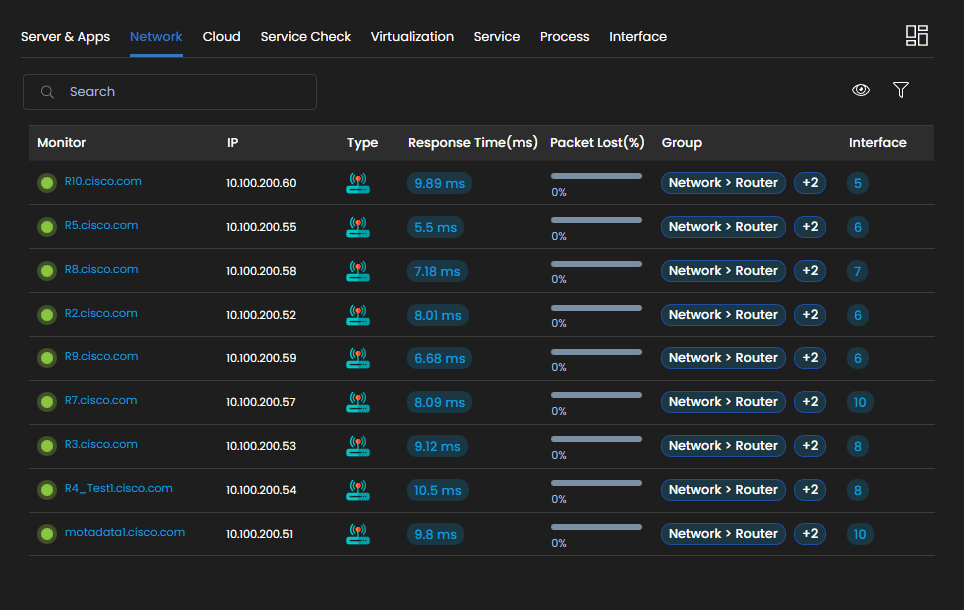 SNMP Trap Monitor
SNMP Traps are nothing but encrypted messages that are sent from the network devices to the monitoring solution, Motadata. The messages contain information about the issues on the network devices. Unlike periodically polling, with SNMP Traps, the network admins get to know about the ongoing network issues in real time.
It can be challenging to manage the number of SNMP Trap messages and devices with complex enterprise networks. A monitoring solution and network admin receive many SNMP traps, and it can be difficult to identify the crucial messages about serious network issues and prioritize them. With Motadata, you can manage the SNMP trap and set alerts for the specific SNMP trap messages based on the applied filter and severity.
Fault Management & Reports
It is a crucial responsibility of a monitoring solution to detect the faults from the on-going network activities and notify the network admins. Fault management is the process of detecting, isolating, and correcting network problems.
You can also get the problem reports from the SNMP-enabled network devices. Motadata also assures that you are alerted about network issues such as network breakdowns or performance efficiency issues.
With Motadata AIOps on board, network admins can detect and focus on network issues rapidly, and the performance statistics reports help gain complete visibility into network activities. Customized dashboards and on-demand reports help network enterprises make confident decisions. In addition, the performance widgets and graphs help you get an idea about ongoing issues and performance in real-time.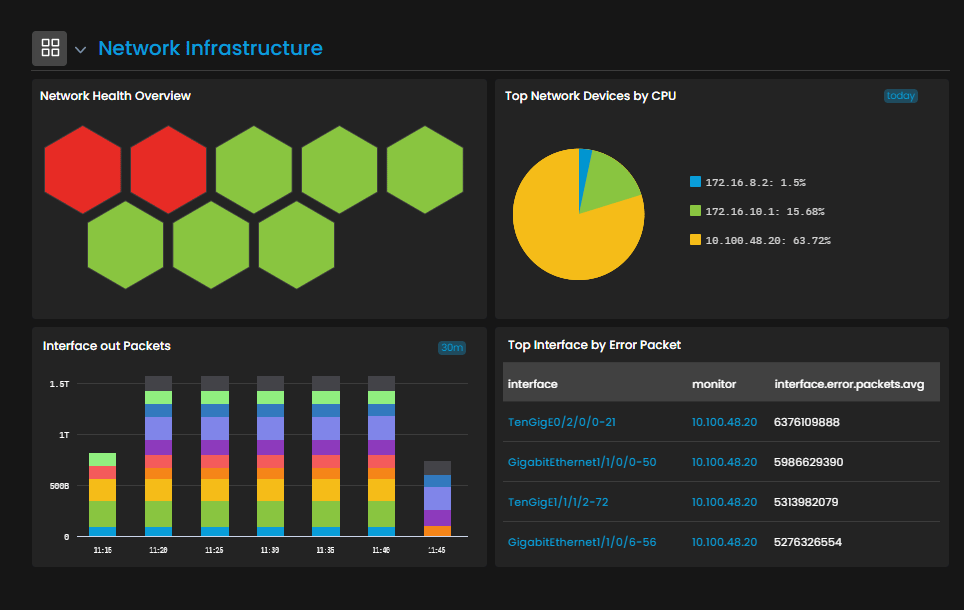 A Comprehensive SNMP Monitoring with Motadata AIOps
You can get the maximum benefits for the network and application by adopting a monitoring solution such as Motadata. It is a unified monitoring tool that manages your network and helps you focus on more challenging and crucial tasks.
The pre-built OID and templates let you easily discover the SNMP-enabled device information easily and add them to your inventory. The templates help you provide the critical performance metrics and basic configuration details about each network device which can be customized as per the requirements.
Motadata is built on a Deep Learning Framework for IT operation, helping you streamline your network infrastructure. The AI-ML abilities help your admin learn the network behavior and predict the potential issues before they cause any inevitable damages.
The customized dashboards with smart widgets and real-time data of measured metrics make Motadata a comprehensive monitoring solution for your network and assure efficient network health when your entire enterprise relies on network activities and performance.