Solve Network Challenges with
Next-Generation Network Observability
Break data silos and achieve end-to-end visibility of your network performance, SNMP data, Network Flow, and log data. Effectively monitor and analyze your network across on-premise to cloud infrastructure.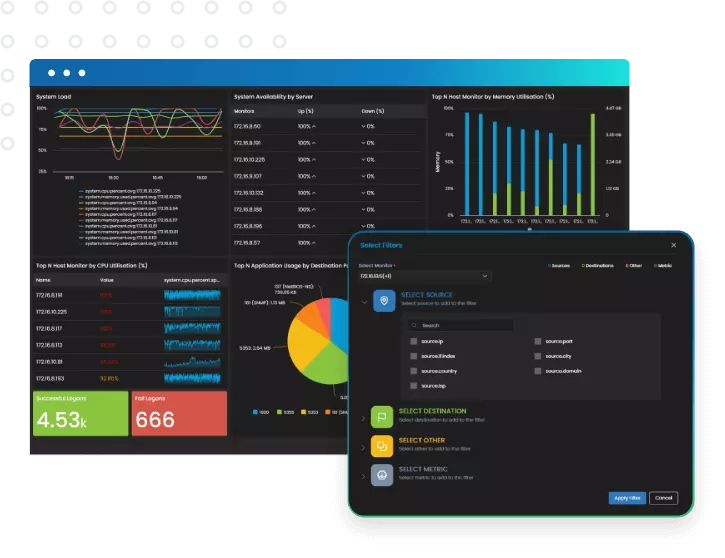 Profound
Visibility into Your Data
Whether multi-cloud or Hybrid infrastructure, capture your ever-increasing amount of steaming, traffic data to identify anomalies that affect your business goals.
Metric: Capture critical metrics and perform drill-downs.
Traffic: Track utilization from ingress to egress via Network Flow.
Routing: Troubleshoot issues fast before they affect performance.
Logs: Parse through the logs of your network devices for actionable insights.
Experience
Same Platform. More Capability. Complete Visibility
Get unified, scalable observability and analytics powered by machine learning, across your hybrid infrastructure comprising network devices, virtualization, applications, and cloud Infra.
Monitoring network service performance: Increase the service quality of your network by accurately modeling the data flow between nodes and identifying anomalies before they turn into issues.
Monitor traffic, routing, and end-user experience: Quickly identify delayed response time in traffic to client-side applications.
Log analytics with context: Troubleshoot issues fast before they affect performance.
Logs: Get real-time insight and trends from millions of network device log entries.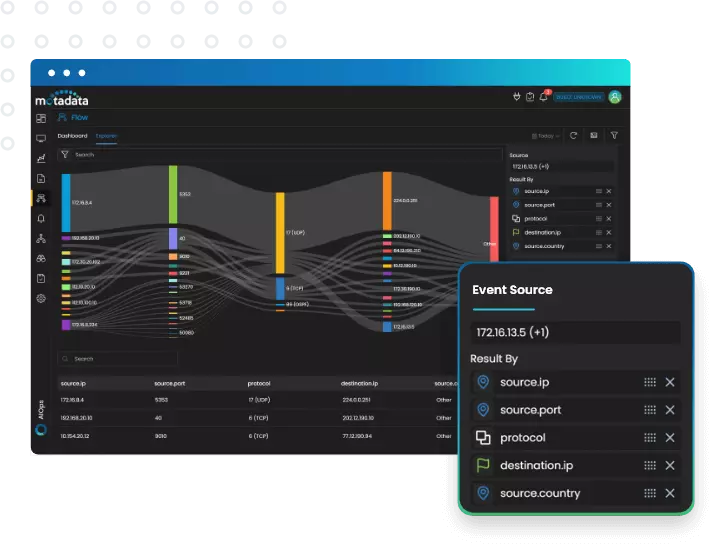 Purposely
Built to Detect the Undetectable – Events
Our causation base AI-Engine gathers data points, performs correlation, and does dependency mapping, so you can come with the best answers as to why certain events have happened.
Dependency Map: Gain complete insight into the communication between services, application usage patterns, and unusual critical events.
Auto-Discovery: Auto-discover new components – without box support for Cisco, Palo Alto, F5, HP, Fortinet, and many more.
Rich Insights: Reduce data noise for better insight with machine learning-based alerts.
Motadata AI-Powered NMS
The Perfect Solution
For Automated Network Performance Monitoring
Monitor every bit of your IT infrastructure with a multi-vendor Network Management System.
Get visibility across your network with topology mapping.
Alerts for loss of availability.
Provides network performance monitoring.
Provides virtual private network (VPN) monitoring.
Explore Network Observer
Network Observer by Motadata is built with cutting-edge technologies like AI and ML, making it one smart and advanced Network Observer among others in the market.
Motadata NMS
Your One-Stop Solution for Entire IT Infrastructure
Motadata's unified NMS services offer a highly scalable AI-driven solution for Service Assurance, Orchestration & Automation, enabling companies to meet their network management objectives. Motadata will also give you network observability with a comprehensive application and infrastructure perspective so you can find and fix issues quickly.
By TEAM
Learn how different teams can leverage our platform to improve their productivity and streamline their internal processes.
By USECASEs
Learn about the problems that our AIOps and ServiceOps platform can solve and the benefits they can provide.
Our Success Stories
See How Companies Like Yours Use Our Platform For Actionable Insight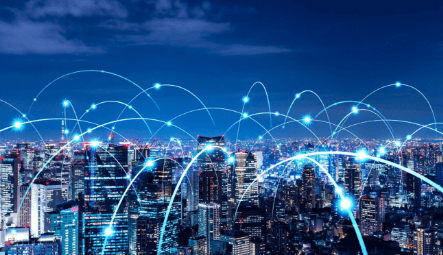 TELECOM
More than 50 metrics analyzed per device
RADWIN, Israel selects Motadata as OEM Partner for its integrated NMS product suite for carrier-g...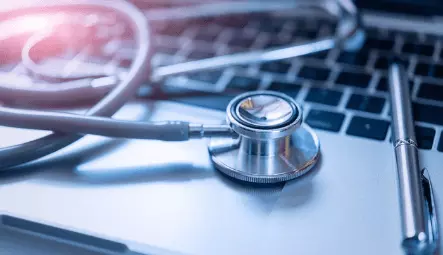 HEALTHCARE
1200+ Assets Monitored and Managed
Motadata helped Emirates Healthcare to streamline IT operations with Smart Automation, to handle ...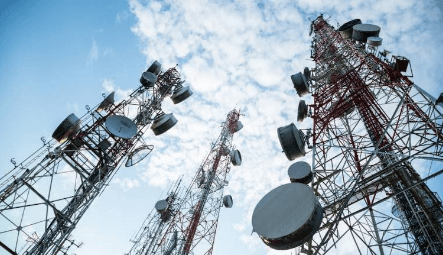 TELECOM
More than 27 GB of log data processed per day
Bharti Airtel, A leading global telecommunications company selected Motadata for its unified feat...
Do You Have Any Questions? Please Ask Here We Are Ready to Help You Out
If your question is not listed here, please feel free to reach out.
Network Observer is a monitoring tool that keeps an eye on the entire organization's network and connected devices, alerts the admin team in case of any failure, maintains the network's good health, and keeps it up and running.
With the increasing number of devices in the enterprise, it becomes hard to monitor them and ensure bandwidth utilization. This puts immense pressure on the IT teams to get things better and resolve the thresholds. In such situations, it is better to have a Network Observer on hand, which can be handy and fix the problems before they cause any damage and maintain the overall network's health as well.
A smart Network Observer should be able to report to the admin teams about the status of all the connected devices, their whereabouts, bandwidth utilization, network health, and much more. It communicates with the network devices through SNMP, and the intelligent alert system saves the system from damage.