Switches drive successful executions in LAN operations. An issue in any switch can impact the LAN user's experience, making it important to monitor and keep your network healthy. It is essential to monitor the network devices and the traffic transmitting through the switches.
Motadata AIOps monitors switch ports, switch performances, switch traffic, and map the network devices across the infrastructure. It provides all the solutions under one roof instead of using different tools for different functions, making it easy for IT admins to manage.
Motadata also collects switch logs from various devices such as Cisco and HP switches to generate detailed reports and alerts to monitor and secure switches.
Switch Monitoring with Motadata AIOps
Motadata AIOps is an advanced network switch monitoring solution that keeps track of switch availability and health. It discovers the switches and interfaces across your network and displays them on a switch map.
Motadata AIOps provides complete visibility into the status of all the switch ports. It notified the IT admin whenever a switch port goes down. In addition, the topology mapping helps understand the ports that are blocked and forwarding.
The Cisco switch management lets you control the broadcast storms and ensure to eliminate data flooding and loops, maintaining redundancy at the same time.
Switch Performance Metrics
It is important to have monitored the key metrics to execute switch operations successfully. Therefore, AIOps monitors various performance metrics collected for physical switches, switch ports, and inner-switch connections.
The metrics can be categorized into various types, such as latency, lost packets, average CPU load, CPU percentage, uptime, memory usage, etc. Get all the monitored switch performance metrics data under one dashboard and ensure a healthy network.
Automated Discovery of Network Switches
Map all the switches and ports automatically in your network with Motadata AIOps. With the help of agents and credentials for network devices, the switches and ports can be discovered and monitored on the platform.
As Motadata AIOps discovers the devices, it pulls the information in real-time, and IT admins can know each port's operational status and interface bandwidth. It helps collect valuable information such as IP, MAC, status, and availability of ports.
Downtime Alerts
Downtime in the network can cause a lot of damage to the organization and its operations. Therefore, Motadata AIOps monitors the switch traffic in real-time and notifies the IT admins whenever there is a downtime. The alerts can be configured and sent via email or text messages.
The notifications provide complete insights into the issues and help resolve the downtime with log reports and graphs. In addition, get alerts for the discarded packets and monitor port utilization and traffic with threshold notifications.
Switch Port Availability
Motadata AIOps lets you ping to check the availability of your network devices in real-time and instantly alerts you instantly in case of unavailability so that you can take action at once. In addition, you can visualize all switches with their availability status on one screen, providing you a holistic view.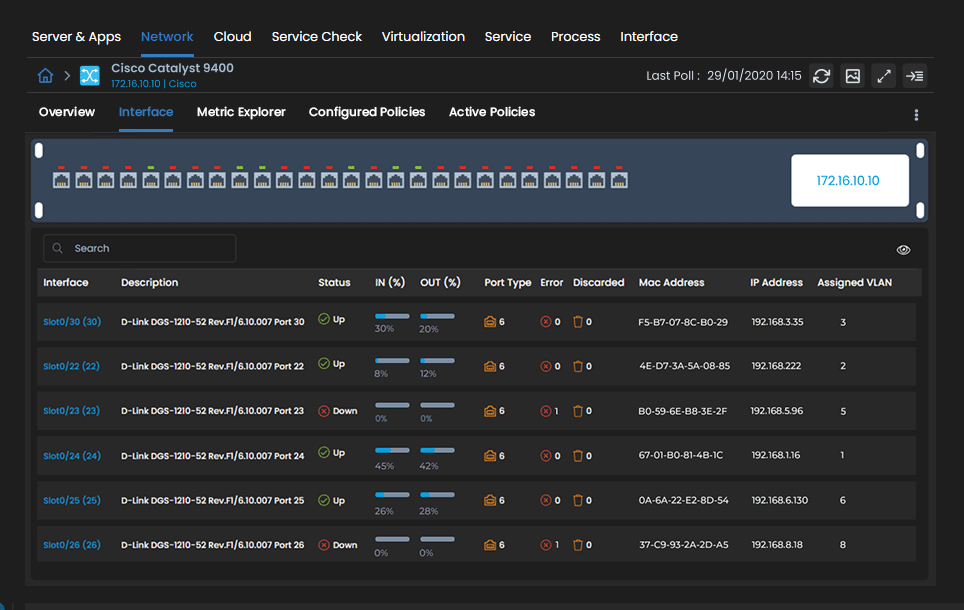 Motadata AIOps offer reports that provide detailed availability insights of your switches and switch ports. The reports help you ensure that you are meeting your SLAs.
Comprehensive Dashboards with Motadata AIOps
The network devices can have various interfaces, making the network a complex architecture and more challenging to monitor as a whole. Get a complete overview of switches and network interface monitoring with Motadata AIOps. The out-of-the-box dashboards provide complete visibility across the interfaces and let you prioritize the issues and operations based on the severity and capacity.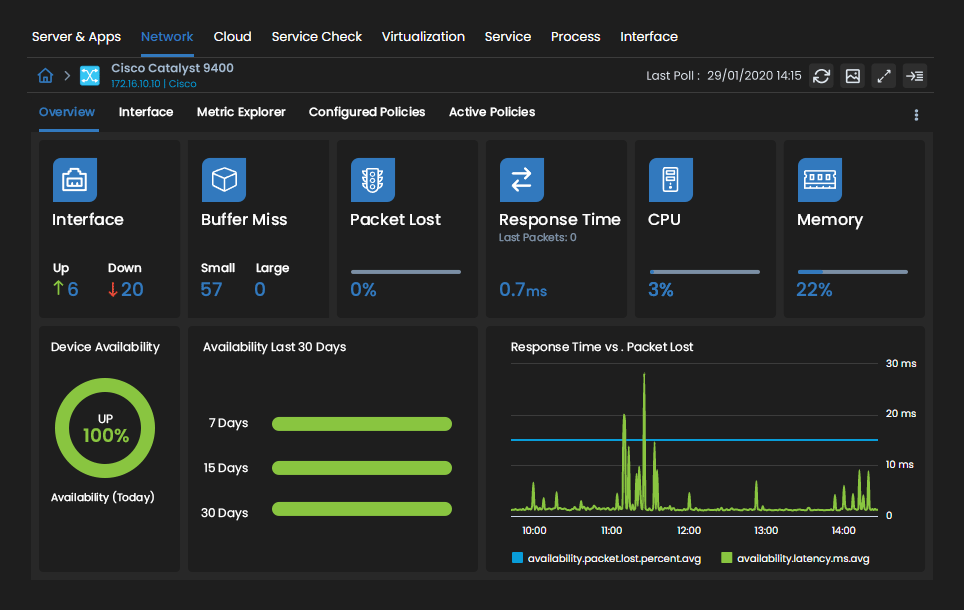 Motadata AIOps provide configuration details of all the network devices and each interface with a contextual view, making it easy to navigate through hundreds of devices and configurations.