Server Performance Monitoring is a process of monitoring network devices that can impact the server performance, such as system resources like CPU usage, memory consumption, I/O, Disk, Network usage, etc. Server Performance Monitoring also helps you in capacity planning by analyzing the server's system resource usage. Motadata AIOps can automate the process of server monitoring and monitoring in general. It also helps discover other network performance-related issues, such as resource utilization, downtime, and response time.
Here are how Server Performance Monitoring and Motadata can help you better with network and server-related issues.
It helps you monitor server availability.
It helps you ensure that your server is responsive all the time.
It lets you know the server capacity, data speed, and user load.
It also proactively detects and prevents issues affecting the server's performance.
Server Performance Monitoring with Motadata AIOps
Motadata offers multi-vendors support to continuously monitor servers and all critical applications along with the services and processes. It periodically monitors the network servers with the help of SNMP and PowerShell protocols to ensure the servers are up and running at their optimum performance level.
Motadata stores historical performance data, which can help troubleshoot issues. Get real-time insights and monitor network server performance efficiently with Motadata AIOps.
Server Availability & Health
With the complex network infrastructure and virtual devices on board, it is crucial to maintain the network server's availability and good health. Motadata is designed with AI-ML abilities that provide out-of-the-box features which can help you maintain the server's availability by monitoring the network server's key performance metrics. For example, you can monitor metrics such as CPU and memory usage, Disk Queue Length, Response Time, etc.
Server Uptime Monitoring lets you always ensure the availability of physical and virtual servers. In addition, the continuous monitoring of performance-critical metrics lets you detect performance issues proactively and take action before they lead to any inevitable damages.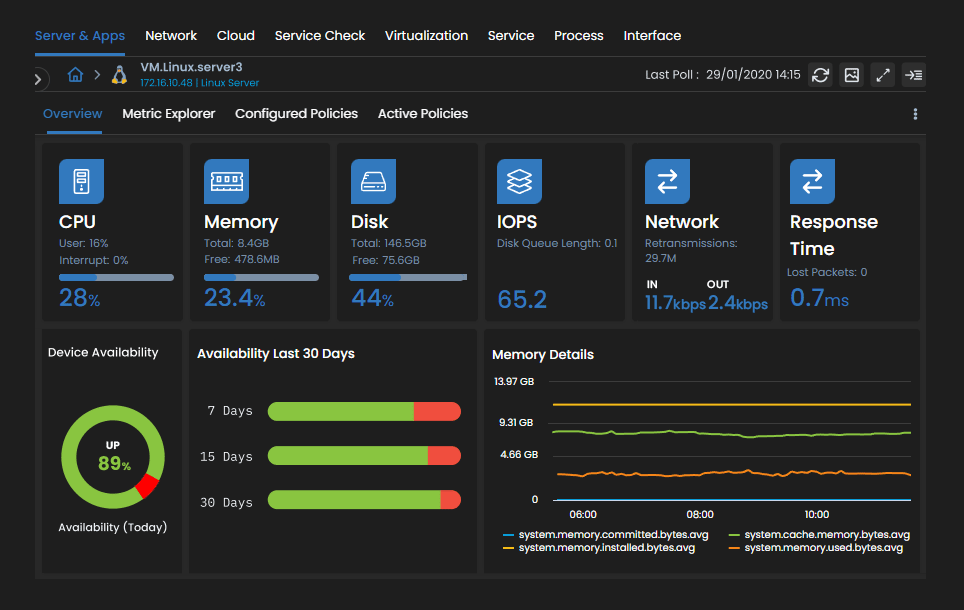 You can also create your custom monitoring dashboards, where all your prioritized and customized performance-critical metrics can be displayed and stored for detailed analysis. This information can create monthly, quarterly, or on-demand performance reports.
Real-Time Performance Monitor Dashboards
Besides server performances, Motadata offers out-of-the-box system performance monitoring capabilities. It also offers CPU monitoring, Memory Monitoring, and Disk Monitoring and provides a holistic view of the metrics and measure server performance in real-time.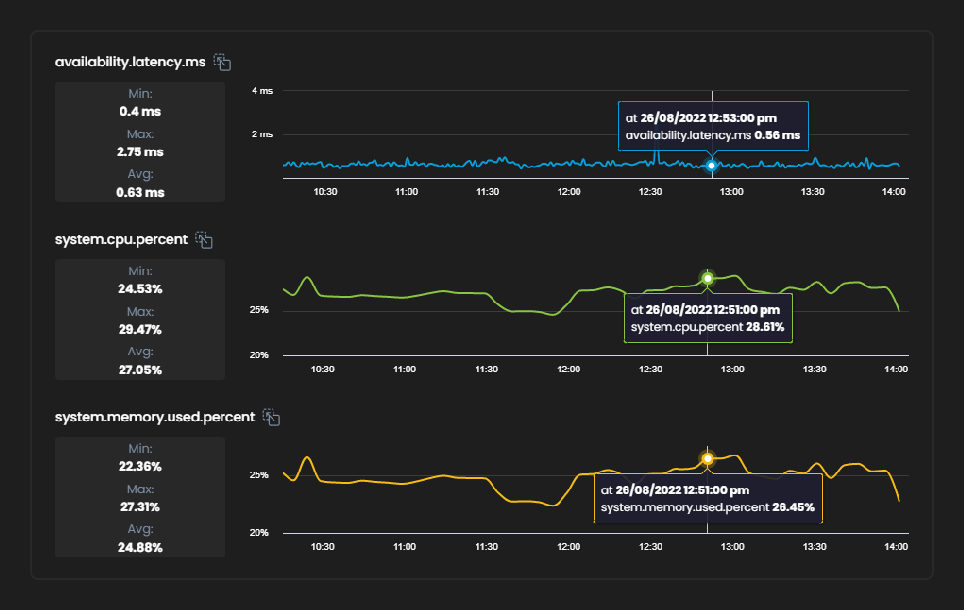 It also lets you drill down to any particular time interval to understand the issue quickly and in detail and take action to resolve it. You can also monitor the availability of other network devices such as switches, routers, database systems, and many more.
Get complete visibility into your server's status by making custom server monitoring dashboards under one console. You can create multiple customized dashboards such as Linux Server Monitoring Dashboard, Server Performance Monitoring Dashboard, Windows Server Monitoring Dashboard, etc.
Resolve Performance Issues and Monitor Applications
It is not a healthy practice when the issues are reported by the end users and not proactively detected by the IT admins. Motadata can help network administrators identify any performance issues early on and get notified to take action.
Motadata, an advanced server monitoring solution, provides proactive server performance monitoring practice with multiple thresholds configured. It lets you check the server performance at multiple levels and notify about the same via SMS or email whenever the thresholds are crossed.
A Network operates many business-critical applications, and it is important to monitor these applications to minimize downtime and offer a pleasant user experience. Motadata AIOps offers robust server monitoring practice and monitor process and Windows services with out-of-the-box monitoring and discovery methods. It detects the security break-ins, such as login failures, account lockouts, etc., by analyzing Windows event logs and Syslog.
Motadata AIOps is built on a Deep Learning Framework, which provides a wide range of features, ensuring all your network devices are functioning optimally and there is a minimum downtime to provide a satisfying user experience. Get your Server to perform efficiently with Motadata.