Hyper-V by Microsoft is used to create and host virtual machines in network architecture, configured on Microsoft Windows Operating System. Motadata AIOps helps monitor complex architectures and clusters with detailed drill-down metrics.
Hyper-V is widely adopted when the system is operating on a Windows-based OS, as it does not require an additional virtualization platform and offers flexibility with the existing infrastructure elements. With Motadata AIOps, a Hyper-V monitoring service provider, users do not need to switch between applications and monitor their entire network environment, keeping everything under one platform.
Monitor Hyper-V Performance with Motadata AIOps
Motadata AIOps help monitor Hyper-V servers and get the metrics of key critical elements such as CPU, memory, disk, and network traffic. You can display the number of virtual machines and check the status of virtual machines, whether they are on or off, and their severity.
You can also track the inventory and resources of multiple Hyper-V nodes and hosts with a Hyper-V resource monitor, Motadata AIOps. It also helps display each virtual machine's visualizations and alerts, indicating the cruciality and providing wholesome Hyper-V performance monitoring.
Motadata AIOps also analyses the Hyper-V logs with pre-configured parsers to capture the packages and logs transiting from one cluster to another and overall traffic. As a result, you can keep Hyper-V and virtual infrastructure more secure and detect unusual suspicious activities.
Automate Hyper-V Discovery
Motadata AIOps, a Hyper-V monitoring tool, discovers the hosts, nodes, clusters, and virtual machines with PowerShell commands and monitors the Microsoft Hyper-V devices. Once you have identified the virtual devices, you can display all the elements under the visualization category.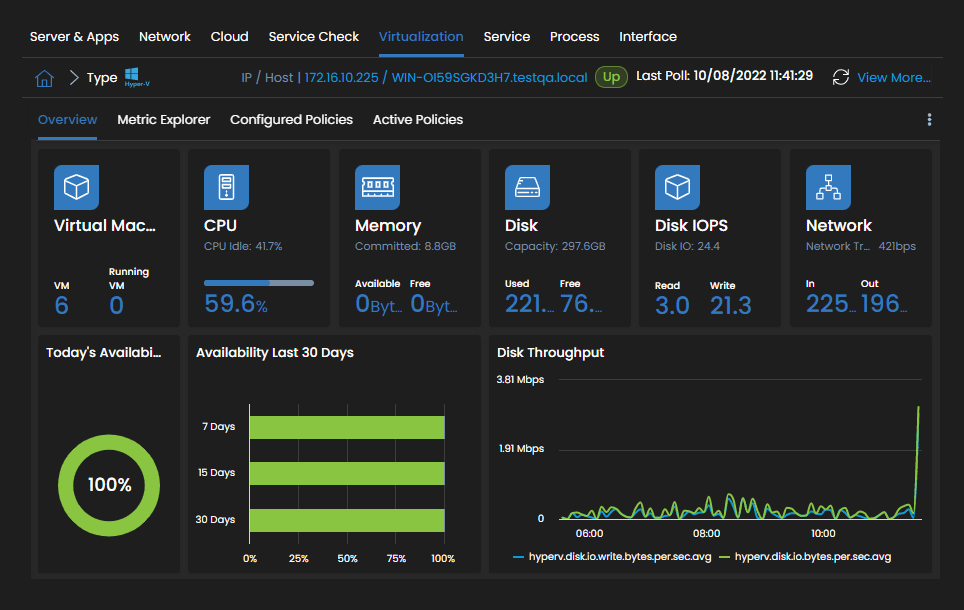 A virtual network management provides information about cluster configuration and the number of hosts/nodes operating in each cluster, providing complete visibility into the virtual infrastructure.
Comprehensive Hyper-V Monitoring
Motadata AIOps helps you keep track of numerous metrics and KPIs that define your overall performance and can help enhance the same. You can drill down the KPIs for each cluster and get the details of the number of hosts/VMs, storage/network resources, HBA, etc.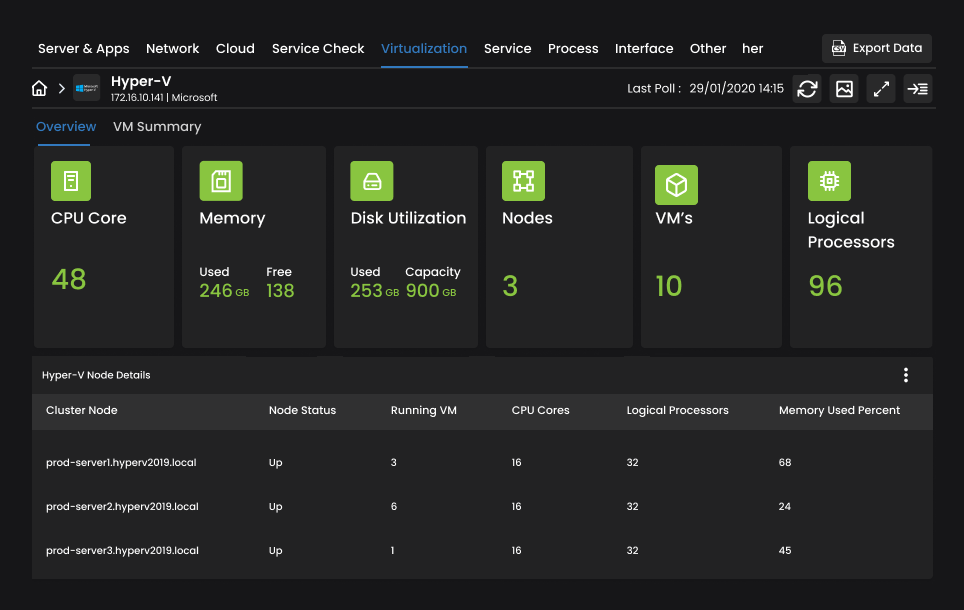 When you drill down the host or virtual machine metrics, you can display the number of CPUs, CPU utilization, memory usage, network I/O operations, core assigned, etc. You can also monitor services, windows services, websites, and URLs in addition to Hyper-V monitoring.
Capacity Planning & Forecasting
Motadata AIOps is built with AI-ML abilities, making it an advanced monitoring solution that learns the behavior and pattern from the operations and usage and forecasts the potential issues, saving the hosts from hazardous damages.
When an organization functions on a large number of virtual machines, it gets challenging to manage them and keep every host running efficiently with proper utilization. Motadata keeps track of each host and helps utilize them properly by notifying the admin based on their usage and behavior. This way, you can avoid VM Sprawls and strategize capacity planning in advance.
Dashboards & Advanced Alerts
With virtual machines on board, it becomes difficult to have complete visibility across the infrastructure, and Motadata helps you visualize each cluster, VMs, and hosts with comprehensive and detailed dashboards.
Motadata AIOps offers a wide range of Hyper-V monitoring services, such as out-of-the-box performance alerts with a threshold that notify the admins via SMS or Email whenever they are crossed. The critical and prioritized notifications keep your inbox clean and alert only when it matters.
Motadata AIOps, with its Deep Learning Framework and artificial intelligence, discovers and eliminates VM problems, helping the virtual environment perform effectively and seamlessly. By monitoring Hyper-V hosts, and clusters, you can eliminate the security threats and stay one step further by tracking logs, events, and security breaches.