Monitoring the system's critical KPIs, such as CPU utilization, memory usage, and disk utilization, and setting up an alert system for unhealthy utilization do not guarantee you an optimal server or network performance. It required a comprehensive process monitoring solution to know the performance of each critical process associated with the applications and services.
With Motadata AIOps, you can eliminate system outages by monitoring the resources consumed by windows machines. It can also alert you whenever a threshold meets, letting you take actions to either terminate the process or resolve the issues. This way, you can have your system's performance uncompromised and efficient.
Process Monitoring with Motadata AIOps
Motadata AIOps is a monitoring solution designed on a Deep Learning Framework for IT Operations that lets admins monitor and manage processes remotely. Motadata enables you to monitor both Windows and Linux, and the critical processes running on Windows, Linux, VMware servers, etc., with SNMP/PowerShell/CLI.
It lets you monitor the processes running with the application and native OS. Moreover, it provides a list of processes and their utilization which can be helpful to do strategic planning.
Pre-Configured Monitoring Templates & RCA
Motadata AIOps provides pre-configured templates for a set of processes one should monitor. It helps configure the monitoring solution effectively and efficiently.
Get alerts whenever any critical KPIs meet the set threshold and resolve the issues immediately with root cause analysis. The root cause analysis provides a full context and visibility and helps resolve the issue faster and more efficiently.
High Utilization with Process Monitoring
By monitoring all the processes occurring across the network infrastructure, Motadata AIOps provides the performance data of each process and the status of their utilization. It helps you understand if any process is underperforming or overloading with resources. In addition, it provides an overview of top talkers for each metric, such as Top N process by CPU usage, memory usage, threads, virtual memory, etc.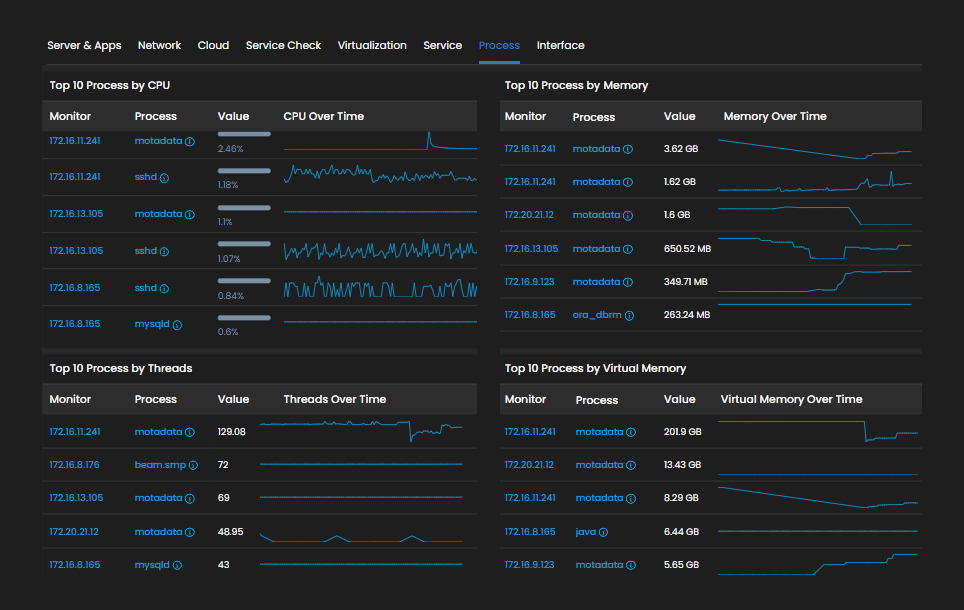 With the available performance data, AIOps lets you execute capacity planning and performance tuning to never run out of resources and operate all the processes seamlessly all the time.
Workflow Automation
IT enterprises often go through recurring issues that demand the same solution. You can set up thresholds for particular processes and metrics in such scenarios. And it will notify the network admin and perform the pre-configured actions.
By configuring the actions, such as restarting/ending a process to the alerts, you can set up workflow automation, save time from executing mundane activities, and resolve the issues efficiently.
Drill-down Processes Mapping
It monitors metrics such as process uptime, memory usage, and CPU percentage and provides information of the entire process life cycle.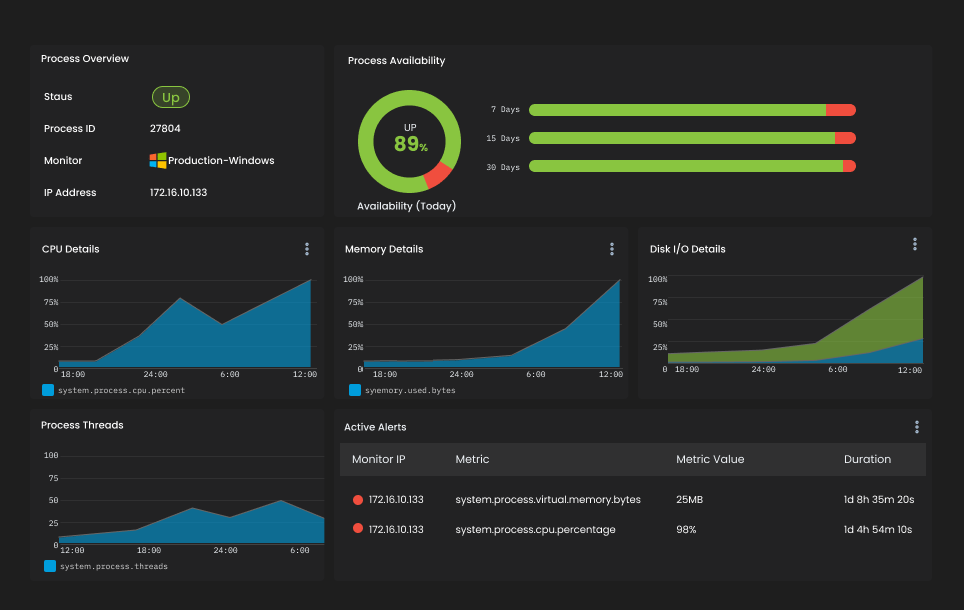 An unusual CPU spike or memory leak requires an immediate solution, and Motadata AIOps helps network administrators diagnose remotely to view the top ten processes by CPU or memory utilization. It also helps terminate the process causing problems and save the server from hazardous damages.
Motadata AIOps is built with AI-ML capabilities, making it one advanced and powerful infrastructure monitoring solution. It helps you detect the issues and also helps resolve them with detailed insights into each process. The reports and dashboards help you make confident decisions that can enhance your performance and boost your business.