Web Server Monitoring is essential for IT enterprises as their network architecture grows and includes numerous elements that keep running network operations. Web servers are one of the most crucial and responsible network elements for performing network operations successfully. Therefore, it is important to monitor web servers to ensure that websites and web servers are always up and running. Motadata AIOps helps you do just that with advanced monitoring features.
A complete and efficient network monitoring tool helps network admins prevent issues and discover the patterns and behavior that can cause problems to the network performances. Motadata AIOps lets you perform a proactive approach to identify the potential issues as effectively as possible before they interrupt the user experience.
Motadata helps you monitor web server performance and get in-depth insights into your network performance. It also helps you monitor the health and availability of your web servers and other network devices.
Monitor Web Server Performance
Monitoring Web servers not only helps maintain efficient performance and availability but also allows you to monitor the response times, which helps you understand the behavior of your running applications. By monitoring the response times, you can identify the root causes of the potential issues and obtain seamless performance of web servers across your network enterprise. In addition, metrics like the session statistics, Pool utilization, Hit Ratio Percentage, and the used and free memory provide complete visibility into web server activities and performance.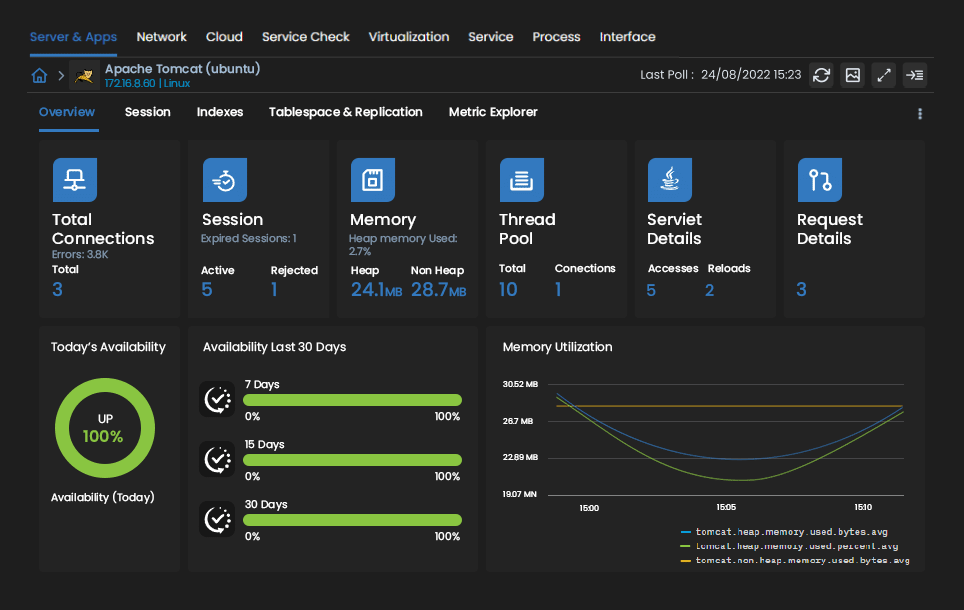 In addition, the regular web server performance monitoring alerts you whenever there's a performance issue so that you can resolve the problems based on priorities and severity, saving your network from inevitable damage. Monitoring Web server also helps network admins configure dynamic baselines for the performance metrics for anomaly detection.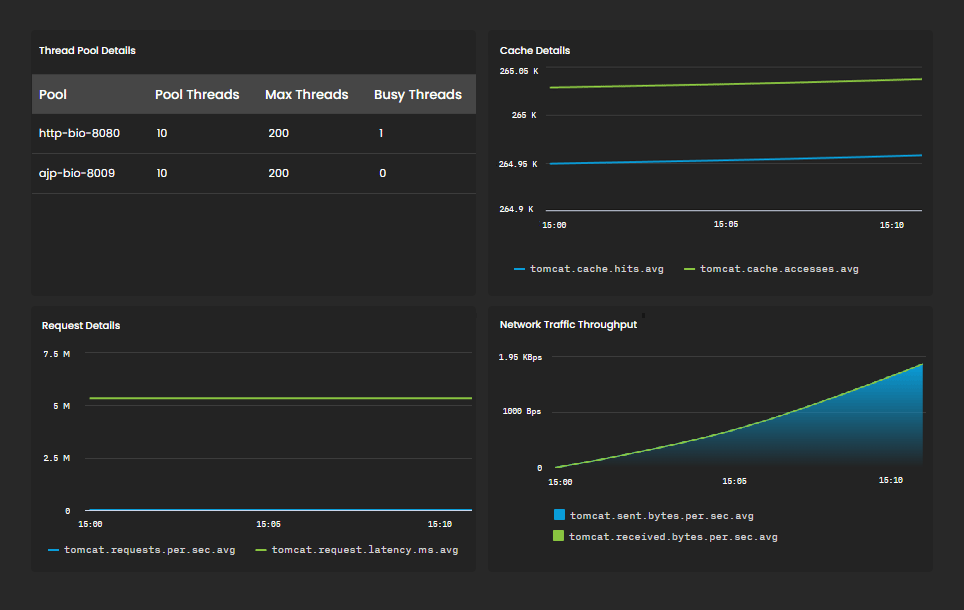 For example, you can set a threshold to key web server performance metrics, detect the bottlenecks as they occur, and configure automation to take actions automatically and resolve them before they disturb web server performance.
Web Server Monitoring Applications
The detailed and out-of-the-box reports provided by Motadata AIOps help you gain insights into the trends of the servers with key web server monitoring metrics. The metrics can be collected from various web server applications such as Apache Tomcat, Light HTTPD, Apache HTTPD, IBM Web sphere, Microsoft IIS, etc.
The web server monitoring solution also offers statistical reports with performance graphs and heart charts for key performance metrics like IOPS, JDBC Pool details, Thread Pool details, session statistics, etc. These reports help you visualize the performance data and analyze overall web server performance. In addition, an AI-Enabled monitoring tool also forecasts and alerts you with reports to predict the growth and utilization trend to perform capacity planning and confident decisions.
The monitored web server performance metrics can help identify the issues related to server hardware, virtual devices, or even network or storage performance. The mapping between issues helps you discover the root cause of the problem and dependencies, making it easy to remediate the problems efficiently. With Motadata AIOps, you can drill down into metrics and identify the devices that are causing the issues and impacting the websites or web applications.
Motadata AIOps: A Complete Web Server Monitoring Solution
Motadata AIOps is designed on a Deep Learning framework with AI-ML capabilities that offers a wide range of features and out-of-the-box monitoring tools for websites and web applications. For example, the built-in dashboards let you monitor the availability and performance of websites and applications across your network and provide real-time status data.
It is not limited to monitoring web servers and network devices; it offers a complete monitoring solution and lets you monitor the websites running on web servers. As a result, you can ensure an efficient health and availability of all of your websites and get in-depth insights into all the network transactions. Get Motadata AIOps and ensure healthy network operations across your enterprise architecture.