Managing hardware assets, manually, from the time they are purchased to the time they are disposed of is a tedious, cumbersome task that is susceptible to many errors. These manual and scattered processes are often inaccurate and difficult to manage.
Manual data keeping means that asset information is stored in silos, which raises the overhead expenses, increases the likelihood of asset theft and losses, and makes it hard to comply with the organization's standards and regulations. To establish an effective and successful IT infrastructure management, an organization needs dedicated software for hardware asset management that helps in streamlining the entire process.
To help you better understand what hardware asset management is, we have covered the following topics in this blog:
What is Hardware Asset Management (HAM)?
What is the Hardware Asset Management Lifecycle?
What are the benefits of Hardware Asset Management?
What is Hardware Asset Management (HAM)?
Hardware asset management is the process of managing physical IT components like desktops, laptops, servers, etc. throughout their lifecycles from procurement to retirement. With the hardware asset management process, you can get real-time details of your hardware asset inventory, a bird's-eye view of the asset life cycle, and an overview of how assets are used in your organization.
Hardware asset management is a critical part of IT asset management. It must be integrated with the organization's overall scope and must be aligned with other ITIL processes.
Few of the core tenets of Hardware Asset Management is to control costs, restrict excess purchases, have a complete insight of IT inventory, and always be audit-ready.
With the employment of the right hardware management processes, the time spent in requesting, repairing, maintaining, and acquiring hardware assets can be significantly reduced. As a result, an ITSM team is free to focus on more value-producing tasks.
What is the Hardware Asset Management Lifecycle?
Hardware assets, like software assets, have a complicated life, which needs to be handled in a somewhat different manner. Every asset, no matter how large or small, expensive or cheap, goes through five main stages.
The stages are as follows: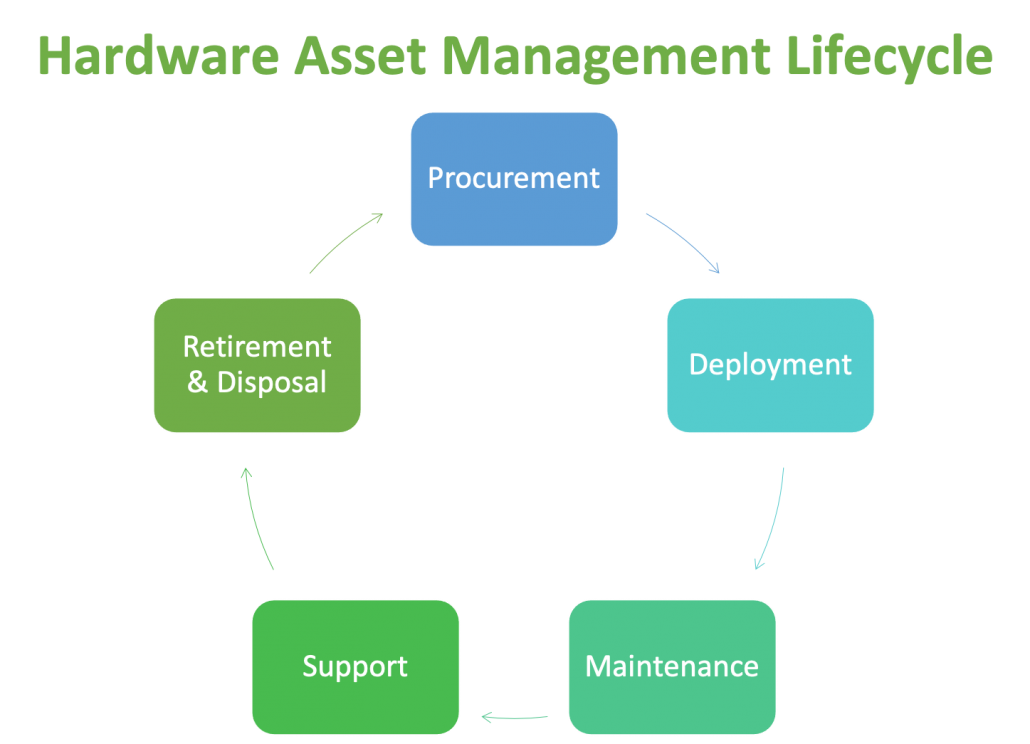 Procurement
Procurement is the first step in the asset life cycle, and it involves the actual purchase of the asset to satisfy both the company's requirements and the budget. Typically, the purchase is made after understanding the requirements discovered from gathered data, and then projections are prepared to validate the actual purchase.
The processes involved in this step are:
Creating purchase orders
Initiate Pre-determined purchase order workflow
Associate with cost centers for budgets
Acquire approvals for purchase order
Adding purchased assets to the IT inventory
Deployment
The asset is deployed in this stage of the lifecycle. Preliminary checks are performed to assess for physical defects, engineering issues, design problems, and whether the asset has been installed properly and securely. Following these steps, the asset is finally utilized to meet the requirements for which it was purchased.
The activities incorporated at this stage are:
Deploy assets, modify status from inventory to in-use
Assign software to a hardware asset
Map relationships
Maintenance
Due to the constant usage of an asset, wear and tear is a common occurrence, so maintaining the asset becomes extremely important. This is why maintenance is the third step in the lifecycle.
When an asset is being utilized, the primary goal is to maximize the asset's productivity. So the performance of an asset is constantly monitored for any issues that might suddenly occur when it is being used. In this stage, any kind of patch repairs, updates, compliance audits, and cost-benefit analysis are possible.
The processes included in this step are:
Schedule scans
Get audit history and complete ownership tracking
Software compliance
Calculate asset depreciation
Ascertain the asset's total cost of ownership
Support
With the increasing age of an asset, maintenance and support help to extend its productive life. In this stage, amendments and updates are performed to bring the asset up-to-date, rendering it to become productive for the overall IT efficiency.
The processes involved in this stage are:
Contract maintenance for assets
Notifications to technicians about expiration dates
Dependency mapping in CMDB to identify the impact
Software license agreements and management
Retirement & Disposal
An asset must be disposed of at the end of its useful, productive life. Before its disposal, the relationships are reviewed and processed so that it does not affect the organization or the environment.
This stage includes removal of any business-critical information on the asset.
It is then disassembled part by part, with all pieces that can be reused being retained and those that cannot be reused being scrapped. If the asset contains any components that may pose an environmental threat, they are classified as hazardous and eliminated.
The activities incorporated in this step are:
Changing the status from in-use to expired/disposed
Un-allocating the software assigned to the disposed asset
What are the benefits of Hardware Asset Management (HAM)?

Save costs
Properly managing hardware assets throughout its lifecycle can help save money. One of the reasons being, when assets are properly serviced and maintained, the chances of their failure reduce. Disposing of an asset when it reaches the end of its lifecycle, can also help you save a lot of maintenance costs.
Improve asset procurement and utilization
Hardware asset management can help you make the most of your organization's inventory by leveraging underutilized assets. Getting full insights into the inventory and understanding what is available can aid you to draw inventory from the existing stockpiles rather than making purchases that affect the budget.
Enhance security and compliance
With the employment of a HAM solution, you can get a comprehensive and precise view of hardware assets that can help you identify assets that need maintenance or are nearing retirement so that they can be repaired or disposed of before they become a security threat to your organization. By keeping track of your asset inventory, you can detect any assets that have not been approved to ensure compliance to align with your organization's policies. This will not only help to swiftly isolate vulnerabilities but also help during compliance auditing.
Amplify control over IT inventory
Hardware asset management can help you get a better understanding of your hardware assets so as to establish transparency and better control over your IT inventory. You can monitor the hardware inventory information to verify that they are in the correct place by using ITAM features such as asset discovery and request verification.
Prevent asset theft
Asset tagging, allocating and retracting ownership, location tracking, and routine maintenance are all part of HAM. Hardware asset management enables you to accurately track and document information like hardware warranty details, contract agreements, licensing renewal and compliance, and maintenance status to reduce risks and avert asset theft.
Boost efficiency
With hardware asset management in place, IT teams can concentrate on more value-producing work by leveraging automation of redundant and inefficient processes. Tracking hardware inventory can also help them identify asset issues before they even occur, which might cause delays or disruptions in operations.
Conclusion
Hardware asset management is a great mechanism that will assist you in establishing visibility and control over your IT hardware assets. With the HAM processes, you can efficiently manage hardware assets from procurement to retirement.
It also helps you perform regular checks and routine maintenance with ease. Hardware asset management also enables you to make smarter and economical purchase decisions by recording financial information of each asset and providing complete transparency about hardware requirements.
If you are looking for a way to seamlessly and effectively manage your hardware assets, check Motadata ServiceOps IT Asset Management platform which has integrated hardware as well as software management module along with other features like purchase management, contract management, remote desktop support, etc.