The contract is an essential legal document to run a business smoothly. Even by a day, missing deadlines can make a huge difference and levy significant penalties. A contract expiry reminder is the key feature of your contract management solution.
Where Does the Contract Reminder Feature Fit In?
Traditionally companies used to rely on employees and spreadsheets to keep track of their contract lifecycle. When any employee is responsible for manually maintaining and tracking the contracts, it can be risky as there are high chances of human error due to the high workload.
The purpose of a contract reminder is to ease the risk-taking out the speculations, reduce the inefficiencies, and ensure that you never miss a critical deadline of contracts and –
Key dates such as renewals and certificate expirations that are being ignored
Duplicate contracts from various locations, each with their version history
Non-compliance along with contract policies
Missed time while searching for contract information
Lessen human error that can lead to an increased administrative liability
Benefits of Using Contract Expiry Reminder Feature of Motadata ServiceOps
A contract expiry reminder feature notifies about contract expiry within time and offers advantages that will eventually increase efficiency, productivity, and profitability. At the same time, it helps businesses in lowering the risks of human errors.
For example, companies buy lots of essential assets such as laptops, computers, and insurance policies as well, to maintain the valuable assets they need to make sure their contracts are managed and maintained on time. With ServiceOps, reminders for contract expiry make sure that all the essential contracts get renewed before their expiry date.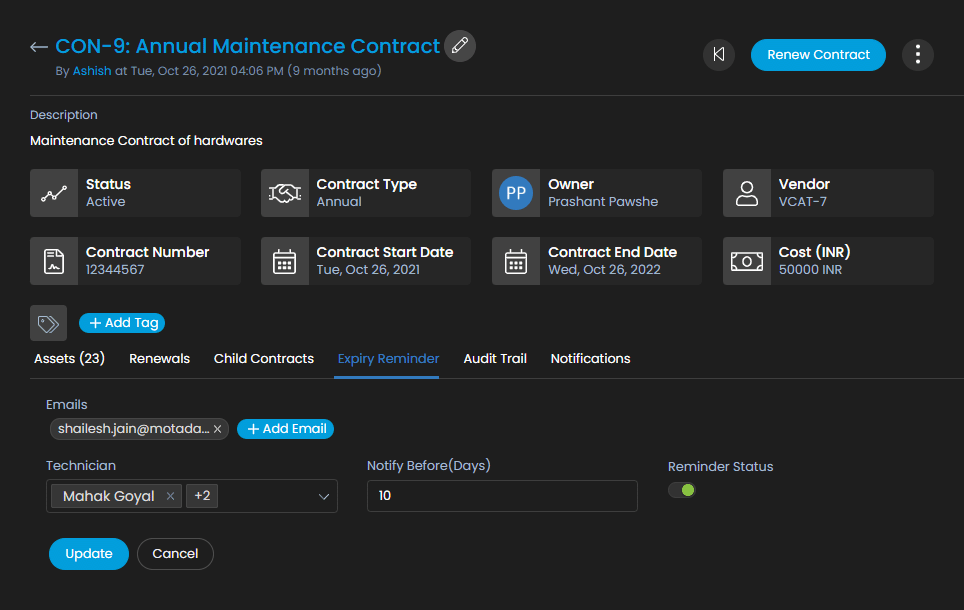 Here are the concrete benefits of using a contract management solution's contract expiry reminder feature.‌
Streamlined contract information
Notification reminder of important contract dates
Clear indication of expiry dates
Never miss an important contract term, date, or deadline
Track everything from renewals, expirations, compliance, or payment dates