The incident lifecycle has several stages; each is an equally important part of the process and essential to delivering quality services. But before moving directly to the process, understanding an incident is essential.
What is an incident?
An IT incident is any interruption to an organization's IT services that can affect everything from a specific user to the entire business. In other words, an incident is an event that interrupts business stability.
What is incident lifecycle management?
Incident lifecycle management is the practice of creating, assigning, resolving, and maintaining IT service interruptions within agreed SLAs (Service Level Agreement).
The possibility of incident lifecycle management starts with an end-user raising an issue as a ticket and ends with an IT service desk team member resolving the same.
The stages of incident lifecycle management
With appropriate incident management in place, it will be easier for service desk teams to ensure all the incidents get resolved on time and streamline the processes. Still, they need to follow certain incident lifecycle steps.
Here are the steps of how the incident lifecycle works with Motadata ServiceOps.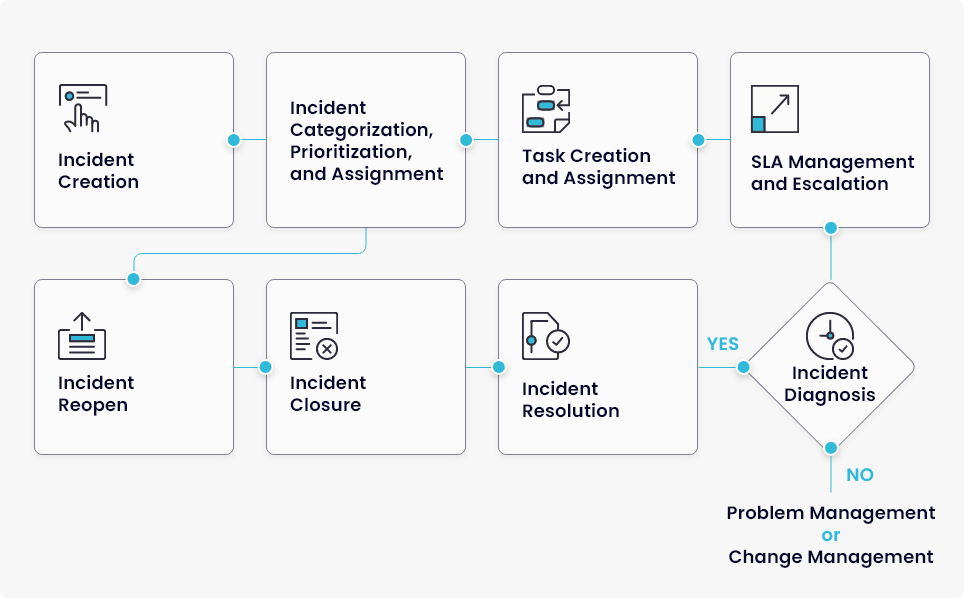 The first stage in incident management is incident request, which then moves to categorization and prioritization. This will help decrease incoming tickets and make sure that the tickets are routed either through smart balance or through the round-robin and get the most available person to work on the incident.
Incident categorization also helps the service desk teams to apply the most suitable SLAs to incidents and set up the priorities for end-users. Once an incident is categorized and prioritized, IT technicians will start diagnosing the incident and close the incident with a resolution. An incident can have tasks that a technician needs to perform to resolve the incident. If it gets unresolved, it will align with problem management (include the link of problem management) or change management (include the link of change management).
For example, an employee of an IT company is facing a problem while using wi-fi and registers an incident through email or the ServiceOps portal.
Once the incident is generated, the technician will be allocated a ticket, and the team will start working on it based on urgency and priority. Once they have started working on the incident, if they find the issue with the cable, they can update the status or use the elements like a reply, forward, collaboration, notes, diagnosis, and solution.
Suppose they can resolve the issue regarding wi-fi. In that case, they can close the ticket, and in case they find that the cable needs to be changed or there is some other issue they cannot resolve, they can align an incident with a problem management or change management.
Benefits of incident management
Efficient business operations
Enhanced productivity
Satisfied end users
Providing consistent service levels
Proactive discovery and avoidance of major incidents
What if you don't have incident lifecycle management?
Incident lifecycle management includes every phase of an incident throughout its lifecycle. It helps businesses speed up the resolution process and ensure ticket management remains transparent. Without incident lifecycle management, handling tickets can be difficult.