Email notification rules are powerful drivers of user engagement when it comes to the help desk or service desk. The email notification rules are the best way to make all the stakeholders aware of what is going on and it will eventually help businesses make interactions more interactive and easier.
What Is an Email Notification?
An email notification is an important message that is for a requester or a technician to know about the important updates. Such notifications help everyone to be on the same page and keep updated everyone involved. Some of the common email notification types are –
Verification notification
Changes in Terms of service
Security alerts
In-progress request emails
Dependency notifications
Asset allocation notifications
Hardware changes notifications
Email notification rules for the following events
Users can have email notifications whenever any update occurs such as:
Any request is assigned to any technician
Changes to key parameters of an issue/request
Any change is made to an asset
Any special request is defined under a status
The events listed above can be defined as rules while setting up email notification rules facilitated through automation workflows. Users can define as many rules as they want for any kind of special event.
Set Up Email Notification Rules in ServiceOps
Motadata ServiceOps allows sending notifications to requesters and technicians via setting up various notification rules. Such notification modes can be set across various modules of the platform, such as Request, Problem, Change, Release, Asset, Asset Movement, Knowledge, Contract, Purchase, Project, User, Task, User Survey, and Incident Schedule. Such notification can be set up for email and SMS.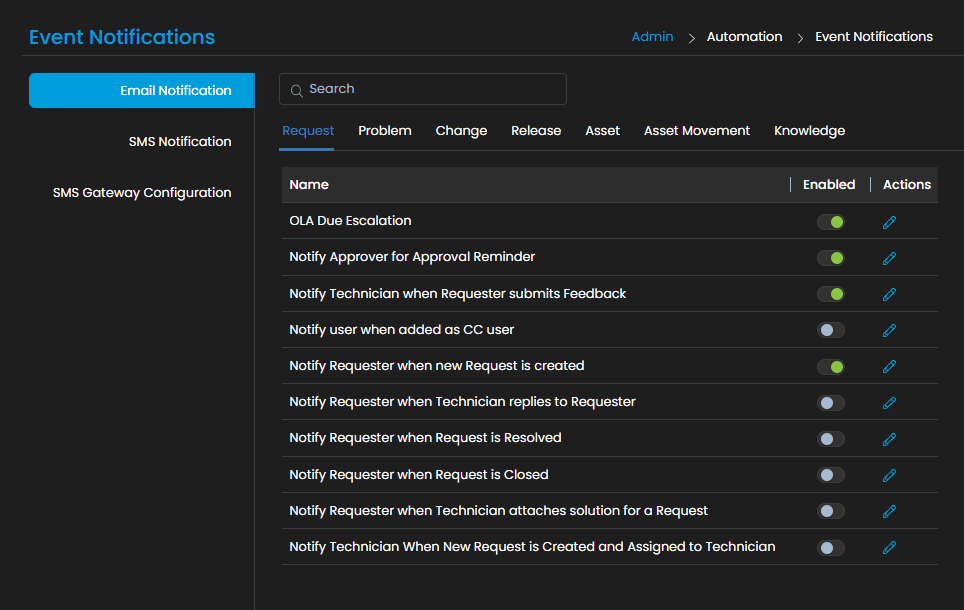 With email notification rules in line, you can instruct managers and requesters to notify automatically when any kind of event occurs, for example, an email notification will be automatically sent to requesters and technicians in case any status update is updated in the system.
Follow this step-by-step guide on setting up email notifications