With organizations relying increasingly on software applications that they use, it is critical to understand what software applications you have, who are making use of them, how are they supported, and what is the cost associated with them.
Software asset management (SAM) practices that are well-developed and well-understood are the key to maximizing the value from your software assets. SAM also guarantees that you are neither utilizing more software licenses than you are paying for, thereby exposing you to legal penalties, nor are you using less, implying that you are paying for more than you need.
In this blog, you will be able to understand everything you need to know about software asset management, including:
What is Software Asset Management? 
What is Software Asset Lifecycle Management?
Why is Software Asset Management Important? Benefits of SAM.
How does SAM help drive down licensing costs?
How to choose the right SAM tool? 
How does SAM fit into the larger ITAM or ITSM strategy?
What is Software Asset Management?
Software Asset Management (SAM) encompasses all the processes required to successfully manage, govern, and secure an organization's software assets throughout their lifecycles. Software asset management, along with hardware asset management (HAM), is a component of IT asset management (ITAM).
To understand more about what hardware asset management, read our blog: What is Hardware Asset Management (HAM)? Why is it Important?
Software is an integral component of an IT infrastructure. Manual management and tracking, using spreadsheets, of software get complicated and is inefficient. In addition, any upgrades, license modifications, expirations, and compliance need to also be effectively monitored.
For this, you need a software asset management solution that can help you recognize the expenses, liabilities, and risks associated with your software applications and enable you to manage all your IT software assets from a single location.
There are 3 key areas where SAM can help your organization: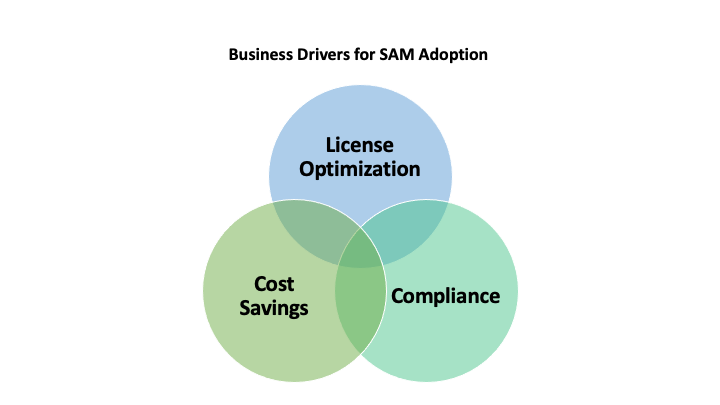 License Optimization: Generate more value out of your licenses by knowing what they are and how your organization is using them
Cost Savings: Lower licensing costs by utilizing SAM insights 
Compliance: Keep the costs, risks, and complexity associated with non-compliance in check and always be audit-ready
What is Software Asset Lifecycle Management?
The software asset lifecycle is like hardware asset lifecycle wherein they need to be thoroughly examined before deployment, throughout their utilization, until retirement.
With SAM, you can determine which stage of the lifecycle a particular software is in, make smarter decisions, and understand when a software solution no longer works for your organization.
The software asset lifecycle management stages are as follows: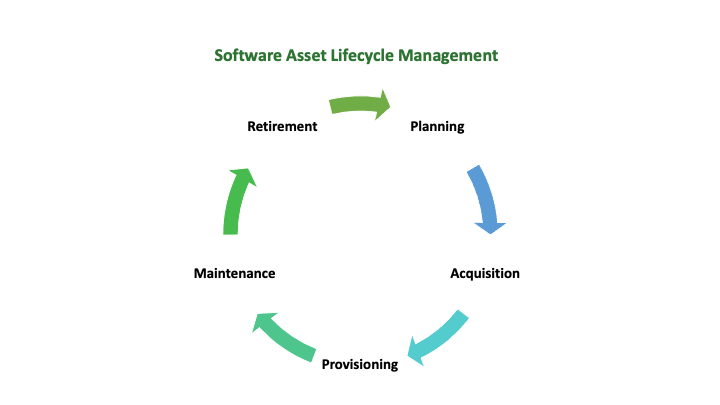 Planning: In this stage, you take strategic decisions about what software is requested or required and best meets your organization's needs.
Acquisition: This is the stage in which you purchase the software license.
Provisioning: In this step, you deploy and integrate the new software into your business operations and make it accessible to end-users.
Maintenance: Once deployed, you need to maintain and keep the software updated with the help of the software's support team.
Retirement: In this stage, you may consider retiring an existing software solution if it is no longer useful to your organization.
Why is Software Asset Management Important? Benefits of SAM.
Businesses often implement a SAM system when they are confronted with an audit or when they recognize that they have been overspending on licenses and contracts. But there are many other reasons why software asset management is important. 
Listed below, are a few benefits of SAM that can give you a competitive edge: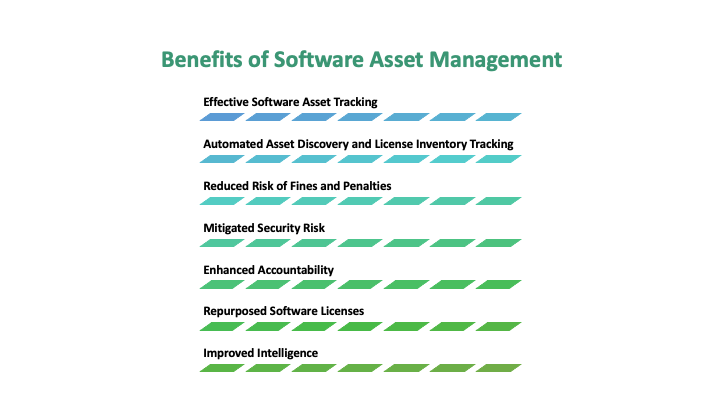 Effective Software Asset Tracking
It is not as straightforward to track software assets as hardware assets because software is intangible. SAM makes it easy to track the overall usage, expense trends, and compliance of software assets.
Automated Asset Discovery and License Inventory Tracking
A SAM solution allows for automatic detection and addition to the inventory of any new software and user accounts in an organization's network and identifies inactive accounts, prevents duplicate accounts, and detects unused software.
Reduced Risk of Fines and Penalties
Minimizes financial risks and penalties associated with non-compliance by identifying and addressing any license deficits in advance.
Mitigated Security Risk
SAM ensures that all the software in an organization is configured properly to protect them from security breaches, viruses, and malware. Thus, making the network less susceptible to security risks.
Enhanced Accountability
Guarantees compliance with an authorized record of compliance tracking and enhance accountability before the software provider when the time for audit arrives.
Repurposed Software Licenses
SAM provides a cost-efficient structure through which licenses can be recycled to save costs when users change positions or jobs.
Improved Intelligence
Make smarter software deployment and utilization decisions with intelligence generated through reports comprising of details like contractual terms, license inventory, etc.

How can SAM help Drive Down Licensing Costs?

A "baseline," available at the time of the Agreement True-Up or Renewal, is a glimpse of your existing licensing rights in comparison to your present software deployments. It is a useful practice to determine licensing shortages and surpluses to optimize and save costs. 

Implementing a point-in-time software inventory baseline using a SAM tool can help in software license optimization.

Not only that but SAM enables companies to identify what they are using and what they are not to make better decisions, and eventually, decrease the overall software spending.

How to Choose the Right SAM Tool?

Various SAM tools are available in the market, so how do you select the best one?

Here, we will discuss all elements that should be taken into consideration, so that you can make an informed decision and procure a SAM tool that fits perfectly for your business.

SAM Tool Capabilities

While many businesses opt for a SAM based on pricing and vendor rankings, we recommend selecting a SAM tool based on its functionalities that meet your organization's needs. 

Here are some essential SAM features you should look for:

Software Discovery
Software Asset Inventory and Cataloging
Software Usage Assessment
License Compliance Monitoring
Asset Baseline
Audit Scheduling
Automated Reporting
Alerts & Notifications
Free Trial Options
Scalability

Size of Organization

It is crucial to consider the size of your organization while selecting a SAM solution. 

You do not need a complicated enterprise-level SAM solution if you are a small firm or if you just do not utilize that many software applications. Then again, you will need something more complex and sophisticated if you are a big organization utilizing hundreds or thousands of software applications.

Infrastructure Complexity

Bigger organizations have an infrastructure that is more complicated. If you have many departments at various locations and have an international presence, it is important to have a more comprehensive SAM tool to keep everything structured.

If some of your business operations have been outsourced or if your company has been acquired or combined, it might make operations of your organization more cumbersome and tracking software much more difficult. The right SAM tool can facilitate things in such cases.

Compatibility with Existing Enterprise Systems

IT departments in organizations can use a range of enterprise software solutions for applications such as security management, ITSM, HR management, etc. 

While selecting a SAM tool, it is important to consider if the application is compatible or even synergistic with the existing enterprise systems in your business.

How does SAM fit into the larger ITAM or ITSM strategy?

In today's business ecosystem, centralized IT planning is a major challenge. Many big organizations decide to decentralize, offering freedom and flexibility to individual business divisions to remain competitive. However, this can lead to needless IT expenditures. 

The techniques for centrally handling IT assets and IT services are called IT Asset Management (ITAM) an IT Service Management (ITSM), respectively. And, SAM is one of the most important components of ITAM and ITSM.

With the appropriate discovery and SAM technologies in place, even in a decentralized setting, centralized IT can keep software costs down. Centralized IT can simplify critical purchasing and licensing decisions by monitoring installations, usages, and configurations. Even extremely decentralized budgeting decision making can be simplified without compromising important flexibilities using a SAM tool.

If you are looking for a way to successfully and effortlessly managing your software assets, check Motadata ServiceOps IT Asset Management platform which has integrated features like software discovery, software asset inventory, software metering, asset baselining, license management, out-of-the-box reporting, alerts & notifications, free trial options, etc.

You can download the application free for 30 days using the following link: Download Network Monitoring & ITSM Tool | Motadata