ITSM, IT Service Management, or a Help Desk are the common terms often used on behalf of each other. They are used to refer to businesses' IT End-user support. However, each is distinguished and has its unique features and capabilities that help organizations run their IT operations seamlessly. In other words, IT Service Desk can be called a Single Point of Contact (SPOC) between Service providers and the end-users.
The Importance of IT Service Desk
Service desks are essential because they provide a single point of contact for customers to request help or report issues related to a product or service. This can improve customer satisfaction by providing timely and efficient support and can also help organizations identify and address recurring problems.
It can help organizations streamline their support processes by providing a centralized location for handling customer requests and issues. This can reduce the time and effort required to resolve problems and minimize the risk of miscommunication or misunderstandings between different teams.
Service desks can also be crucial in maintaining customer satisfaction and loyalty. When customers have a positive experience with a service desk, they are more likely to feel valued and supported by the organization. This can lead to increased brand loyalty, repeat business, and positive word-of-mouth recommendations to others.
On the other hand, poor service desk experiences can damage customer relationships and lead to negative reviews or feedback. By investing in high-quality service desk support, organizations can demonstrate their commitment to customer satisfaction and build strong, long-lasting customer relationships.
Key Benefits of IT Service Desk
IT service desks offer numerous benefits to organizations. It plays a crucial role in optimizing IT operations and supporting the overall functioning of an organization. Let us dive deep into some key benefits of IT service desk.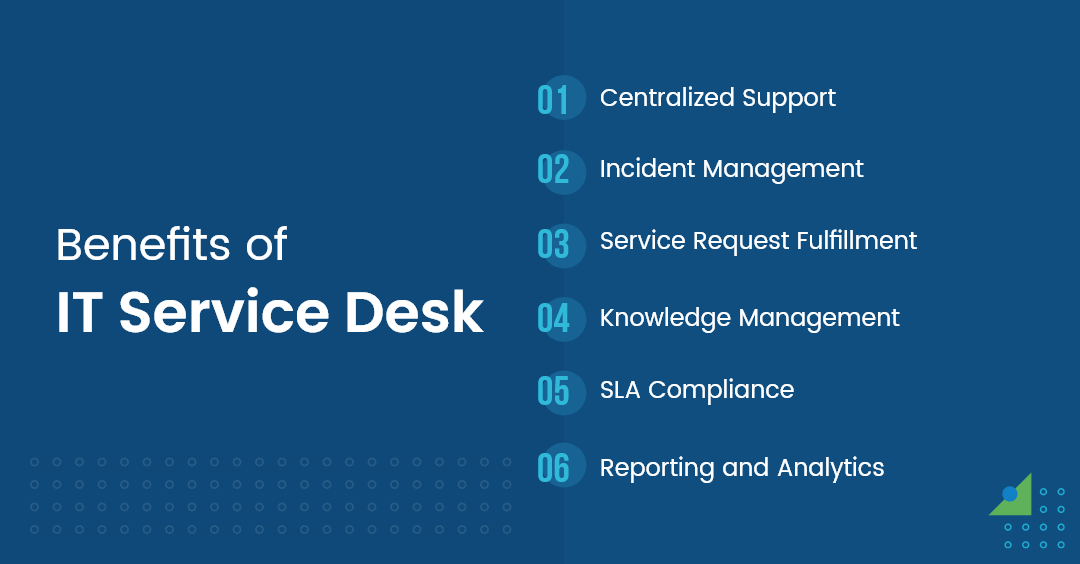 Centralized Support
IT service desks are a central point of contact for all IT-related issues. They streamline communication and ensure that all IT requests and problems are routed to the appropriate teams or individuals, reducing confusion and improving efficiency.
Incident Management
Service desks excel at handling incident management. They facilitate the timely resolution of IT issues by following established processes, tracking incidents, and providing regular updates to users. This helps minimize downtime, improve user satisfaction, and maintain productivity.
Service Request Fulfillment
Service desks handle various service requests, such as software installations, access requests, and hardware provisioning. By efficiently managing and fulfilling these requests, service desks enhance user experience, reduce administrative burdens on IT teams, and improve service delivery.
Knowledge Management
IT service desks are knowledge repositories, documenting solutions and best practices for common IT issues. This knowledge base allows service desk agents to provide accurate and consistent support and enables self-service options for users, empowering them to resolve simple problems independently.
Service Level Agreement (SLA) Compliance
IT service desks often operate based on defined service level agreements (SLAs), which outline response times, resolution targets, and service quality expectations. By adhering to these SLAs, service desks ensure that IT services are delivered promptly and meet agreed-upon service levels, fostering user trust and satisfaction.
Reporting and Analytics
Service desks generate valuable reports and analytics on various metrics, including incident volumes, response times, and user satisfaction. This data allows organizations to identify areas for improvement, measure performance against targets, and make data-driven decisions to enhance their IT operations.
Overall, IT service desks provide the following:
A structured approach to IT support and management.
Delivering efficient incident resolution.
Improved user experience.
Valuable insights for continual service improvement.
Unlock the Power of IT Service Desk Excellence
with Motadata and Take Charge of Your Support Journey Now!
How does an IT Service Desk Operate?
The Service Desk is designed to deliver a variety of services. A Service Desk is an essential part of digital transformation in any organization, resulting in an evolving trend approached by almost every industry. And therefore, it is crucial to choose the right solution, a tool consisting of numerous responsibilities that revolve around the request fulfilment.
Controlling Incident Management Protocols: A goal of an IT Service Desk is to manage the incidents seamlessly, including restoring services and making enterprises meet SLAs. A standard Incident Management Protocol has four elements: Support, Resolution, Report, and Logging & Prioritizing.
Better Asset Management: Motadata ServiceOps, an IT Service Desk, plays a vital role as a central system for all the staff members within the organization, making all hardware, software, cloud, and digital assets stored at one centralized location. As a result, it offers better information retrieval, maintenance, and asset management.
Self-Service Solutions: Detailed Knowledge bases and FAQs help employees stay updated about the latest trends and services. It doesn't require human intervention and resolves a lot of common problems. As per Gartner's press release, more than 91% of support desks are believed to offer additional self-servicing solutions in the future.
The Significance of IT Service Desk
From reducing the overall cost for the organization to streamlining processes, Motadata ServiceOps can transform the IT landscape of a customer-focused enterprise. Not just that, but businesses can earn another handful of benefits by choosing the most suitable IT Service Desk.
Here are the key reasons that explain the significance of the IT Service Desk: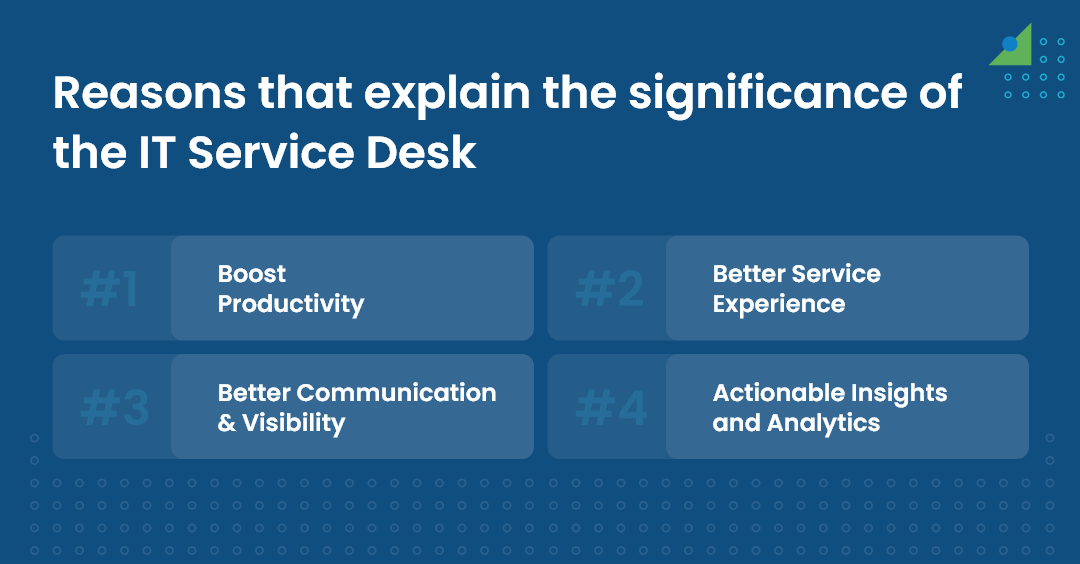 Boost Productivity: The IT Service Desks are designed to help remove and resolve any issues quickly faced by employees. This makes users work faster than manual methods and allows businesses to plan and strategize their IT operations.
The capability of finding a solution for the end-users in a short amount of time makes it meaningful and essential for any organization. In addition, it also offers Live Chat Support, Ticket Management, a Rich knowledge Base, An Omni-Channel Experience, and much more.
Better Service Experience: The users (employees) within the organization depend highly on IT professionals and technicians to resolve their day-to-day issues. However, the support team must inundate the IT issues as any business scales up. And therefore, there should be the automation of IT services and streamlining processes.
The end users can track their ticket's status and stay informed regarding their issues. And if there's no technician available, a self-service portal can be helpful with guidance and steps to resolve their solutions.
Better Communication & Visibility: Whether it is about focusing on day-to-day tasks or employee updates, the IT organization must be transparent. With the Service Desk on board, visibility would increase throughout the company, making the staff members aware of the activities happening across the enterprise and the current technical issues.
Actionable Insights and Analytics: The vast available data can be helpful in various ways. It helps make strategic decisions and gives a sense of confidence. The reports can highlight the abandon rates, response times, and common issues, improving the organization's IT services.
Along with rich insights, it also helps the support team be better. With the help of Key Performance Indicators (KPIs), the support managers learn about their agents' capabilities and utilize them better. This can be helpful, particularly when highly prioritized tasks need to be resolved.
Efficient Service Management Across Departments: Motadata ServiceOps is Here to Streamline Your Operations.
Motadata ServiceOps enables enterprises to provide comprehensive IT support to people inside an organization. However, with the current evolution, the service desk has gone beyond just IT. Therefore, creating various services for different departments, such as Admin, HR, Marketing, etc, can be helpful.
Motadata ServiceOps can be your one-stop solution for all your service helps. Feel free to reach out to us at sales@motadata.com.