In the dynamic realm of modern business, where technology reigns supreme, an IT service desk is the backbone of a thriving business. An IT service desk is the catalyst that propels IT services toward achieving organizational goals, irrespective of the organization's size.
Let's dive deeper into the concept of IT service desk.
What is an IT Service Desk?
An IT service desk is a single touch point between an enterprise and its employees, partners and customers. In a service desk, requests are registered as tickets, which is why it's also called a ticket management system.
By leveraging the service desk's capabilities, organizations can drive effective and customer-centric digital transformation. Based on the findings of a recent study by Gartner, 80% of all business processes will rely on automation, artificial intelligence, and other advanced technologies by 2023. This rapid digital transformation highlights the critical importance of a well-functioning IT Service Desk, as it becomes the central hub for managing and resolving technical issues within organizations. (Recommended Read: The Key Role of Service Desk in Digital Transformation)
ITIL, a standard framework for implementing a service desk, has identified 26 processes and 4 functions that can be mapped onto service lifecycle stages.
Functions of a Service Desk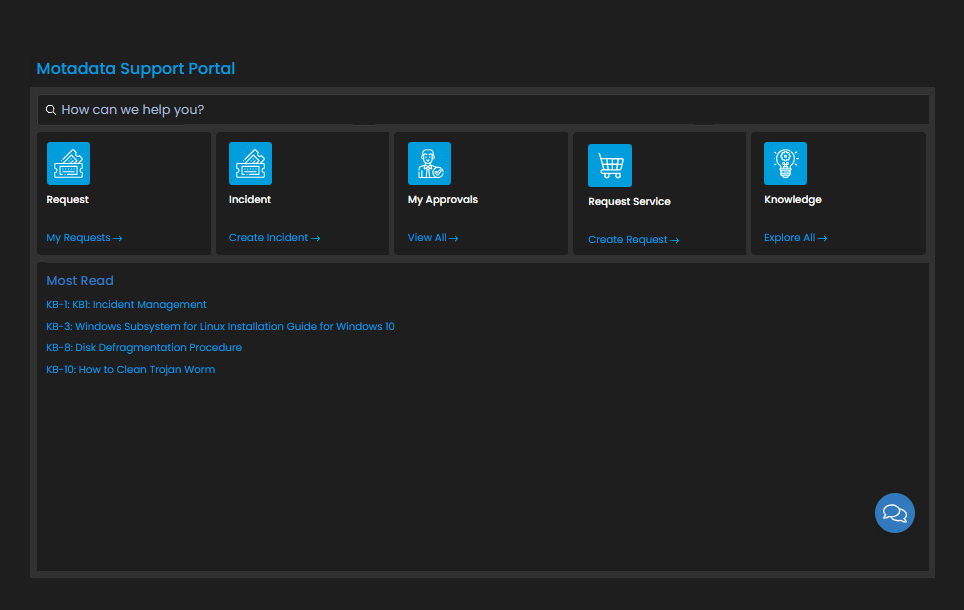 The primary role of a service desk is to deliver services. Apart from that, it captures major incidents in an organization. In most organizations, the service desk is not just limited to IT. It is integrated into other business processes like:
Travel booking.
Onboarding of new employees.
Infrastructure management.
Onboarding of new vendors and their management.
Data and reporting.
Documentation Management.
In our ITSM solution, we provide predefined templates to take care of everyday use cases like New Employee Onboarding.
Types of Service Desks
ITIL has clearly stated that there are four types of service desks. They are as follows:
Local Service Desk: Such a service desk is generally situated inside the premise of an organization and caters to the demands of users in proximity. The capacity of such a service desk is limited and suitable for small and medium-sized enterprises.
Centralized Service Desk: A central service desk eliminates the requirement of maintaining multiple service desks across several locations. It allows greater efficiency and results in significant cost reduction.
Virtual Service Desk: When a service desk delivers services online and gives the sense of a central service desk, even though it might be distributed across multiple locations, it is a virtual service desk. Most modern service desks are virtual service desks.
Follow the Sun: This kind of service desk runs 24 hours. This is achieved by combining two or more service desks across multiple locations.
What are the Benefits of Having an IT Service Desk?
A service desk is a centralized point of contact for users to report IT issues and receive assistance. This can streamline the IT support process and improve the overall efficiency of IT operations. Let's read about some benefits of an IT service desk here.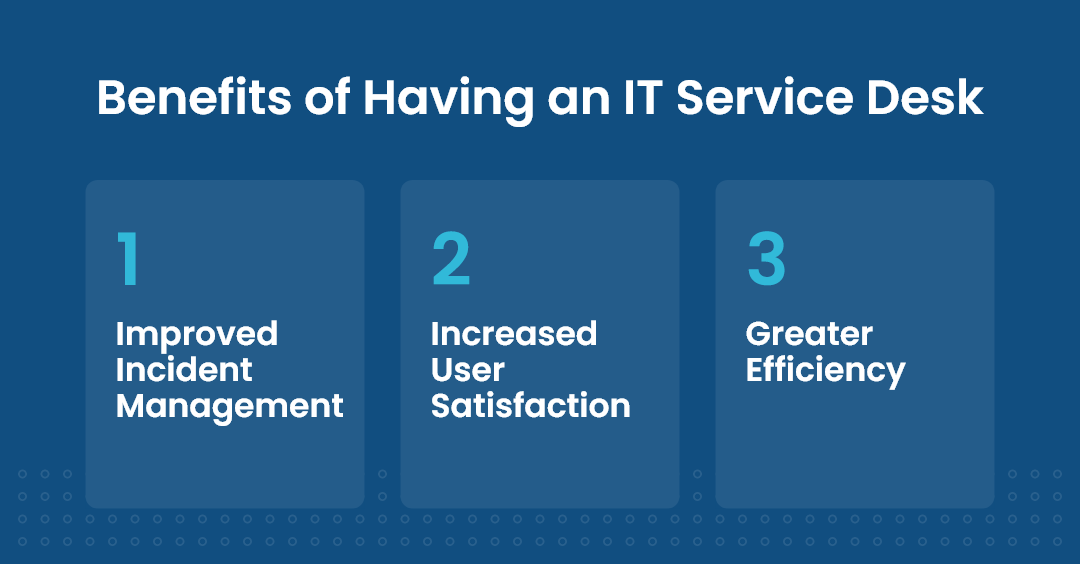 1. Improved Incident Management: One of the critical benefits of an IT service desk is improved incident management. An IT service desk solution provides a single point of contact for all IT-related issues, allowing IT teams to manage and resolve incidents efficiently. This can minimize the impact of IT issues on business operations and reduce downtime.
An IT service desk can also help standardize incident management processes, ensuring incidents are handled consistently and effectively. By tracking incidents and analyzing incident data, IT teams can identify trends and recurring issues, allowing them to address underlying problems and prevent future incidents proactively.
2. Increased User Satisfaction: Another benefit of an IT service desk is increased user satisfaction. An IT service desk can help improve user satisfaction by providing timely and practical support to end-users. This can lead to increased productivity, as users can focus on their core responsibilities without being hindered by IT-related issues.
An IT service desk can also provide users with a self-service portal, allowing them to easily access information and resolve common issues without contacting the IT team. This can reduce the workload on the IT team and improve user satisfaction by providing users with a convenient and efficient way to resolve issues.
3. Greater Efficiency: The service desk can help improve IT operations' overall efficiency. It can reduce the time and resources required to manage IT issues by providing a streamlined reporting and resolution process. This can lead to faster resolution times, reduced downtime, and increased user productivity.
In addition, an IT service desk can also help to improve communication and collaboration between IT teams and the rest of the organization. By providing a clear channel for users to report issues and receive support, the service desk can help to build trust and foster positive relationships between IT and other departments. This can lead to better alignment between IT and business goals and, ultimately, better outcomes for the organization.
Empower Your Users with an Intelligent
IT Service Desk
Help Desk vs Service Desk
Help desk and service desk are two terms often used interchangeably, but they have some substantial differences.
A helpdesk is a limited version of a service desk. It was designed to fix IT issues for IT teams. The traditional helpdesk ignores the end-user experience. A service desk is everything a helpdesk is and more. It considers a service lifecycle that includes handling incidents and service requests.
The help desk focuses on providing reactive support to users that experience technical issues. The primary goal of a help desk is to resolve concerns faster to ensure that users can get back to work as soon as possible. It's safe to say that help desks may have a narrower scope of support, such as only providing support for hardware or software issues.
On the contrary, a service desk is a more comprehensive IT support model focused on providing proactive and reactive support to users. In addition to resolving technical issues, service desks may provide guidance and advice on how to use IT systems more effectively and manage IT assets, such as hardware and software licenses. Service desks have a broader scope of support, such as supporting business processes or non-technical issues.
While there is some overlap between the two terms, a service desk is generally considered a more comprehensive and proactive approach to IT support. In contrast, a help desk focuses more on reactive support for technical issues.
Want to know more about their difference? Click here!
How a Service Desk Fits into IT Service Management?
IT service management deals with service planning, designing, delivering, supporting and managing.
A service desk is a subset of ITSM that includes the following:
Incident management
Problem Management
Change Management
Knowledge Management
Self-service
Service Requests
Integration with a CMDB
Best Practices for a Service Desk:
An IT service desk can benefit your business in ways you cannot imagine. But that only holds if you get the most out of your service desk. Here are some best service desk practices that can be of help.
1. Customize Solution Based on Your Needs: Modern ITSM tools can be customized; as we know, a service desk is one of the many parts of an ITSM solution. A custom-made ITSM tool can prepare custom forms, create workflows, and make an efficient service catalog to develop a productive service desk.
2. Leverage Workflows: A ticket queue can negatively impact your average resolution time metric. To mitigate this, it is advisable to make use of the automation. Such features enable the handling of recurring tickets through predefined workflows, allowing technicians to focus on tickets requiring immediate attention. For instance, in Motadata ServiceOps, you can set up workflows that automate the resolution of everyday issues by providing predefined solutions.
3. Offer Easy Access to Knowledge: It is essential to provide requesters with access to knowledge so they can independently search for solutions to their problems. Motadata ServiceOps offers a convenient solution by providing an advanced search bar on the service portal, enabling requesters to engage in self-service.
Read: 11 ITIL Best Service Desk Practices to Supercharge Your Service delivery
Conclusion
An efficient service desk solution contributes significantly to reducing cost & downtime, saving time & money, and ensuring greater productivity. An IT service desk not only enables full IT support to the internal and external customers, but has begun to move beyond just IT. A progressive solution likeb Motadata ServiceOps can enable its users to create services for IT as well as HR, Marketing, Admin and more.
Get Started with Motadata ServiceOps Today. Book your 30-day free trial now.