Selecting the right IT Service Management (ITSM) tool and ITSM software vendor is challenging. To select a suitable ITSM solution for your business, you must consider diverse factors.
ITSM services are evolving rapidly, where one ITSM solution will help you streamline all the IT processes. So, a business must choose the best ITSM tool available. ITSM Solution is a software or tool that helps organizations manage the end-to-end delivery of IT services to customers.
The ITIL compliant ITSM tool uses AI/ML to optimize and streamline service delivery across various business processes.
Below are some tips for evaluating ServiceOps ITSM Solution before selecting the right ITSM software for your business.
How to select the right ITSM Solution for your Business?
1. Understand your business needs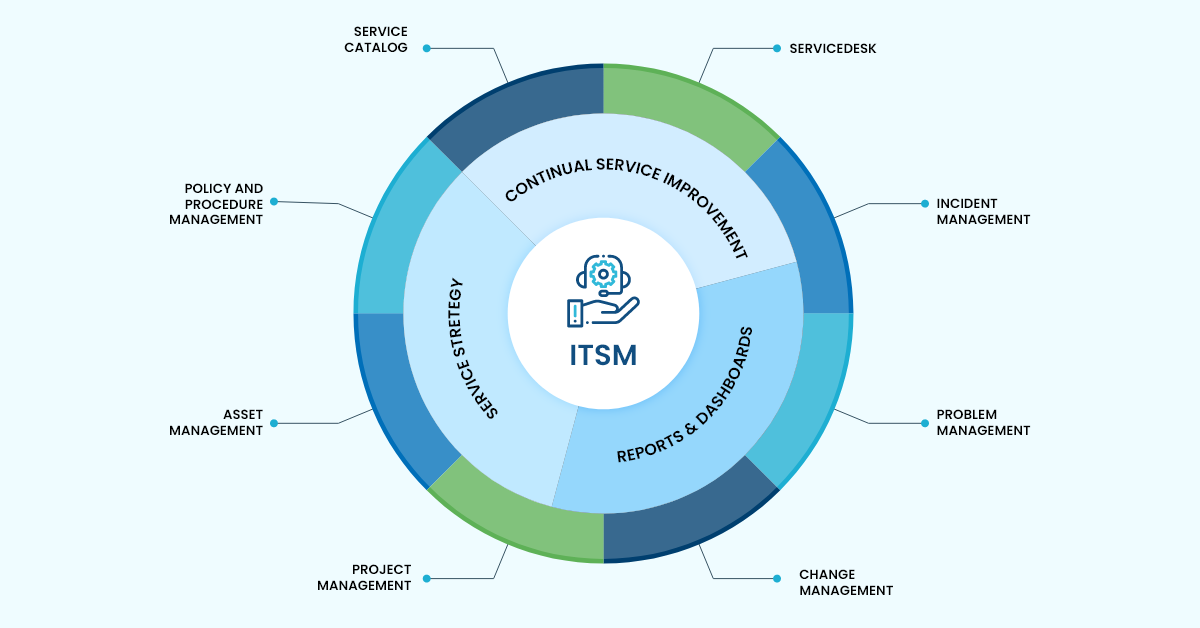 Evaluating the business needs will help you understand your ITSM needs and what ITSM features you will be required to provide. In addition, understanding the business needs will help if you start by reviewing your pain points.
The primary business consideration should be given to both IT support and service delivery. Different ITSM tools are available, especially for the organization level and needs. If your various IT operations activities are not aligned with ITSM best practices, you'll need to launch a process maturity assessment. For the right ITSM solution,
You can make high-level requirements related to what you would like to do.
Set goals to accomplish with the help of the ITSM tool.
Find all the operations that you can automate to increase the efficiency of your system.
2. Integration of ITSM tool
It will help you incorporate the ITSM tool with your third-party cloud provider if you are using cloud services. In addition, with the integration, you can solve how to integrate your ITSM tools with your existing IT systems.
When you plan to incorporate ITSM best practices, ensure that your network is secure from attackers. Any IT solution, especially the ITSM solution, comes with pre-built integrations. A good ITSM tool should integrate your network and all the software you are using.
3. Engage your people with ITSM tool
When selecting the right ITSM solution, your team must know about the ITSM software you are going to incorporate. In addition, it is required to engage your team with the ITSM best practices to follow and get them thinking about the automated process.
Businesses should involve the whole team in a new ITSM tool as a noteworthy investment, giving people enough time to try and understand the software they will use in the future.
4. Don't rush your ITSM requirements gathering
It is essential to gather the requirements if you are looking to streamline your business operations with complete life-cycle management, asset database, automatic patch management, customized report, and more. However, one must not try to fast-track the requirements gathering process while selecting the right ITSM tool.
The risks are high if you try to gather requirements too quickly, where a business can miss something critically important. So, instead, go for a free trial and ask your vendor to offer a demo and free trial of 30 days!
You can include the following things while gathering requirements:
Strong Customer Experience.
Consistency in ITSM Processes.
The ability to use Automation Templates.
Integration with third-party solutions, like a mobile device, remote support, authentication, and patch management.
Data Center Monitoring process.
Dynamic Dashboards, Metrics, and Reporting capabilities.
Support for Data Migration and solutions into the new ITSM solution.
Also Read: Top ITSM Trends of 2022
5. Choose your delivery model wisely
Business needs ITSM solution to remove repetitive manual tasks and time-consuming conversations with end-users. The delivery model plays a key role, from resolving tickets promptly to enabling end-to-end lifecycle management of any service request.
Selecting the right ITSM tool will help offer a strong software-as-a-service (SaaS) and on-premise availability. In addition, choosing the features of the ITSM tool enables you to solve all end-to-end incidents faster.
Enable your Business with Intelligent
IT Service Management
6. Evaluate vendors wisely
Along with strategic sourcing, the vendor selection process is one of the final steps in selecting the right ITSM tool.
On the shell, selecting the most effective solution provider seems like the best way to get the best ITSM for your business. "The main objective of the proposal evaluation and vendor selection phase is to minimize human emotion and political positioning to decide on the company's best interest." Explore all the benefits and value that ITSM software delivers.
Here are the steps to evaluate vendors:
Ask all required questions to your vendor.
Check out the organization's previous work and ITSM case studies.
Make a decision when you're satisfied with all aspects of the deal.
Conclusion
Evaluating the ITSM tool's benefits and knowing the ITSM solutions' tips will help you select the right ITSM solution like Motadata's ITSM solution. It will streamline your IT and service delivery operations.
It will help optimize every process for the best value and align it with business goals. As a result, we deliver one of the most ROI software for your business, covering all your business requirements.
Are you ready for a 30-day trial? Then, take our FREE Consultation today!