Selecting the right IT Service Management (ITSM) tool and ITSM software vendor is challenging. To select a suitable ITSM solution for your business, you must consider diverse factors.
ITSM services are evolving rapidly, where one ITSM solution will help you streamline all the IT processes. So, a business must choose the best ITSM tool available. ITSM Solution is a software or tool that helps organizations manage the end-to-end delivery of IT services to customers.
The ITIL compliant ITSM tool uses AI/ML to optimize and streamline service delivery across various business processes.
Below are some tips for evaluating ServiceOps ITSM Solution before selecting the right ITSM software for your business.
Importance of ITSM Tool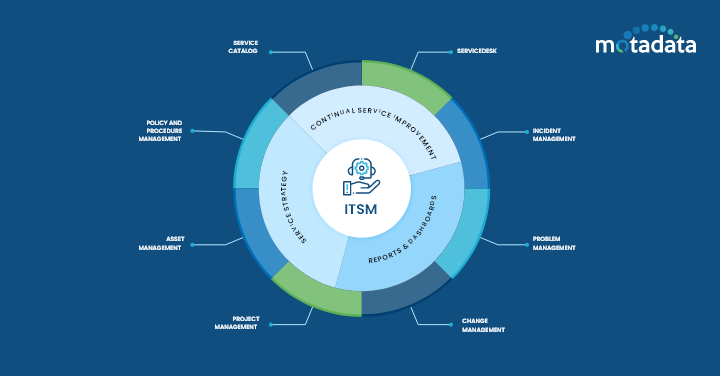 The importance of ITSM tool lies in the fact that it ensures strong alignment among people, process, and technology to achieve your business goals.
Apart from this, it also helps in:
Standardizing service delivery

Managing incidents & changes

Optimizing asset & configuration management

Generating reports with reliable data

Defining and implementing strategies for continuous improvement and IT cost reduction
How to Select the Right ITSM Solution for Your Business?

1. Understand Your Business Needs
Evaluating the business needs will help you understand your ITSM needs and what ITSM features you will be required to provide. In addition, understanding the business needs will help if you start by reviewing your pain points.
The primary business consideration should be given to both IT support and service delivery. Different ITSM tools are available, especially for the organization level and needs. If your various IT operations activities are not aligned with ITSM best practices, you'll need to launch a process maturity assessment. For the right ITSM solution,
You can make high-level requirements related to what you would like to do.
Set goals to accomplish with the help of the ITSM tool.
Find all the operations that you can automate to increase the efficiency of your system.
2.

Look for Usability & Ease of Configuration
Always look out for usability and ease of configuration while choosing your ITSM solution. But, first, you need to identify if your requirements like the must-have features and functionalities can be accommodated with GUI-driven configurations. 
If not, you may have to go for a coding-based solution. 
Always strive to be in a position where your requirements are satisfied by a GUI-driven solution. This is because a GUI-driven solution with its user-friendly interfaces makes it extremely easy for the admins to customize and manage their workflows.  
And the best part — they can do all these without relying on any expensive development resources.  
GUI-driven solution trumps a coding-based solution when it comes to deployment time. Ideally, a GUI—driven solution would take 6-8 months as compared to that of 24-48 months taken by coding-based solution. 
But in case, you have to resort to a coding-based solution, you must first set a realistic budget for: 
Training of internal development resources

External development resources

Cost of DevOps management
3. Integration Of ITSM Tool
Integrating your ITSM tool with third-party cloud providers is very important, especially if you are using cloud services. Security is a top priority, so make sure your network is protected from potential cyber threats. Look for an ITSM tool that integrates seamlessly with your existing IT systems and software.
Here are some of the benefits of integrating your ITSM tool with third-party cloud providers:
Increased Efficiency: By integrating your ITSM tool with third-party cloud providers, you can automate many of your IT tasks, which can save you time and money.
Improved Security: Integrating your ITSM tool with third-party cloud providers can help you to better protect your data from potential cyber threats.
Enhanced Visibility: By integrating your ITSM tool with third-party cloud providers, you can get a better view of your entire IT infrastructure, which can help you to identify and address potential problems more quickly.
Improved Collaboration: Integrating your ITSM tool with third-party cloud providers can help you to improve collaboration between your IT team and other departments within your organization.
When choosing an ITSM tool to integrate with third-party cloud providers, it is important to consider the following factors:
The tool's ability to integrate with your existing IT systems and software.

The tool's security features.

The tool's ease of use.

The tool's cost.
4. Engage Your Team with the ITSM Tool

Involving your team in the decision-making process is vital to the successful adoption of the ITSM solution. This will help them feel like they are part of the process and more likely to embrace the new system. Familiarize them with the ITSM software and encourage them to explore its features. This will help them understand how it can be used to improve their work. Investing time in training and allowing your team to explore the software will yield significant dividends in the long run.
Here are some of the benefits of involving your team in the decision-making process:
Increased employee satisfaction and engagement

Improved communication and collaboration

Increased innovation and creativity

Reduced resistance to change

Increased productivity and efficiency
If you are considering implementing an ITSM solution, be sure to involve your team in the decision-making process. It will be worth it in the long run.
5. Don't Rush Your ITSM Requirements Gathering
Gathering requirements is a critical phase in selecting the right ITSM tool. It is important to avoid rushing this step, as overlooking crucial elements can lead to suboptimal results. Instead, consider taking advantage of free trials and vendor demos to thoroughly assess the capabilities of the ITSM tool.
Important aspects to consider during the requirements gathering process include:
Prioritizing a strong focus on customer experience. Ensuring that the ITSM tool is easy to use and provides a positive experience for customers.

Ensuring consistency in ITSM processes. Having a clear and well-defined process for managing IT services.

Leveraging the power of automation templates. Using automation to reduce the time and effort required to manage IT services.

Integrating with third-party solutions. Integrating the ITSM tool with other IT systems, such as mobile devices, remote support, authentication, and patch management.

Implementing robust data center monitoring processes. Monitoring the performance of IT systems and infrastructure to identify and resolve issues quickly.

Utilizing dynamic dashboards, metrics, and reporting capabilities. Using dashboards and reports to track the performance of IT services and identify areas for improvement.

Ensuring seamless data migration and solutions integration into the new ITSM system. Ensuring that data can be easily migrated from the old ITSM system to the new one and that all solutions are integrated properly.
Also Read: Top ITSM Trends of 2023
6. Choose Your Delivery Model Wisely
The delivery model is a crucial factor in optimizing ITSM processes, streamlining manual tasks, and enhancing service request management. It is important to select an ITSM tool that offers both strong software-as-a-service (SaaS) and on-premise availability. This will allow you to take advantage of the benefits of both models, such as the scalability and flexibility of SaaS, and the security and control of on-premise. When choosing an ITSM tool, it is also important to look for features that enable end-to-end incident resolution for faster problem-solving. This includes features such as:
Self-service portal for users to submit and track service requests

Automated workflows to route and escalate incidents

Integrated knowledge base and collaboration tools

Reporting and analytics capabilities
By selecting an ITSM tool that offers the right delivery model and features, you can optimize your ITSM processes and improve the efficiency of your IT organization.
7. Evaluate Vendors Wisely
Evaluating vendors is one of the final steps in finding the best ITSM tool for your business. It is important to take a strategic approach and carefully consider the merits of each provider. You should focus on the value and benefits that the ITSM software delivers. Here are some steps you can follow when evaluating vendors:
Ask all necessary questions to the vendor. This includes questions about the vendor's experience, their track record, their customer support, and their pricing.

See how they help with

anticipated

and unanticipated changes.

 

See if the company offers some

new ideas

and innovations or do, they only streamline your existing processes?

 

Review the organization's previous work and ITSM case studies. This will give you a good idea of the vendor's capabilities and how they have helped other businesses.

Make a decision only when you're fully satisfied with all aspects of the deal. This includes the price, the features, the support, and the overall fit for your business.
8.
Factor in Your Budget
Like in all important business decisions, the budget becomes an important factor to consider for choosing an ITSM tool as well. Here, you can look for providers who offer ITSM solutions that are cost effective.  
As a rule of thumb, consider the total cost of ownership for the lifetime of the ITSM solution.  
This cost consists of: 
Acquisition Cost

 

Software Implementation

 

Support & Maintenance

 

Customizations

Upgrades

User Training

 
Another thing to be mindful of is the pricing plan. There are many ITSM solutions that come up with several different pricing plans. In such cases, you must ensure that your ITSM solution has all the required features in your chosen pricing plan. If you don't check out this, you may have to pay extra money and upgrade your plan to access those features. 
It is important to remember that there is no one-size-fits-all solution when it comes to ITSM tools. The best tool for your business will depend on your specific needs and requirements. By following these steps, you can be sure to find the best ITSM tool for your business.
Conclusion
Evaluating the ITSM tool's benefits and knowing the ITSM solutions' tips will help you select the right ITSM solution like Motadata's ITSM solution. It will streamline your IT and service delivery operations.
It will help optimize every process for the best value and align it with business goals. As a result, we deliver one of the most ROI software for your business, covering all your business requirements.
Are you ready for a 30-day trial? Then, take our FREE Consultation today!