Nothing's worse than getting a call from the users that the network is down. Too often, IT lacks the visibility they need to get before performance issues arise, meaning you're in the dark until a user or customer calls to complain.
Once an outage happens, the clock is ticking. And the more time you take to understand and resolve the issue, the more it costs you: in terms of customer dissatisfaction, and also staff time & lost productivity.
Many businesses have been struggling to maintain their network for maximum availability. Network failures, server downtime, service or application crashes can cost businesses thousands (or even millions) of dollars in lost productivity and may lead to loss of customers as well.
With the use of network monitoring tool, you can identify an issue before it gets noticed by any of your users and can hence act well in advance. It can monitor routers and switches, hypervisors, servers, and applications of all kinds, keeping tabs on your network in real time helps you identify and fix problems quickly.
Whether you're a CEO, executive, IT manager or IT Administrator, this blog will be useful for you.
Reasons to use network monitoring tools
Here are top 10 reasons why network monitoring solutions are capable of reducing the load of IT teams and make their life easier:
1. Auto Network Device Discovery
The most basic aspect for any NMS is that it is capable of discovering all of those unmonitored applications or devices in your IT infrastructure with just a click of a button. Generally, in case of large sized networks, understanding what all  you've & which all IP addresses are currently in use, can be a challenging task. How is it useful? Out of the many benefits, one can be: Regular or scheduled network device discoveries can alert you whenever any unauthorised devices are added to your network.
2. Network Topology
Once you've discovered all the elements of your network, network monitoring tools will map out your complete network according to their physical connections. This will help you visualise your complete network with a bird's eye view. Get a holistic view of all the connections, understand inter-dependencies, pin-point faulty devices. Network topology maps are the most useful for root cause analysis, as the underlying problems can sometimes be resolved immediately once you've a bigger picture. Here's a sample snapshot of Motadata's network topology view, which shows the inter-connectivity between devices from different vendors & clearly outlines the interdependencies.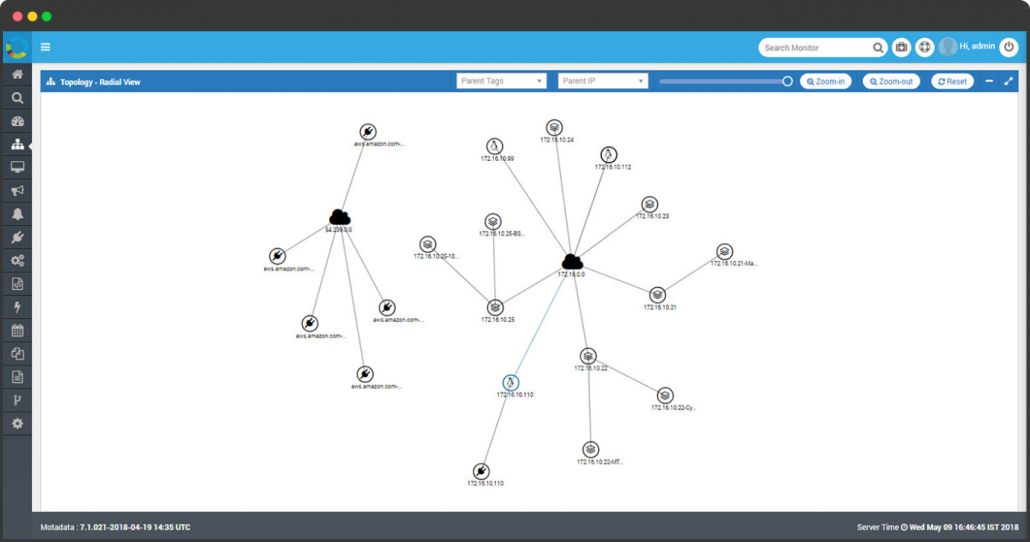 3. Health Status of IT Components
Despite the fact that your network consists of devices from multiple vendors, network monitoring tools can determine whether or not a device is reachable/ available, down or overloaded. This could be based on a ping check or port testing. This generally gets reflected in the network topology map as warning state or can be used to send alerts to IT teams for required further investigation.
4. Long-Term Hardware Trends
With graphical information about your hardware such as bandwidth statistics, Memory utilisation, CPU utilisation & hard disk capacity stats, IT admins can do capacity planning for the whole network. Based on the historical trend reports, IT admins can determine a short-term future performance for that particular component. As an example, let us say a server is eating up 5% of its hard disk capacity every day, one can forecast a trend line to prevent a future problem.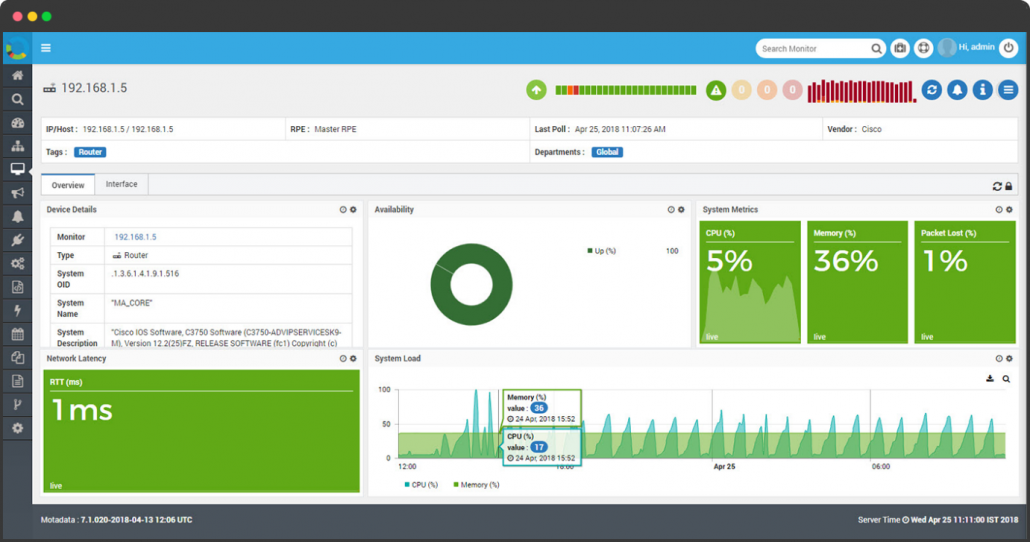 5. Bandwidth Utilisation
Bandwidth monitoring or network traffic analysis can be done using either NetFlow or sFlow or jFlow or IPFIX from switches as well as routers transmitting packet data. This data can reveal a lot more than just the utilisation of ports, for eg. You can understand the applications consuming the most of bandwidth or the users who are responsible behind your choked-up network or who's downloading the most media in your company &  much more. This data can help you determine that a device is over-burdened and the root cause for it.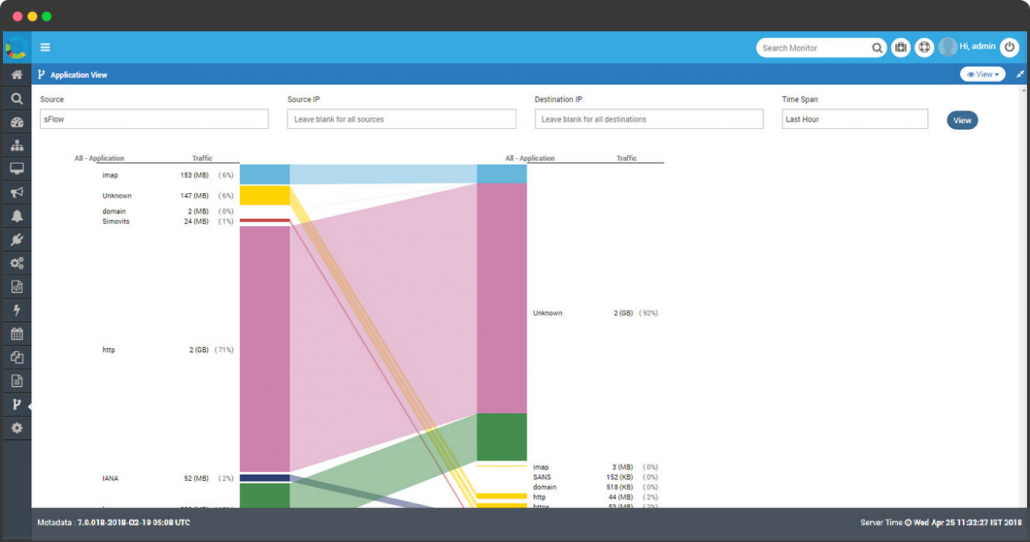 6. Alerting & MTTR
Knowing that a network device is offline or down is good however what comes next? Any NMS worth using will have alerting, integration as well as root cause analysis functionalities to help you with timely problem resolution. If you trigger an alert and set up a threshold smartly you can in fact prevent a problem from happening and get a heads up. Next Gen network monitoring tools like Motadata have the functionality of root cause analysis and correlation which can help reduce mean time to resolution drastically.
7. Manage Network Devices
The handiest feature for most of the organizations is network configuration management. It can help you with backups and restoring the back up for your network configurations. When you have loads of devices to manage, NCM can prove to be saviour. You can centrally back up your configurations, monitor for changes in them, restore backed up configurations and much more.
8. Cloud Monitoring
Keeping up with the fast-paced technology world, network monitoring tools have the capabilities to monitor Microsoft Azure, Amazon AWS & other cloud environments. NMS can even track usage of cloud resources which can later on be correlated against business cost.  Do you like  to understand why was this month's Amazon AWS bill higher than your last? Of course, You  can!
9. Business Service Management
Managing business services related to Sales, Billing, CRM, SCM, etc., should be monitored parallelly along with IT operations. Versatile NMS like Motadata promotes user-centric & business-focussed approach to service management. Getting in-depth visibility over your business applications is as critical as monitoring your IT infrastructure.
10. Availability & Performance Reports
Automated scheduled reports can truly ease your life. Having no need to wake up early & send the stats to your management, once NMS is in place. You can generate reports in the form of PDF & excel. Have the report sent to your manager right on date and time as desired.
Surprised by the above set of functionalities? Well there's more!
Reach out to us on sales@motadata.com & we will give you a personalised  of how we can help your IT network & save your time.