What is the difference between IT Help Desk and Service Desk? Is it just a difference of subject or terminology or are these in fact very diverse? Can the two terms be utilized interchangeably? Do you necessitate both or can you deal with one of these?
Actually, it is quite an interesting topic that has lots of unlike answers, versions, and viewpoints. In this blog post, I will try to make clear the fundamental similarities and disparities amid the two. Further, I will even point out some of the thoughtfulness that should be made while deciding which type of system will better meet your business requirements.
Why the service desk vs help desk discussions keep coming up?
I think it is for the reason that there are diverse nature of organizations and the distinct set of services they offer in the industry. It can also depend on the positioned set of users and stakeholders involved in the company processes. Some technology professionals have been in the domain for more than a decade, and some have only been for a few years.
The IT Infrastructure Library (ITIL) has been used extensively even today with its defined processes and terminologies. On the other side, the end user's outlook is continuously varying and on a high range these days than prior, specifically with the maturity of mobile device usage and the popularity of the social web.
Let's commence with some of the highly used definitions of these terms with some instances:
IT Help Desk: It comes with a tactical approach to assist in solving end-user requirements and problems on a swift basis. The IT Help Desk is detachable yet it is an integral part of an extensive Service Desk operations to enhance customer service. The eventual purpose of Help Desk is to come with resolutions of user issues as resourcefully and promptly as probable.
IT Service Desk: It comes with a wider objective, which is strategic and cross-functional. This solves the overall business requirements instead of solely focussing on a service. As per ITIL, a Service Desk is a solitary point of contact connecting the users and the service provider. It manages interaction with the users and also deals with incidents as well as service requests. The Service Desk characteristically has a help desk as its internal component. The whole purpose is to enhance both IT and business procedures, even comprising the Help Desk to be executed more professionally.
IT Help Desk Vs. Service Desk
To set apart the two approaches, it's significant to look at where they started off and how they were characterized in the early days.
Help desk was shaped to concentrate more on troubleshooting IT issues. The spotlight was on the IT teams instead of end-users. As the key goal was to assist IT teams, there was no focus on timelines and SLA's or urgencies to solve problems. It focused only on the problem in-hand.
The service desk, came into existence to offer an IT service to the end users according to ITSM glossary. Moreover, the help desk was figured out as a subset of IT service desk focusing on resolving undertakings for IT teams.
A visual representation of Help Desk Vs Service Desk Vs ITSSM Vs ITSM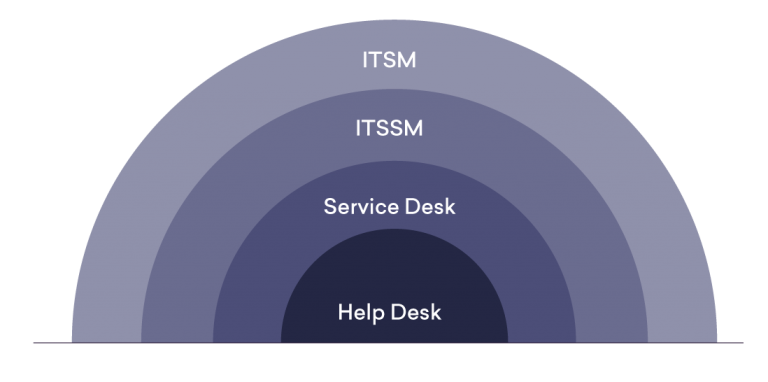 Let's explore the service desk and help desk again with respect to ITSM and ITSSM.
ITSM – As you can observe, ITSM is the super-set that comprises all the stuff connected to communication and service exchange amid IT teams and the end-users.
ITSSM – It comprises of the concepts such as incident, issue handlings, service request management, transformation, configurations, release management, and knowledge management.
Service Desk – It is an enabler that completes these needs to deliver IT services, including abilities such as reporting, self-service etc. It also assists in sustaining a company compliant with Service Level Management contracts. It can be further integrated with Asset Discovery, Asset Management, and Configuration Management Database (CMDB).
Help Desk – It is a sub-division of a service desk with a highlight on incident management. It is further utilized for problem resolutions, escalation processes, dealing with the knowledge base, meeting SLAs, and self-service options.
Can an organization manage with an IT Help Desk and not have a Service Desk or its reverse?
There are no particular rules here; however, there are many real use cases where an organization can survive without Service Desk. In this scenario, an IT Help Desk is adequate to meet these tactical requests. The Help Desk offers business users a position to connect when they are having explicit IT problems. The aim is to trim down the waiting time period and get the problems solved rapidly to get the user back working fruitfully.
On the other hand, the Service Desk rather has to include a Help Desk functionality blend as an integral part of the Service Desk infrastructure or should have the capacity to connect to a Help Desk service offering for the end-users.
To further drill down the difference between booth the tools you can also refer our Blog: Help Desk V/s Service Desk: (Beginners Guide)
Key Takeaways
So, a Service Desk is classically focused on corporate business strategy. Also, it has to make sure all the IT functions are presently working and will work in the coming time with needed capabilities. It even requires ensuring that all the end-users are up as well as operating.
On the other side, a help desk is measured to offer a subset of service desk abilities or qualified as restricted in scope. However, one company's help desk is another company's service desk and considered vice versa by many people.