Help desk or service desk? Are they both the same or different? Can the terminologies be used interchangeably? All these questions arise whenever you search the market for a tool that best suits your business requirements. Often the discussion and confusion between the two leads to the creation of these kinds of writeups. Don't worry; here we are to clear all your confusion and help you decide which one to opt for whenever you are in need.
At some point in time almost everyone is under confusion if Service Desk and Help Desk are the same thing? If not, what's the difference between the two? In this blog we are going to share comparison of Service Desk and Help Desk.
It is believed that even in the history i.e. throughout the 2000s help desk and service desk weren't considered different. While companies call it Service Desk, 95% of the end users call their IT support as Help Desk. According to HDI Research, it is quite evident that 41% users / respondents of help desks and service desks know IT Support, with all together a different name. Plus, there's no guarantee that the service desks and help desks reported in this HDI survey align to the standard descriptions – as both the terms are used inter-changeably quite often.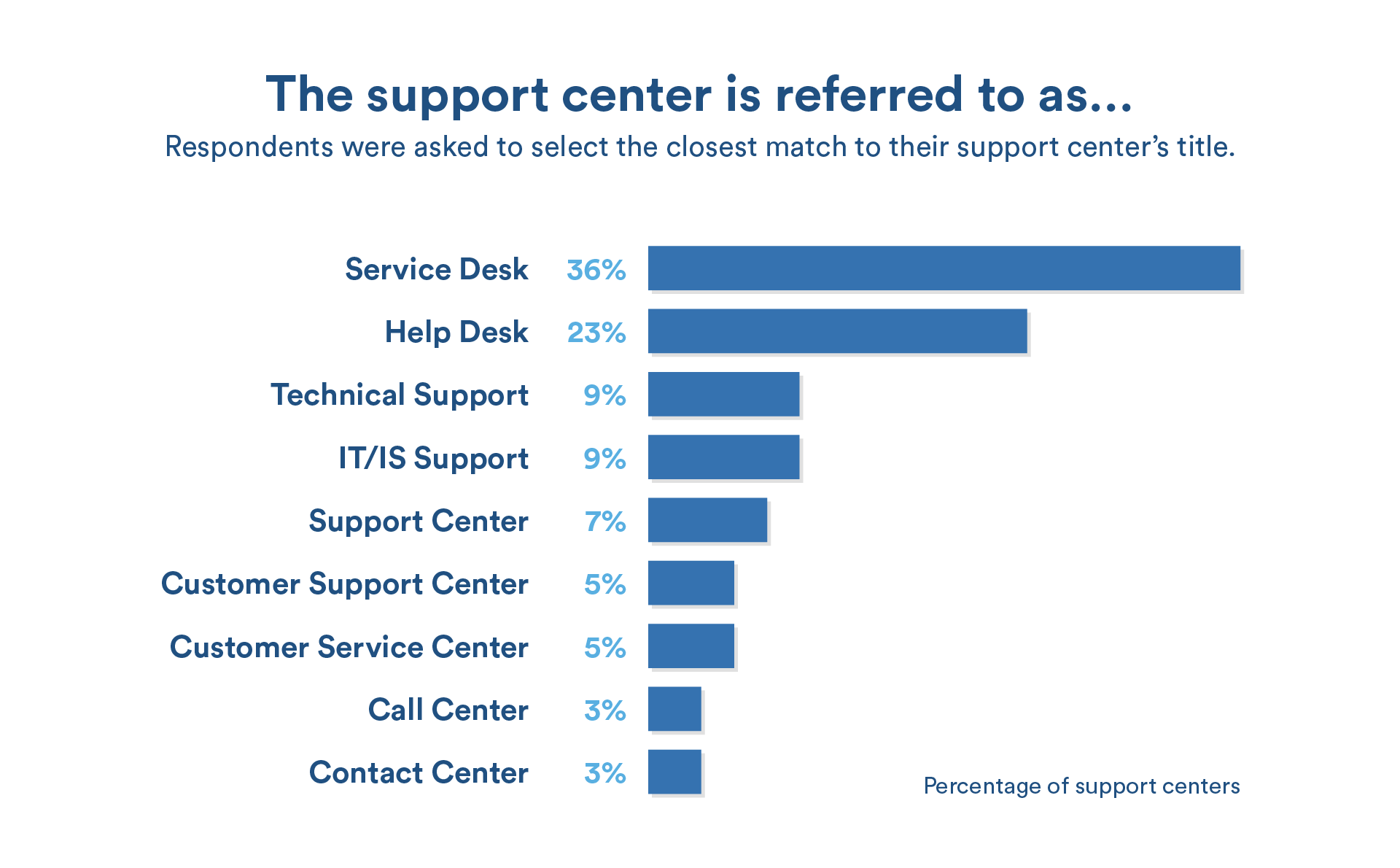 Traditional IT help Desk were not designed for modern day IT infrastructure and interacting with IT has typically become annoying, clumsy, and complex. Technological limitation has led to the underutilization of existing technologies resulting in workforce to become less engaged and the gap between IT team and business grows even further. This is why Service Desk software is experiencing a period of rapid innovation and growth because of the increasing complexity of controlling support services in a hybrid environment.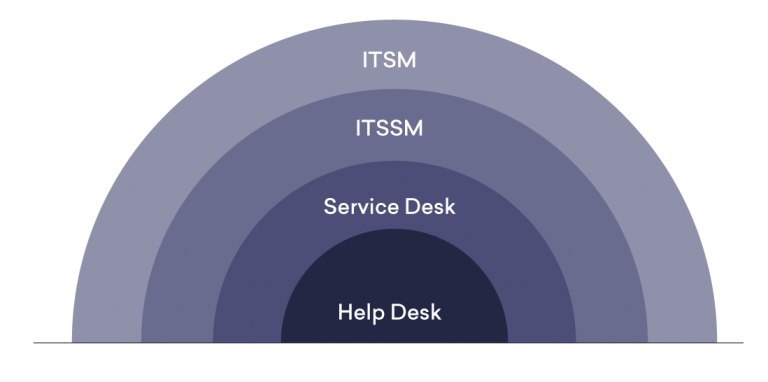 Organizations quite often use call center, help desk and service desk interchangeably; however, help desk / call center, as a tool offers only a portion of what a service desk offers. They focus on providing only "help" to fix a problem, and are not IT focused. On the other hand, IT Service Desk focuses on supporting IT Services, which could be both reactive "help services" as well as "supporting routine" tasks like resource provisioning, access management, etc.
What is a help desk?
A help desk majorly focuses on fixing and troubleshooting the customers' issues. Its ultimate object is to attend to queries, troubleshoot issues, and provide guidance or solutions to the user, guaranteeing smooth processes. Its scope is often confined to incident management activity. The support and services offered by a help desk differ from organization to organization.
What is a service desk?
A service desk focuses on handling larger issues compared to a help desk. It acts as a central point of contact between the clients and the service providers. It can take care of tasks like resetting passwords, new service requests, subscriptions, provide details about features, etc. Thus, it is a super-set of the help desk.
Difference Between Help Desk vs Service Desk
Although the goal of the service desk and help desk is customer engagement and satisfaction, there is a thin line between them. A help desk is suitable for small organizations where the requirement is only related to incident management and providing immediate fixes. A service desk functions on a larger scale. Its services include incident management, service request management, knowledge management, self-service, and reporting. Thus, a help desk is a subset of a service desk.
Parameters
Help Desk
Service Desk
Considered as
Tactical
Strategic
Problem Management Type
Reactive
Proactive
Approach to Problem Solving
Old-fashioned
Modern
Root cause for Recurring Issues
Focuses only on a given problem,
Problems / Break Fix Approach (Incident Mgmt)
Helps in identifying root cause of a problem to eliminate recurring issues.
Break-Fix + Service Request – Holistic Approach (Incident + Request Mgmt)
Orientation Towards Problem Solving
Problems are brought to attention and resolved on a case-to-case basis at a given point in time
Solution to address long term IT issues as it follows service oriented processes to problem resolution
Problem Centric
Problem Centric
Customer Centric / Business Centric
Modules Covered
Incident Mgmt: Yes
Problem Mgmt: No
Knowledge Mgmt: No
Change Mgmt: No
Service Catalog: No
Incident Mgmt: Yes
Problem Mgmt: Yes
Knowledge Mgmt: Yes
Change Mgmt: Yes
Service Catalog: Yes
Considered as an
Add-on to IT services (subset of service desk)
Part of core IT Support ecosystem
Key performance indicator / metrics
Call Times
First Call Resolution
Time Spent on Issues
Customer Service
Integration Capability
Limited Integration capability with ITSM Processes
Full Integration with other ITIL Service Management processes
Information Storage
No corporate repository of Information
Centralized knowledge base of known errors & fixes
Automatic ticket routing, SPOC for all IT areas
No
Yes
Applications / business processes
No
Yes
Resources
Can often run with minimal staff and basic ticketing software
Requires additional human resources and more advanced software
Given all of these facts, the difference between this two software will still vary to the user's liking as it is truly said that the difference is very much in the eye of the beholder. We have tried to identify the differences above; however, it really does not matter what you call them, an ideal modern-day help desk or service desk solution should tick all the boxes that you need to effectively address all your IT Issues. Below are few pointers that will help you in selecting the right help desk or service desk solution for your organization.
Self-service capability: the solution should enable the users to get their issues resolved themselves with self-service portal to reduce the burden on Service Desk / Help Desk.
Intuitive Customer Experience: the solution should offer the convenience to its users, to get their queries resolved or access information at place and time convenient to them.
Automation: As the organization grows the support requirement also grows substantially, the solution should be capable enough to respond to growing demand from business by automating repetitive and time-consuming tasks.
Decision-support capabilities: with large amount of data already stored within such support systems, a proper analysis of which can help in deriving actionable intelligence to resolve complex problems.
Comprehensive Knowledge Base: Maintain a knowledge base of information related to service requests for reference in future incidents
Benefits of help desk and service desk
Though help desks and service desks are different tools, their eventual motto is to provide a great user experience. Some of the benefits that they offer are:
Reduced Resolution Time

: Delay in providing solutions to customers has always been a pain point. And with help desks and service desks in the market, this pain has decreased considerably. These tools provide automation features like Workflow engines, integrations, auto-assignments, smart suggestions, etc. that help the support team to solve the issues faster and reduce the resolution time.

Promote self-service portal

: With the help of self-service portals, customers can easily resolve common issues like password reset, unblocking accounts, etc. The knowledgebase articles, troubleshooting guides, and chatbot agents integrated with the self-service portal make it easy for the end-users to solve their basic problems independently. Thus, it increases customer satisfaction.

Quick Response

: These tools automate many tasks for the Support team, helping them to provide instant Assistance to the users. Tasks like automatic ticket assignment, integrations, etc., enable the team members to work on the right ticket and provide faster resolution.

Increase the Number of Happy Customers

: When the tickets are assigned to the right person and quick assistance is received, it results in creating happy customers. With these tools, the users often need not wait for Assistance, reducing their idle time to quite a great extent. Moreover, happy clients increase with less waiting time and immediate help on critical issues.

Provide Assistance Remotely

: In this digital era, help desks and service desks often provide support remotely. Using these tools, the support team can investigate and solve problems from any location without visiting the place, saving time and money.

Reporting and Analytics

: With reports, the organizations can understand the trend of the employees resolving the issues. Also, the customer's feedback can be collected, and based on them, proactive actions can be taken to handle them.
Key Considerations for Implementation of service desk and help desk
Flexible in nature

: The service desk or help desk must be flexible enough to be used in the Support departments and across the organization. It should fit almost all the ticketing requirements.

 

Look for Employee-Centric Software

: The organization's employees mostly use these help desk and service desk solutions for monitoring and managing customer tickets. Nowadays, the staff looks for smart AI solutions that work across organizations. It includes resource sharing and workflows that streamline the processes to a notable extent.

 
Use of AI/ML technology

: With the advancements in technology, the AI/ML features in the service desk and help disk are considered for implementation. These elements should be taken into account as they reduce the workload and increase proficiency considerably.

 
How can help desk and service desk tools help? 
Help Desks and Service Desks help automate many IT support processes. They reduce the burden of the Support team to a significant degree. Moreover, they help your organizations in the following ways: 
Increase Return on Investment

 

Improve ticket monitoring and assignment

 

Smooth and Faster resolution of customer problems

Improvise Efficiency

 

Initiate proactive conversations with the clients

 

Enhance Customer Gratification and all-in-one experience

 
How to choose help desk and service desk tools?

 
Winning the market is often not easy. Similarly, choosing the right service desk and help desk tool is also difficult. The aspects to be taken care of while choosing a perfect tool are: 
Know the Requirements

: Before jumping into any service desk or help desk, it is important to understand its goal and needs. You need to know the answers to the questions like:

 

What are the business needs?

 

How much will the budget be?

 

What should be the ROI of the software?

 

What are the features required for smooth functioning?

 

What experience do you wish to provide to your users?

 
Once the answers to these questions are found, you can find the software that suits your requirements. 
User-Friendly Interface

: The interface of the software should be easy to use and adaptable. The learning curve of the tool must be considered while selecting the software. The more self-explanatory the user interface, the less time it will take for the team to understand, work on the software, and resolve customer queries. 

 

Examine the Analytics Feature

: Every manager requires a reporting feature to monitor and understand the trend that is followed in the organization. Based on the reports, the supervisor can take appropriate measures to improve the team's productivity, efficiency, and user satisfaction. The KPIs you can consider are:

 
Total Open Requests

 

Overdue Requests

 

Daily Closed Requests

 

Daily Incoming Requests Trends

 

Health Systems
Check for Reliable Customer Support

: Every organization may require customer support at any time. And the availability of Assistance 24X7 and via multiple channels is much appreciated. While selecting a service desk or help desk, always consider the supplier available for help whenever in need. You must have confidence in your vendor that whenever an outage or major issue occurs, you have the back of the support team, even in the middle of the night.

 
Conclusion
After going through the above points, I am sure your confusion about both tools must have been cleared. If you are looking for a solution that provides only incident management on a small scale, the help desk is the best choice for you. But, if you need advanced features like automation, service management, asset management, etc., you can opt for a loyal service desk.
FAQs
Q: What is the primary purpose of an IT Help Desk? 
A: The primary purpose of an IT Help Desk is to focus on customer issues and resolve them. It mainly handles incident management related issues. 
Q: How does a Service Desk differ from an IT Help Desk? 
A: Although the main goal of the service desk and IT help desk is the same, there is a minor difference between them. A service desk is business centric. Apart from Incident management, it handles Service Request Management, Asset Management, etc. It is for both technicians and end users. 
Q: Can an organization have both an IT Help Desk and a Service Desk? 
A: Yes.  
Q: How can an organization ensure successful implementation of a Help Desk or Service Desk? 
A: An organization can ensure the successful implementation of a Help Desk or Service Desk considering the following points: 
Define Explicit Goals

 

Select the right software

 

Develop SOPs for handling requests

 

Implement the Learning Curve

 

Maintain Knowledgebase

 

Supervise and Assess Performance

 

Ask for Feedback

 

Encourage the Usage of the Help Desk or Service Desk

 

Keep on Improving