Hyperconverged Infrastructure is a unified system that combines computer network and storage in one easy way to manage virtualized systems. To give you a brief understanding, these systems have two major components hypervisors and storage controllers. To elaborate further, typically the hyper converged systems are available as fully integrated hardware appliances and a standalone software.
The question now arises how does it work?
The system virtualizes server resources with the hypervisor and uses the storage controller to provision virtual servers. Particularly, HCI systems are agile, flexible, easily scalable & affordable and deliver cloud like scalability and availability for enterprise workloads making them an excellent choice for variety of use cases.
The question that we need to ask is whether HCI has simplified the management of data centers and for the technology enterprises has it managed to develop efficient infrastructure frameworks?
Let us find out in this blog!
What is the main objective of HCI?
The main goal of HCI is to simplify the process of managing data centers by restructuring them as transportation systems for software processes and transactions, rather than having a network of processors with storages and memory caches connected from them.
The convergence that HCI makes possible in the data centers comes from the following:
Applications and the servers that host them are managed together, using a single platform that focuses on the performance of those applications.
Treatment of workloads, storage capacity, memory utilization and network connectivity.
Each workload is packaged within the same class of construct: Usually virtual machines (VMs) are designed to be hosted by hypervisors such as VMware's ESX and ESXi, Xen, KVM, and Microsoft's Hyper-V, Nutanix's HCI. These layouts help HCI platforms to validate them as important and equal software components having varied operating requirements.
What are the key benefits of HCI?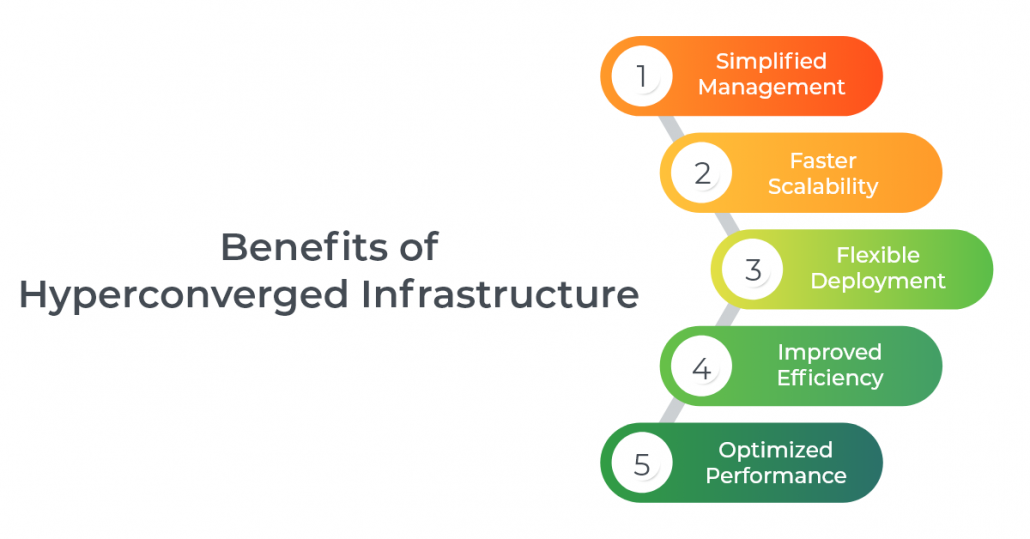 HCI is about simplicity and flexibility as oppose to legacy systems. It provides a unified system consisting of integrated storage systems, servers and networking switches.
The primary advantage of such a configuration is that it provides ease of use and the storage enabled by software devices is expected to yield efficient resource allocation and enhanced scalability.
With the increased cost due to digitalization, IT infrastructures have to do with fewer resources. In addition to taking care of existing IT infrastructure, it must drive new initiatives such as AI, machine learning (ML), and big data.
If we think at an organizational level, it is very much evident that for companies to start small and grow, resources as needed. HCI vendors are quick to highlight the cost savings with regards to data center power and space; IT labor; and avoidance of licensed software such as backup or disaster recovery tools.
What is the principal point of contention among HCI vendors?
It is whether a truly converged infrastructure should incorporate a data center's existing storage array or replace it altogether.
With the distributed storage fabric (DSF) approach, one of the VMs running within each of its HCI nodes is a controller VM dedicated to storage management. Collectively, they manage a virtualized storage pool that utilizes hard drives with flash memory arrays. Within this pool, HCI vendors like Nutanix implements its own system of redundancies and reliability checks that eliminates the need for conventional RAID.
Top 6 reasons to move to hyperconverged infrastructure:
Fast Deployments: HCI allows for faster deployment of applications and services allowing IT teams to focus on business needs.
Automation Advantage: HCI implementation enables automation that simplifies management, giving IT professionals and administrators more time to focus on strategic initiatives.
Cost Reduction: Hyperconverged systems eliminate the need to overprovision & help enable data centers to scale in small, easily managed ways. Integrating components into one single platform reduces storage, power usage, maintenance costs and hence TCO.
Enhanced Performance: HCI helps organizations deploy any workload and enjoy high levels of performance. Workloads including enterprise applications and SQL servers yield significant advantage on a HCI solution.
Scalability: HCI scales easily and with that some extra resources can be added by simply connecting a new node to the cluster. Also, some systems allow the scaling of compute and storage separately. In this process newly added resources are automatically identified and integrated into the cluster.
Security and data protection: Security is built-in with features including self-encrypting drives and tools that provide great visibility. Disaster recovery and backup configuration is also built.

Motadata is Now Part of Nutanix Ready Program
The need of an organization is to have a solution that can be customized for specific use cases with HCI systems being adept in a wide range of enterprise data services such as snapshot encryption, deduplication tiering, flash cache replication, thin provisioning, warm volume, malware protections and cloud connect to any cloud provider the organization wants to choose from.
Motadata is pleased to be part of the Nutanix Ready Program as it gives us the unique opportunity to build, deploy and differentiate our solution on the world's leading Enterprise Cloud Platform. This will in turn help the customers pursue innovation, gain operational efficiency, and drive business success from anywhere, whether remote, in-office, or both.
Network Monitoring Metrics like Latency, IOPs, Bandwidth Utilization and more are all monitored from a single view by monitoring clusters, storage pools, containers, virtual machines and disks within the HCI framework.
With the Motadata Upgrade Release 7.6.600, new plugins are added for monitoring Nutanix Devices as well, for which plugins Nutanix Cluster, Nutanix Host, Nutanix VM are updated to version 1.0.
To know more, start your journey with Motadata NMS, innovative HCI solution. If you want to experience the efficiency and systemic security, unlocked by the Motadata NMS Platform, sign up for the free trial today.