Service desks are a critical part of any organization, providing a single point of contact for IT support. However, they can often be inefficient, with long wait times and repetitive tasks. Service desk efficiency can be improved by automating tasks, using self-service tools, and training staff on best practices. By taking these steps, service desks can provide better support to their customers and reduce costs.
If you are a business owner or a service desk manager, you are likely constantly seeking ways to improve service desk performance. This question inevitably arises in your mind as you strive to achieve your business goals. Despite your efforts, you may find that everything stays the same, often due to flawed strategies and inadequate planning. Simply focusing on the latest service desk trends and implementing incorrect procedures can permanently harm your business.
In this detailed blog, we will share powerful service desk improvement strategies and tactics to help you get the right answer to your much-awaited question – How to improve the service desk performance?
10 Ways to Increase your IT Service Desk Efficiency 
1. Identify Trends in Service Requests :
All employees face certain basic technology issues e.g. password resetting. Using the information collected over time to identify recurring requests and incidents which need manual intervention, the number of incoming service requests can be brought down. The goal is to understand the trends of common questions asked by the employees in the firm.
When you have a robust IT service desk, you can automatically generate reports that track Service Desk metrics like ticket volume trend, average time spent per ticket, agent availability, and other information on the number of incoming requests.
At the end of a fixed period, your Service Desk agent can easily sift through the entire data and evaluate it to understand:
What is the most common type of request? The IT team should consider automating it if people across different functions and teams pose the same request. It should be standardized wherever possible if it cannot be automated.
Can the request be resolved with self-help? If it is a common request that can be solved by following a few simple steps, then employees should be encouraged to look up the solution posted by the IT team on a common portal and resolve it themselves.
At the end of this exercise, your team will have a deep understanding of the most frequent requests, their probable origins, and even the systemic causes for the issues.
2. Create an Easy-to-Use Knowledge Base :
Now that you understand which requests are hampering the productivity of your employees and your IT Service Desk agents, you can start building a knowledge base and producing content to address the knowledge gaps responsible for each of these issues.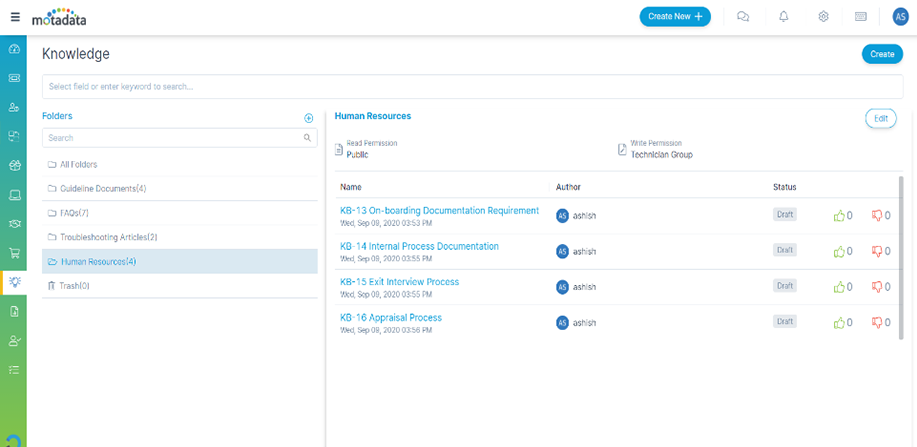 Here is how you can work on addressing these knowledge gaps:
Select and Invite the Query Subject Matter Expert while the Service Desk agents can conduct their research and push out the content necessary to fill the knowledge gap. Make sure you have the expert break down the content into the most straightforward way to make it user-friendly.
Engineer an Enterprise-Relevant Content Delivery Module Now, in line with your corporate brand, determine the best form of the content delivery mechanism. You can choose from explainer videos, live training sessions, FAQs, case studies, newsletters, e-books, and so on. Make sure all the content is available in an easy-to-understand format.
Internally Market the Content once you have created the content and crafted it in an accessible manner, make sure all your internal customers are aware of it. Failing to communicate this would yield zero results from this entire exercise. Work with team leaders, or run internal campaigns to communicate the development of new content and its easy availability.
After you have implemented the system, keep observing the user behavior it. A comprehensive Service Desk platform will have the functionality to display the top searched articles and to automatically ask for user feedback. If some queries are still surfacing, you can create additional or supporting documentation to resolve them.
3. Encourage Self-Help with a Portal:
In conjunction with the knowledge base, a self-service portal can reduce the process starting from request initiation to resolution to a fraction of its conventional time because through a self-service portal, the users are essentially helping themselves find a resolution.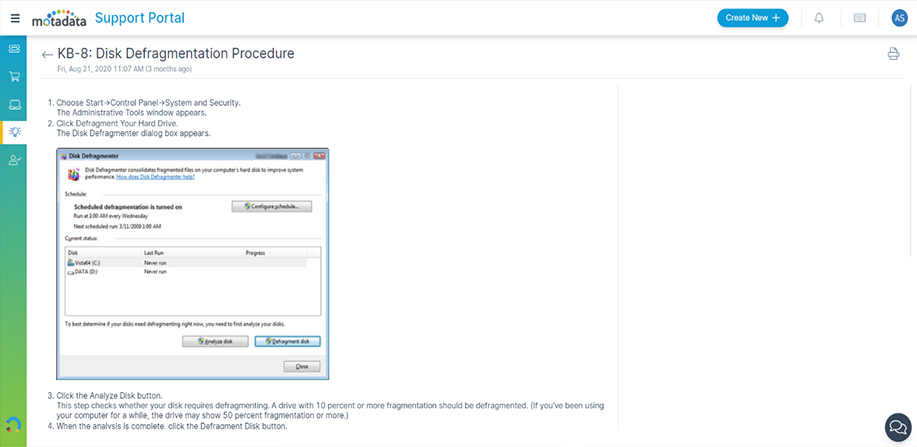 By this step in the process, you would already have a great understanding of the context of the common problems and issues faced by your internal or external customers. To promote self-service adoption in your organization, now you must make sure that the self-service portal is easily accessible and usable. To ensure better employee engagement, the self-service portal should have:
The same experience across devices.
A dynamic UI that adapts content display as per the user's journey.
Accessible search functionalities.
Simple and intuitive navigation
4. Automate with Workflows:
While evaluating requests, you will find certain chronic requests like user and password administration that are usually handled manually but don't need physical intervention. With a unified Service Desk tool that supports multi-level workflows, you can easily provide automated resolutions to encourage self-service.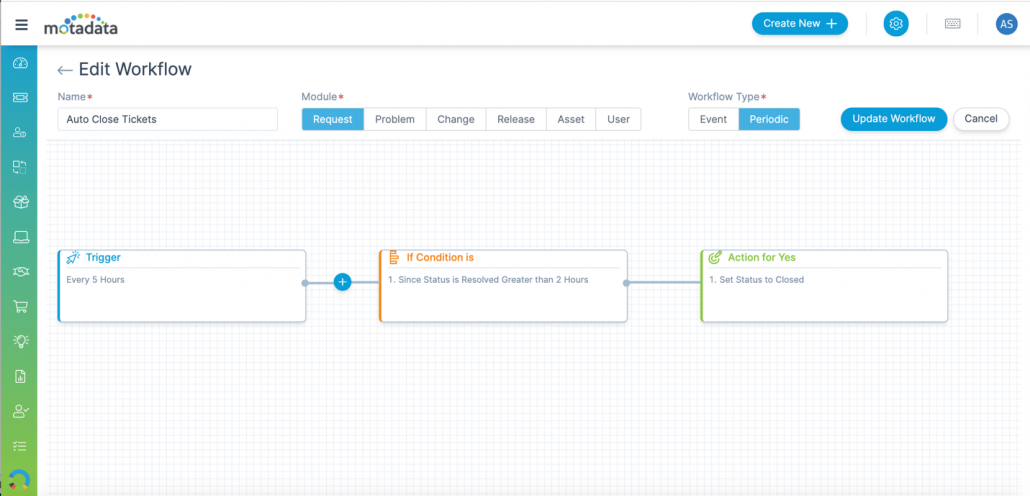 The IT teams can create automated workflows that can help users across the board execute basic solutions by themselves. This will not only help in enhancing the IT Service Desk's efficiency but will also help reduce overall costs and improve user experience.
5. Identify Root-Causes with Problem Management:
Even after undertaking the initiatives discussed so far, if you still see a set of issues repeatedly being raised, there is a high probability that the issue under consideration is a systemic problem.
In such a case, the IT team can leverage the Problem Management module of the IT Service Desk to examine and detect the exact root cause for fixing the problem to reduce high ticket volume. A good way to achieve this would be by integrating a real-time network monitoring system that automatically records and alerts the correlation between systemic failures. This will give a strong head-start to your RCA.
6. Measure Service Desk Efficiency:
Manually gathering and tracking service desk metrics can become a tedious task over time. Instead, a better strategy would be to have a comprehensive understanding of your team's performance by automating the collection of performance metrics like first contact resolution rate, MTTR, no. of tickets logged on a monthly or weekly basis, SLA compliance rate, percentage of escalated to problem status, etc.
A robust Service Desk platform will have the functionality to present these metrics in customized dashboards for every member in the Service Desk team which will help the IT managers to get granular visibility into the individual's performance and productivity.
7. Collect Internal Performance Feedback:
As we have already discussed, there are several methods of measuring service desk performance. However, none of these metrics matters if you cannot consistently provide a good quality of service.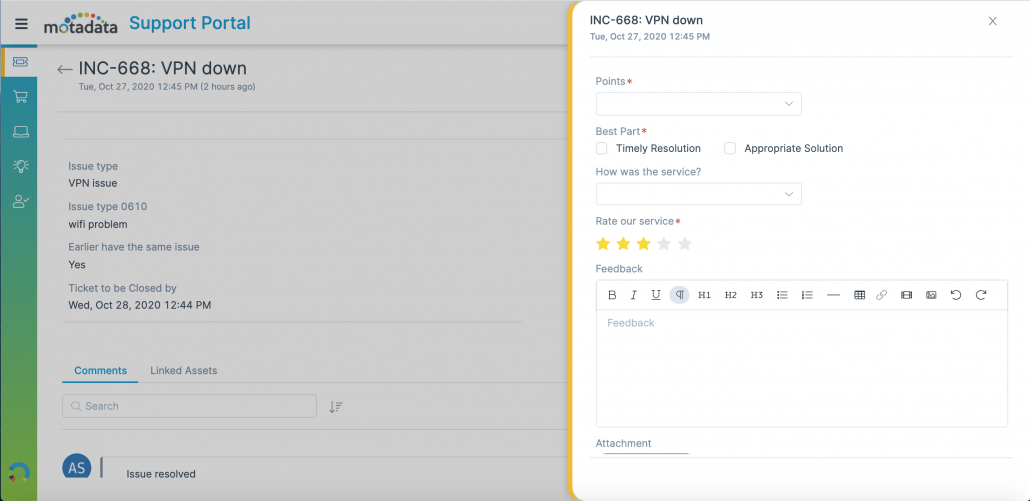 Automating the process is the only way to ensure a consistent collection of customer feedback. The right IT Service Desk tool will assist you in automatically gathering reviews at the end of ticket closure and retrieving it when performance and quality need to be assessed.
8. Invest in the Right IT Service Desk Tool:
Every single blog and a lot of information on the internet will provide you with the best tips to improve your service desk, but it is only worthwhile once you choose the right IT service desk tool to implement those tips efficiently.    
To deliver outstanding results to your customers and end-users, having the right tool to fulfill all your requirements is essential. You can search on the internet to find the best ITSM tool that will help you improve service desk efficiency through the right direction and strategy. Whether it be improving customer experience, service delivery, or bringing performance accuracy through the organization, it is crucial to understand your needs and choose the best out of the rest.    
9. Always Strive for Continuous Improvement:
It is vital to keep improving your product and services to deliver a great end-user experience. Continuous improvement means streamlining workflows and committing to ongoing efforts for an outstanding customer experience. Organizations can always keep room for service desk improvement ideas and initiatives that improve their overall services and processes.    
Some standard approaches for implementing continuous improvement are Kaizen or Agile/Lean methodologies. One can opt for any method to implement the continuous improvement process efficiently. Organizations can also follow informal ways to implement continuous improvement to enhance service efficiency.    
10. Focus More on IT Service Catalog
IT service delivery is vital for any organization. Every internal customer demands timely delivery and seamless experience from an organization. Regularly focusing on and updating the IT service catalog is always the top priority of the IT service desk. It will help the customers understand,     
What kind of services are available within the organization.   

 

The cost of services   

 

Expected service level  

 

Delivering method   

 
The organization can proficiently improve its overall IT service performance through this service desk improvement strategy.
Conclusion
To get the necessary backing from the management team, you can monetize each repeated ticket to present added costs for the company in terms of loss of the Service Desk agent's productivity, the requester's productivity, and so on.
Incremental requests can create systemic productivity issues for both the IT Service Desk agents and the requesters. But if you have the right IT Service Desk platform like Motadata ServiceOps Service Desk, it can provide you the right support to encourage self-service, engineer RCA-driven solutions, and automate workflows to increase your IT Service Desk efficiency.