Organizations need to step up their cybersecurity game in case if they wish to block off the bad guys. In this blog we will be highlighting the importance of data security in today's times. By the end of the blog we will also share a solution to mitigate these threats.
With 67% of SMB experiencing a cyber-attack and 58% suffering a security data breach in the last year, organizations have been really keen on staying one step ahead of the evolving threat landscape by adopting active IT security solutions. In fact, every other day there is a new story of a cyber security attack. Between January 1, 2005 and April 18, 2018 there have been 8,854 recorded breaches.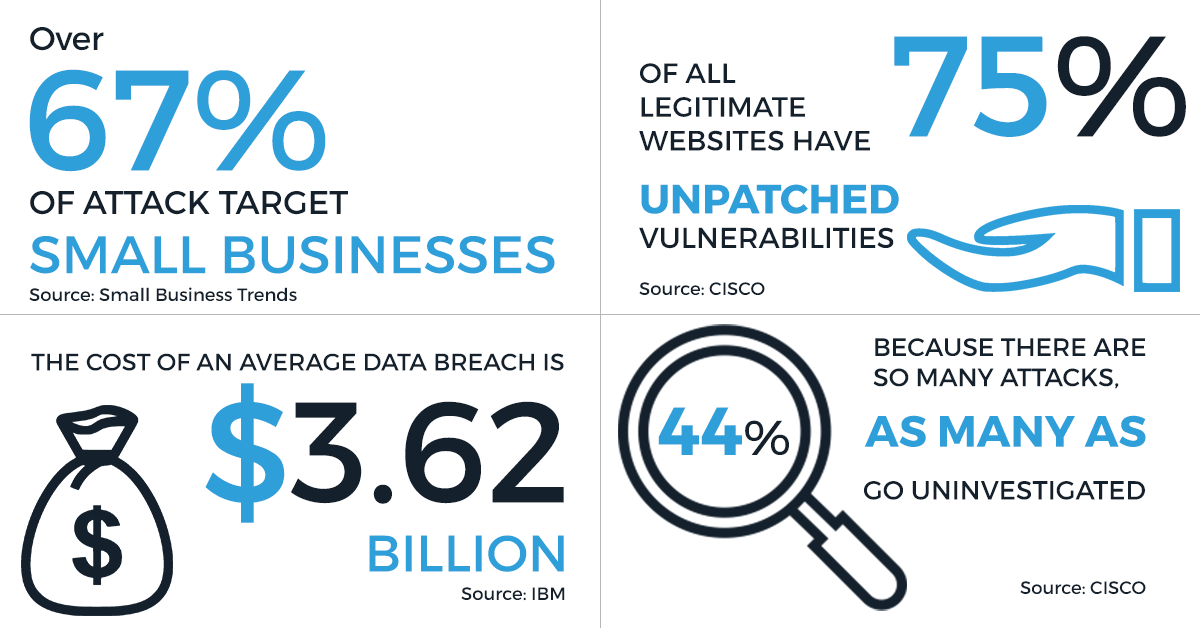 The Traditional Approach
Best practices like regular updates, keeping the antivirus active, and running day-to-day backups are critical for preventing major security issues. However, these are reactive action plans, but it might not be enough for every user.
Vulnerabilities get exploited so quickly even before latest patches are available and deployed. Viruses penetrate systems before their signatures get discovered. Many security attacks slip past the antivirus solutions. According to a recent survey by Cybersecurity Ventures, the damages related to cybercrime are projected to hit $6 trillion annually by 2021.
Much anticipated solution
To prevent this & to save associated costs, many have turned to SIEM solutions to help them have a better insight into the cybersecurity landscape. However, there are certain challenges associated with them.
There are a tons of SIEM solutions available in the market today. While some attackers leverage only publicly available information, while others use sneak into private data. Certain attacks targeted at specific regions. Some focus on target industries like banking or government.
The options are definitely overwhelming, but you need to have a strategic mindset to adopt it. Truthfully, the value of SIEM solution sits within the greater context of your overall security plans. It's just a single tool within a larger armoury—and in case if that tool is hard to use or too complicated to understand, then it does not serve the purpose and wouldn't embrace the value of your cyber defence investments.
SIEM Benefits
Security information and event management system's benefits include detecting cybersecurity attacks that other platforms would've missed out on. These tools enable centralized reporting, real-time incident response, as well as insights for compliance reporting.
Different organizations use SIEM systems for different purposes, so SIEM benefits vary across organizations. Three top SIEM benefits, can be:
Seamless compliance reporting
Detecting security incidents that would otherwise not get detected
Streamlining the efficiency of incident handling
Patch management also helps mitigate the threats. For example, Wannacry ransomware attacks exploited the unpatched systems with the latest Windows update. Having a patch management solution in place also ensures a certain level of security for your environment.
In short, the information generated by your IT infrastructure needs to be placed within a proper context and the components need to be monitored closely. This often calls for an end-to-end platform that can not only simplify the log data enough to separate the useful information from the noise, but also helps you turn that information into actionable insights.
Redefining ourselves with new product launches
We really strive hard to address our customers' ever growing IT management challenges by coming out with innovative features & solutions. To keep up with growing demands, for 2019 we're very soon planning to release the enhanced version of our SIEM solution which will help our clients proactively fight cybersecurity threats. Stay tuned & watch out for this space for latest updates!