Artificial intelligence (AI) was highlighted as a key IT service management (ITSM) trend in 2021.
IT organizations are beginning to employ various AI and machine learning techniques to enhance and improve IT service management processes. Because of the abundance of data generated by ITSM systems, applying machine learning to ITSM processes makes a lot of sense as it can provide IT professionals with a deeper understanding of their infrastructure and procedures.
Machine learning offers insights that can assist organizations in prioritizing ITSM issues, taking proactive action, minimizing time to resolution, and thus increasing employee productivity.
Are you ready to delve a bit deeper? Here are ten ways AI and machine learning use cases in ITSM are transforming the way IT services are delivered.
10 AI and Machine Learning Use-cases in ITSM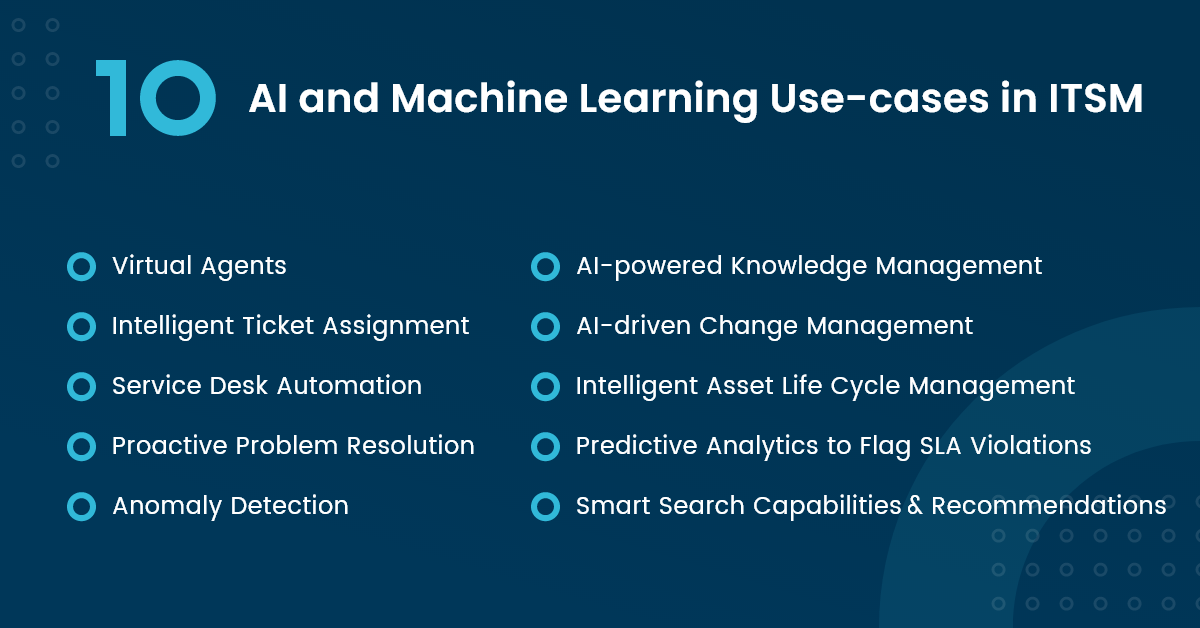 1. Virtual Agents
One of the most common and fast-growing applications of AI in ITSM is the use of "virtual agents" that provide users with faster access to self-service capabilities or an appropriate IT assignment group that can handle their concerns as quickly as possible.
Depending on the type of issue, certain tickets might be resolved and closed using technology with a high degree of accuracy and without the need for human intervention. For example, when end-users use virtual agents, they can get prompt replies with an automated response with the most likely solutions to their issue without even having to raise a ticket. Virtual agents ensure real-time, consistent, and effective conversations through which incidents can be resolved without the need for manual intervention, thus, saving time, cost, and effort.
2. Intelligent Ticket Assignment
IT service desk teams have varying skill sets, and some technicians are better than others at addressing certain kinds of IT requests. So, service desk technicians often end up spending a significant amount of time manually classifying and allocating tickets to the appropriate technicians.
Implementing AI in ITSM, tickets can be automatically identified, categorized, prioritized, and allocated to the right technician or support group without the need for technicians to manually read the content of the ticket to decide.
Machine learning helps the service desks to learn from previous experience and data to intelligently assign tickets to the relevant technicians or support groups, thus automating the ticket assignment process, decreasing resolution times, and increasing the efficiency of the service desk teams.
3. Service Desk Automation
Service desk and operational tasks such as implementing service requests, resolving incident tickets, and delivering changes consume approximately 70-80% of resources. Organizations may use AI to intelligently automate such activities so that technicians can spend more time innovating and assisting the company to accomplish its goals.
For instance, service desks may be trained to auto-approve support requests based on the employee's role, responsibilities, department, and other characteristics by using machine learning. So, suppose an employee seeks access to software, the service desk can immediately authorize the request and trigger a workflow without requiring approval from the management to save time and resources.
4. Proactive Problem Resolution
Big data and analytics advancements are increasing ITSM's predictive and correlative capabilities. AI and machine learning solutions based on repository analysis and user activity patterns can help minimize the number of IT incidents encountered by end-users and even predict and fulfill user requests before they realize they even have an issue.
As the system keeps learning from previous events, issues like IT outages and individual asset breakdowns can be foreseen and fixes can automatically be implemented or recommended. AI allows better, quicker, more proactive, and automated problem resolution of issues caused by changes in the environment, end-user behavior, or services.
5. Anomaly Detection
Some IT incidents may not be detectable with traditional ITSM tools. AI/ML models can be trained to identify anomalies and flag repeat incidents across many IT systems. They can even assist in alerting IT teams to an IT issue before an incident even occurs.
6. AI-powered Knowledge Management
Knowledge management can leverage deep learning technology to offer solutions from the repository or search the cloud to offer an appropriate solution to assist users to resolve IT issues. In this way, organizations can save time managing the knowledge base and focus on efficiently sharing knowledge with technicians and end-users.
Machine learning not only aids in detecting and distributing knowledge but can also assist in creating knowledge. Whether it is identifying knowledge gaps by analyzing aggregated incident ticket data or translating documented ticket resolutions into knowledge by implementing algorithms to find the most relevant and important information, machine learning can help the service desk team identify problem areas and create related solutions and knowledge base articles.
7. AI-drivenChange Management
One ITSM process that can have a critical impact on a company's IT infrastructure is change management. Changes are subjected to extensive planning and risk assessment before they are implemented. Nonetheless, despite this effort, changes may fail to owe to human error. While assessing changes, technicians and users sometimes struggle to extract insights from the massive amounts of data created by IT change management and change implementation. By eliminating the human component and enhancing analysis, AI can assist in mitigating the risks associated with change management.
By implementing machine learning technologies, probable risks can be recognized and reported to the change manager to execute the backout strategy. Machine learning also facilitates the evaluation and planning of change requests to properly schedule them.
8. Intelligent AssetLife Cycle Management
A significant number of IT issues arise as a result of outdated IT assets that have deteriorated in performance. Machine learning can assist in automatically identifying which assets are likely to fail often, based on characteristics such as their performance levels, IT incidents related to them, and so on. Once such assets are identified, the service desk may leverage machine learning to notify technicians and potentially assist in ordering replacements.
9. Predictive Analytics to FlagSLA Violations
Predictive analytics can be used to analyze performance data inside and across the organizations to identify possible issues. This knowledge can be used to advise users or the IT service desk on alternate methods to resolve requests keeping in mind that they meet service-level agreements.
If there is an SLA violation, the ticket might need to be escalated to provide a timely resolution to the user. Here automation can help in escalating major issues to the appropriate people as soon as an SLA violation occurs. By implementing automation, ticket escalation rules can be created for aligning the incidents to the appropriate team members in the operational hierarchy.
10. SmartSearch Capabilities & Recommendations
AI drives intelligent search capabilities that can help users find the right answers to their issues based on previously used similar search keywords. AI-driven search is not like the basic search capabilities that IT and end-users already use in the ITSM and self-service tools, it can present a lot of relevant search options with high precision.
Machine learning can also be used to provide smart suggestions, like what users get from Google or Netflix. This might include recommended information or solutions for service desk technicians or end-users leveraging self-service to speed up the resolution process and deflect L1 tickets. AI-generated suggestions can recommend a similar or related IT incident, solutions article, or configuration item to eliminate the effort to discover an item and then search for it.
4 Benefits of Using AI in ITSM
AI has the potential to transform not only IT service desks and IT service desk teams, but also the entire enterprise. Before organizations jump on the AI bandwagon, here's what they can expect to gain from it.
Data-driven decision-making: Artificial Intelligence can offer real-time insights into the IT infrastructure that humans just cannot, resulting in informed and faster decision-making especially when faced with unforeseen issues.
Increased Efficiency for IT Teams: In most organizations, the bulk of the time is still spent handling repetitive queries and issues. So even though automation is perceived as a threat to jobs, the reality is that no one enjoys performing tedious, repetitive tasks. In fact, by automating repetitive processes, IT technicians will be freed up to focus on more engaging work like service enhancement initiatives.
Improved Employee Productivity: AI can help end-users in discovering and applying information, such as accessing specific documents or articles in the knowledge base or directing a call or chat to the right technician so that the issue can be resolved as quickly as possible.
Stable IT Environment: From detecting and logging issues to resolving the root causes of issues, AI can greatly enhance incident management. As a result, automation will stabilize the IT environment and provide enterprises with a better foundation to support their digital transformation.
Conclusion
To reap maximum benefits out of AI implementation, IT service desk technicians must first carefully document all requests, problems, and changes to maintain an accurate IT service desk database and create a comprehensive knowledge base.
There is no doubt that AI in ITSM can significantly improve service delivery, but if organizations want to truly thrive with AI adoption, they must develop a strategy to realize the full benefits of AI in line with their larger business goals.