There's no doubt that a knowledge base is an important tool for an IT service desk.
Why I say this!
Imagine an organization without a knowledge base; some of the problems it will face are:
Difficulties in providing consistent support.
Lengthy support cycles resulting in unhappy requesters.
A knowledge base, as the name suggests, holds knowledge in the form of articles. In Motadata Knowledge Management, we also provide a FAQ format along with the article.
Articles and FAQs help requesters (coming to the customer portal) to solve their issues on their own. These documents are also accessible by the technicians so they can use them in their daily troubleshooting.
Here's an interesting prediction by Gartner:
"By 2020, customer will manage 85% of the relationship with the enterprise without interacting with a human." [Gartner]
If you aren't fully convinced or need to convince your management to implement knowledge management, we have compiled a list of 9 benefits of knowledge base.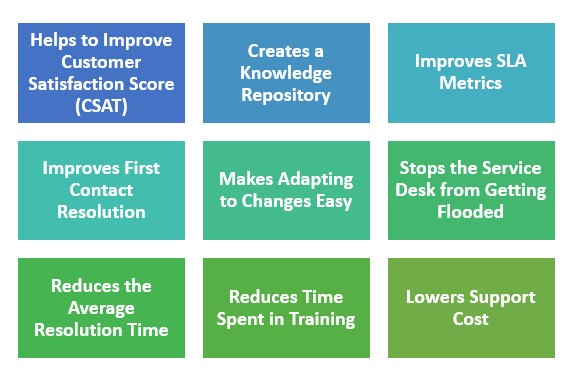 1. Helps to Improve Customer Satisfaction Score (CSAT)
A knowledge base facilitates self-service for requesters coming to the customer portal (part of service desk). In Motadata ITSM, a requester, who has landed on the customer portal, can search for articles and FAQs using the search bar; this way the requester gets the necessary information to resolve his/her issue without calling or filling a ticket.
Having a knowledge base is really useful for tackling less pressing issues like 'How to reset one's password', 'where do I get my tax forms', etc. When such issues are taken care of, technicians can focus their time and effort on high priority issues. This way both low and high priority issues are taken care of in time resulting in higher CSAT score.
2. Creates a Knowledge Repository
IT service desk of every organization has at least one IT hero. An IT hero is someone who happens to have the hack to almost all the problems or knows someone who can get the job done.
These people are wonderful to have, but they can be a bottleneck too. In a scenario without knowledge base, there's no way to share their knowledge, most of the troubling tickets get redirected to IT heroes; thus over-burdening them and affecting their capacity to resolve the tickets on time. And in the event when an IT hero decides to leave the organization, his/her knowledge is lost forever.
A knowledge base provides a system and incentive for IT heroes to share their knowledge. Once shared, whether in the form of article or FAQ, it becomes accessible for all other technicians and requesters for use.
3. Improves SLA Metrics
We have already stated above that one of the reasons for having a knowledge base is to give the necessary info to technicians in solving known issues, resulting in faster resolution.
The fact that people know what to do when certain issues arise has a direct impact on the SLA metrics, which is obviously positively.
4. Improves First Contact Resolution
A knowledge base is a long term investment. It grows as it collects more information. An organization having a mature knowledge base covers a wide range of issues; by referring such a knowledge base, it becomes easier for technicians to resolve most issues on the first contact. Thus positively impacting the First Contact Resolution metrics.
5. Makes Adapting to Changes Easy
A knowledge base is the best tool to dissipate new information about changes in the organization. For example; a company has introduced various BPAs (Business Process Automations) and documented the frequently asked questions in their knowledge base; technicians rather than remembering everything from their training can refer the knowledge base whenever required.
6. Stops the Service Desk from getting Flooded
As mentioned before, having a knowledge base promotes self-service among requesters, meaning they don't need help for common issues that has good documentation. This translates into less number of issues being converted to tickets, which means less burden on the technicians.
7. Reduces the Average Resolution Time
Having a robust knowledge base means your technicians will spend less time chasing requesters and digging through data; rather they will locate the document they need, fix the issue and get on with the next ticket.
8. Reduces Time Spent in Training
It's always good to have more resources like having more technicians on your service desk. But with new people, you have to train them as well, and training is both burdensome and costly.
Generally, during training, an experienced technician is appointed to train the newcomers, keeping him/her from his/her job. If the training period stretches for long it could affect your team stats.
This training period can be drastically reduced with a knowledge base. The new joiners can get a general introduction from an experienced technician, and then they can learn on the job by referring to the knowledge base documentation.
9. Lowers Support Cost
We have already discussed the benefits of having a knowledge base. Just to give an overview, it reduces the time a technician spends on a ticket, gives the opportunity of self-service to requesters, and prevents flooding of the service desk. Now the most important benefit, a knowledge base is available 24×7 for people to refer.
How do all these benefits translate into cost-saving?
The answer is simple. You don't have to maintain an army of technicians to fight each and every issue that people have.
Conclusion
There's no doubt that a knowledge base is a powerful tool capable of creating a happier environment both for technicians and requesters. If you are thinking of implementing a knowledge base or want to migrate to a more powerful solution, you can try Motadata ITSM for 30 days which includes a knowledge base with built-in integration with ITIL processes.