Being a Managed Service Provider, it is an inevitable part of their job to assist customers to evolve and grow both in terms of IT services and operations. Growth of MSPs end customers is dependent on the support provided to them with their IT infrastructure management and monitoring. So, as long as the MSPs have the right solution on which they can rely on, they don't need to depend elsewhere. Reliable IT services bring them closer to their customers.
In this blog we'll talk about the bare minimum things required by an MSP for a smoother end-customer experience with the help of end-to-end IT infrastructure management solution including:
Service Desk – IT Service Management (ITSM Platform) &
NMS – Network Monitoring System
1. Measurable Value – out of Motadata's Integrated Service Desk for MSPs
For any organisation's profitability, they need to keep a check on their inventory. In case of Managed Service Providers it could prove to be a daunting task since the most important inventory resource for them is their technician's time.
Very often MSPs deal with two types of clients which is one of the challenges as well. One type prefers monthly flat rate billing which utilises technician's time. Now lesser the technicians occupied with the task, the more profitable the MSP becomes because one technician can handle multiple customers.
The other type of customers go for, break-fix engagement which is chargeable on an hourly basis. Now imagine, without a proper Service-desk in place, how difficult will it be to manage inventory for an MSP.
A robust service desk solution can actually track X amount of technician efforts yielding Y amount of profit. Measurable X amount of MSP's technician efforts can be captured in the following ways:
Avg. time spent for every ticket
Use Case: The lesser the better for MSP
Avg. time spent per ticket for every technician
Use Case: Let MSPs identify profitable technicians
Avg. Time spent on a client/device for a particular duration
Use Case: Identify profitable clients/devices
Availability of any technician
Use Case: Available/wasted inventory tracking
Measure COGS with metrics out of service desk
Use Case: Revenue minus COGS – Profit from each client
Now the obvious question arises, how to capture these metrics in a way that helps you calculate the cash flow?
"What gets measured gets managed." – Peter Drucker
Using a ticketing management system like Motadata ITSM, lets MSPs accurately keep a track on tickets & analyze the data with administrative reports. The data from the reports can be used for decision-making process like technicians hiring. It can also give insights on slow times for any short-term assignment or can help an MSP decide a premium charge during high demand.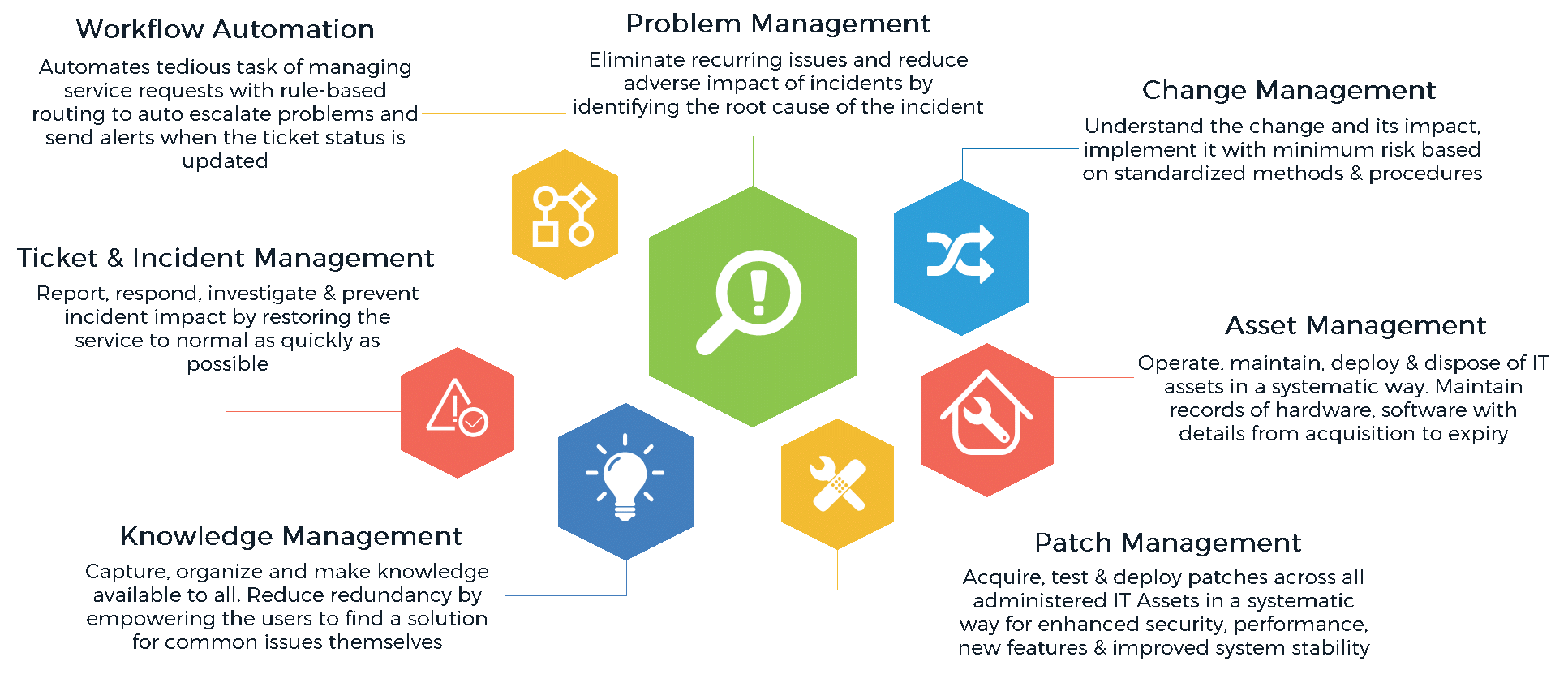 For MSPs the greatest asset is their people/technicians. An effective service desk helps MSPs better understand the supply and demand & helps them track their inventory (technician's efforts & time).
2. Proactive Management of MSP's Customers' Networks with Motadata NMS
To avoid costly downtime & the embarrassment from such situations, MSPs require daily prevention & ongoing maintenance for their customers; Motadata helps you do just that!
Managed Service Providers require a network monitoring and management platform which can help them prevent service disruptions and make sure that the customer experience is not compromised.
As a matter of fact, the market is booming with options starting right from open source to commercial suites. But what should an MSP choose? The right tool for the right deliverables.
The following factors should be there in your checklist while choosing the right network monitoring solution as an MSP:
Monitor all layers of IT infrastructure from a Single dashboard
From OS to network devices, every end-customer's IT infrastructure/network is different & diverse. Flexible software that can monitor a wide variety of network devices on multiple platforms will help you best meet their needs.
Meet SLA Requirements
SLA is everything for MSPs since there is a contract that binds them to its customers. They don't want to miss out on agreed metrics for quality or performance levels.
Remotely monitor your customer's infrastructure
Cut down on manual checks & travelling to remote customers' sites to check the infrastructure health and performance. Rather stay profitable and access customer's network monitoring metrics remotely as and when you need it.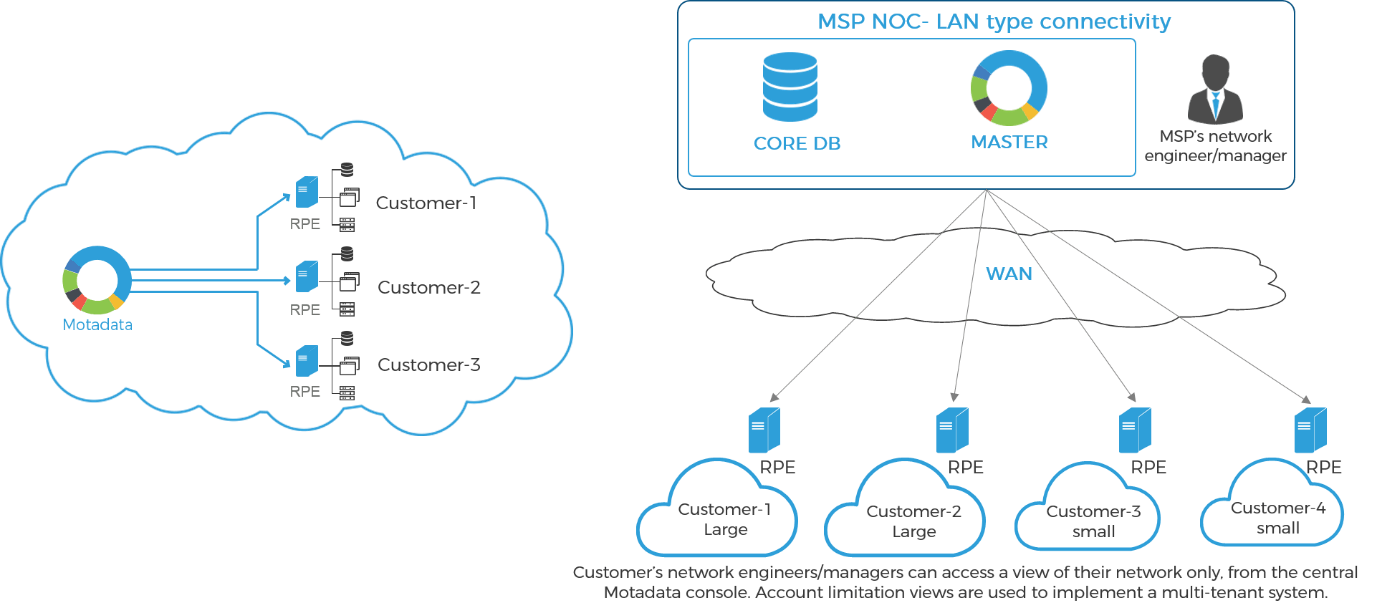 Motadata Product Suite for MSP represents powerful capabilities like Network Monitoring System & IT Service Management; Power-packed to manage your IT business efficiently with a reliable system that minimizes the unnecessary overheads.
The end-to-end product suite built for MSPs of all sizes, has been designed in such a way that it'd ease the life of IT professionals.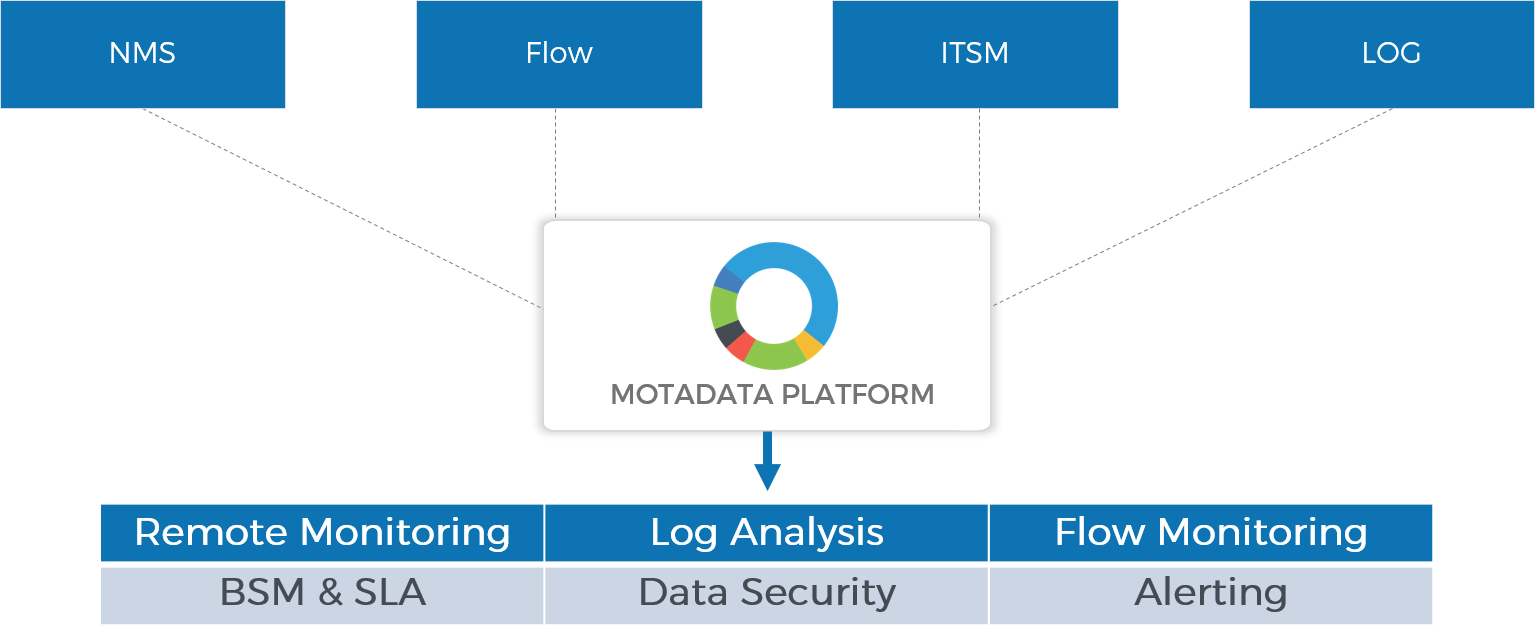 Motadata is committed to enable the MSPs to drive the highest possible levels of effectiveness to impact their bottom line. Irrespective of the geography or the size of the MSP; the platform can easily scale from procurement to disposal.