It is common for end-users of service providers or vendors to request services to assist them with the services or the products. It is a classic use case wherein service request management enters the picture. 
The Information Technology Infrastructure Library (ITIL) framework includes service request management as a critical component. In view of the same, we shall walk you through the blog to understand the fundamentals of service request management. 
What is a Service Request?
A service request is a formal request made by a user to the service provider to supply them with support, relevant information, or action that would help them in routine business processes. 
A user can raise various types of service requests. These might be straightforward requests for assistance, information, or approvals.  
Examples include submitting service requests to reset passwords, access hardware or software licenses, reimburse expenses, or upgrade to the latest version of the software. 
Types of Service Requests
1. IT Support Requests: Generally, these types of requests are related to technical issues, such as account access requests, software issues, and hardware malfunctions. Users take help from IT support teams to resolve such technical concerns.
2. Access Requests: Often employees need to access specific databases, facilities, or systems, and so they need to make access requests to ensure security in areas where needed.
3. Change Requests: Users initiate change requests when existing processes or services need modifications. Some examples of change requests include process improvements, configuration changes, or software updates.
4. Information Request: Users who need additional information on any policy or procedure may create an information request. After that, IT teams may give instructions or share resources to provide them needed information.
What Is Service Request Management?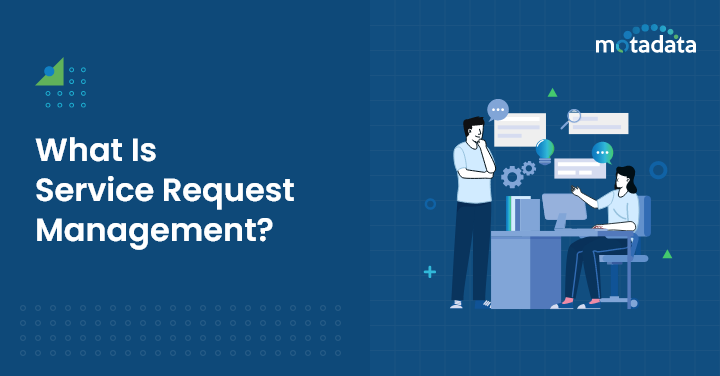 Service request management refers to the procedures and tools that offer a self-service platform for all departments within an organization to receive, track, respond to, and close several service requests from customers and employees.  
As a result, service request management enhances service desk productivity, improves customer satisfaction (CSAT) and streamlines operational processes. 
Although service request management is associated with other service management processes like incident management, problem management, and change management, but differs from them. ITIL states that the service request fulfillment process manages service requests in addition to the service desk. 
What Are the Key Components of the Service Request Management?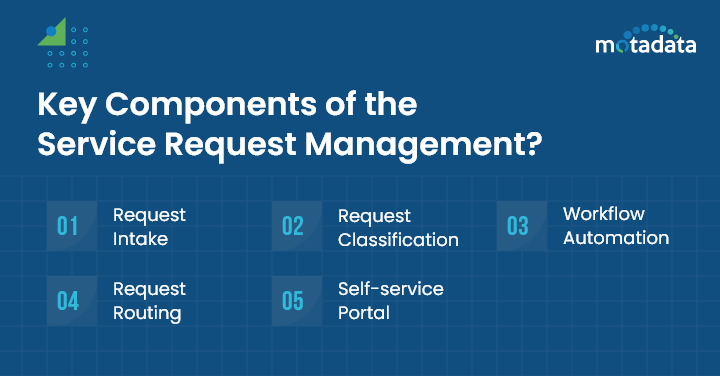 1. Request Intake – The first step includes capturing service requests from multiple channels like phone calls, emails, self-service portals, or web forms. 
2. Request Classification – Categorize service requests depending on their type, priority, and nature to define relevant request handling procedures.  
3. Workflow Automation – Streamline and handle the request flow by utilizing workflow automation to adhere to SLAs and predefined processes.  
4. Request Routing – Assigning requests to the appropriate team or employee that can address specific request types.  
5. Self-service Portal – Give an accessible self-service portal for users to submit and track their own requests, thus reducing the agent workload.  
What is Request Fulfilment?
Request fulfilment is the process of managing all service requests throughout their lifecycles. It is about empowering users by giving them access to the services they require in their day-to-day operations.  
It should assist users in identifying available services, comprehending how to request them, and setting the right expectations about how long requests will take to be fulfilled. 
The Service Request Management Process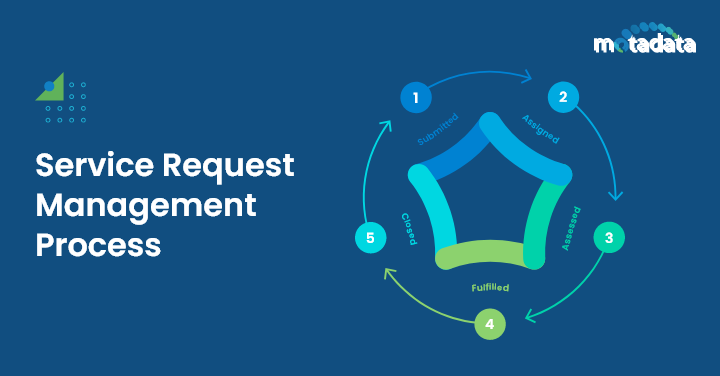 A five-step method is used for the service request management process; let's have a look at them:
1. Service Request Submitted: A user raises a service request on the service portal.
2. Service Request Assigned: The service request is allocated to an appropriate service desk technician.
3. Service Request Assessed: The service desk technician assesses the request using the regular qualification and approval processes. If necessary, they may seek business or financial approval.
4. Service Request Fulfilled: The service desk technician handles the service request or forwards it to an appropriate team that can fulfil it.
5. Service Request Closed: The technician closes the ticket after the service request is resolved. The technician then follows up with the user to verify that they are satisfied with the outcome.
Organizations that receive a high volume of support requests should implement an IT Service Desk software to separate service request management from the incident, problem, and change management processes. 
Service Request Management vs Incident Management: What's the Difference?
Service request management and incident management are two different ideas that are sometimes confused. 
While users raise a service request to get access to anything they might require for their routine operations, an incident is an unexpected or unanticipated error or disruption in IT service delivery or a significant decline in IT service quality—for example, a server outage, a laptop that will not start, or a malfunctioning printer. 
Service request management comprises the procedures and technologies necessary to manage service requests from internal and external users. On the other hand, incident management is focused on restoring services after an IT disruption with as little downtime as possible. Incident management guarantees a slight loss of organizational efficiency and productivity while maintaining the quality-of-service delivery. 
Why is Service Request Management Important?
Some of the primary reasons why service request management is crucial to any business include: 
Improving service delivery and enhancing customer satisfaction

 

Assuring minimal downtime and business disruptions

 

Mitigating risks of faulty or inadequate services and processes

 

Ensuring business productivity and control costs

 

Increasing efficiency of IT teams

 

Allocating resources efficiently to reduce delays

 

Getting visibility into request status, aiding both service providers and requesters

 

Identifying areas for existing processes and service improvement

 
Best Practices for Service Request Management
Service request management enables users to ask for assistance with easy self-service access; offers solutions using knowledge base suggestions and speeds up service request fulfilment to provide the best possible service while avoiding downtime. 
Here are some of the best practices to efficiently evaluate service request management priorities and streamline your service request management processes. 
1. Recognize the Significance of Each Request: Users requesting services should specify the significance of each request by stating why they are raising it. Knowing this context from the user's point of view is crucial for the service desk team to determine priority requirements. 
2. Differentiate Requests from Incidents: As previously stated, service requests are for day-to-day support requirements versus incidents, which are for significant and unanticipated system disruptions. A system in place should easily differentiate between these two, or service request patterns should be identified to suggest more critical issues. 
3. Promote Self-Service in Users: Some low-priority issues can be avoided by enabling users to leverage self-service resources like a knowledge base containing solution articles, FAQs, tutorials, etc., that can help them resolve queries on their own. As a result, the IT service desk teams will see a decline in ticket volume. 
4. Leverage Automation to Handle Repetitive Tasks: Automate automation to handle a wide range of requests automatically. A request for a password reset, for example, might be addressed by an automated system that sends an email with a link to the user to reset the password. Alternatively, a payment authorization request might be performed automatically by a system that gathers and validates the essential user data. 
5. Prepare a Service Catalog – With a service catalog, one can get visibility into the various services a user can benefit from. IT teams can prepare tailored service request templates with resource details to gather essential information.  
6. Adopt the Knowledge Management Process – Knowledge base can assist you store solutions to repetitive service requests. A centralized knowledge base offers easy access to updated answers, find answers to solutions independently, reduce agent workload, lessen cost, and enhance user's self-sufficiency.  
Benefits of Implementing a Request Management Software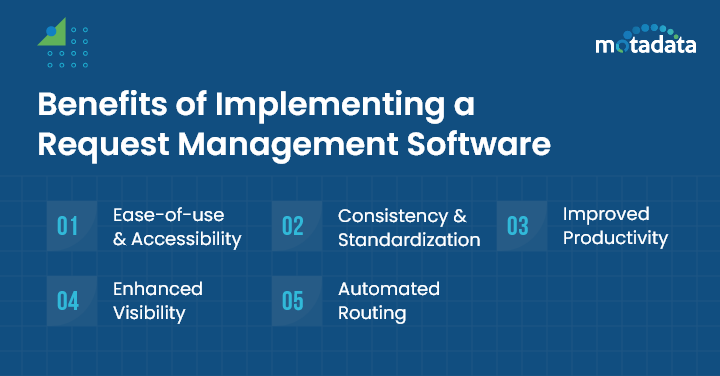 As the number of requests in an organization increases, it becomes more critical to implement effective and consistent processes to handle them. A service request management software like Motadata ServiceOps can help organizations by providing:
1. Ease-of-use and Accessibility: ServiceOps offers an intuitive UI and easy access through which any user can raise a service request without needing any assistance or prior training.
2. Consistency and Standardization: ServiceOps can help develop standardized processes for raising and resolving requests that decrease the possibility of information gaps. The IT service desk technicians can concentrate on operations rather than looking for missing information needed to address the issue.
3. Productivity: Leverage in-built automation or configure rules to automate stages in the service management process through ServiceOps to eradicate the risk of human errors and keep the operations streamlined.
4. Visibility: ServiceOps enables IT service desk teams to exercise greater control over request statuses and recognize possible bottlenecks faster with uniform processes and centralized information.
5. Automation: Service requests often get forwarded to multiple teams, resulting in delayed or lost requests. ServiceOps provides an auto-ticket allocation feature that automatically routes requests to the relevant team to address requests on time and prevent any tickets from getting ignored.
Service Request Management with Motadata ServiceOps
ITIL service request management has several advantages, including more efficient IT services, higher CSAT scores, and lower operational expenses. If you want to save time and cost, you need to implement service request management software in your organization. 
Motadata ServiceOps is an IT service desk software with all the tools required to quickly generate, manage, and resolve your service requests tickets to keep your customers/users satisfied and manage your organization more effectively. You can request a demo today to see how Motadata ServiceOps can help your organization's digital transformation efforts!