Service desk automation eases your life in tasks like ticket handling and managing automatically. In today's digital world, automation has become a core part of the service desk process in every organization. It speeds up the process to such an extent that the task, which took days, now gets completed within a few hours. Also, logging, reporting, and management were difficult. But, with the onset of service desk automation, you can overcome all these challenges smoothly. And to start with a powerful service desk is required.
What is Service Desk Automation?
Service desk automation is a tool designed to reduce the employees' efforts in doing similar and painstaking tasks almost daily. Tasks like ticket assignments, SLAs, notifications, task schedules, and predefined responses can be automated. Doing so not only reduces the Support team's workload but also increases their productivity in assisting more clients. With Motadata ServiceOps, the employees can concentrate on more critical issues rather than spending time on routine and repetitive tasks.
Benefits of Service Desk Automation
Service desk automation provides a wide range of benefits to the organization and its employees. It includes the following perks: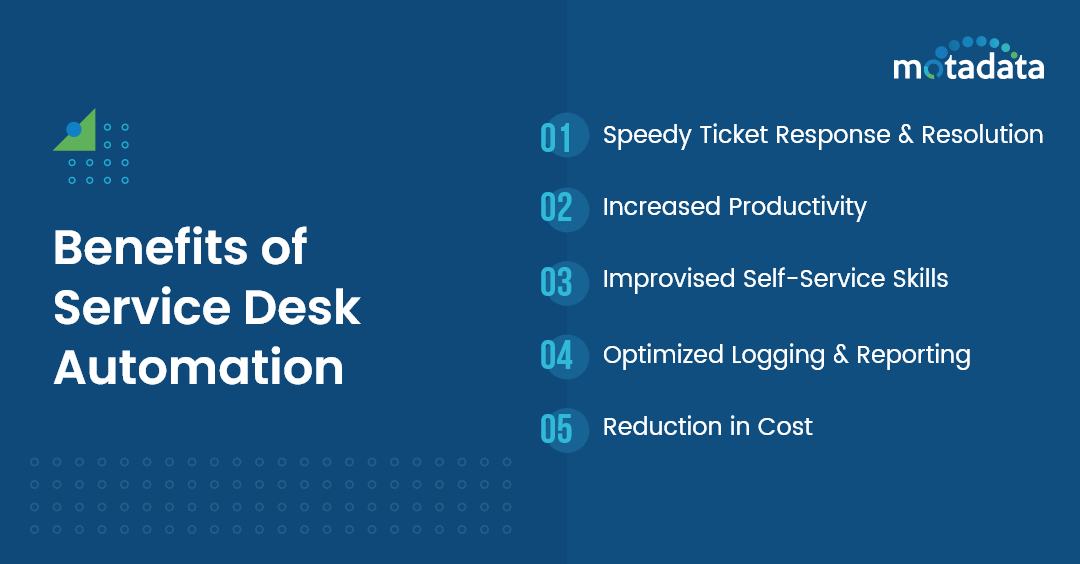 Speedy Ticket Response and Resolution: Automation of ticket assignment, prioritization, impact, and closure makes sure that the ticket is allocated to the right person and team instantly. This leads to faster response and resolution, improving the client's contentment.
Increased Productivity: Automation tools like Workflow engines, chatbots, schedulers, and integrations enable customers to resolve their basic queries in no time. This enables the Support team to focus on more complex concerns, increasing productivity.
Improvised Self-Service Skills: With the Service desk automation tool, the clients can easily register themselves, reset their passwords, and unblock their accounts. Moreover, the freely available KB articles also help to solve certain queries. This lessens the dependency on the Support team and increases the self-service skills of the clients.
Optimized Logging and Reporting: Automation enables you to generate reports periodically per your requirement. Motadata ServiceOps supports once, daily, weekly, and monthly reports creation. This helps in understanding how responsive are the team members towards resolving the customer's requests. Also, their performance can be tracked for continuous improvement.
Reduction in Cost: With the usage of service desk automation tools like Workflows, chatbots, integrations with third parties, smart suggestions, and many more, not only is productivity enhanced, but also the cost incurred for repetitive tasks is declined.
And this is not the end. It is like a win-win situation for both the organization and the customers.
Key Components of Service Desk Automation
There are many IT service desk softwares available in the market that consists of various automated features. But the key components that an ideal automated service desk must have are:
Ticket Management
Automated Feedback Replies
Workflow Engines
Predefined Responses
Self-Service Capabilities
Virtual Agents and Chatbots
Third-party Integration Capabilities
Logging and Reporting
Knowledge Management
Dashboard
How to choose the best Service Desk Automation software?
Apart from the key components, other factors which need to be taken care of while selecting the best service desk automation are: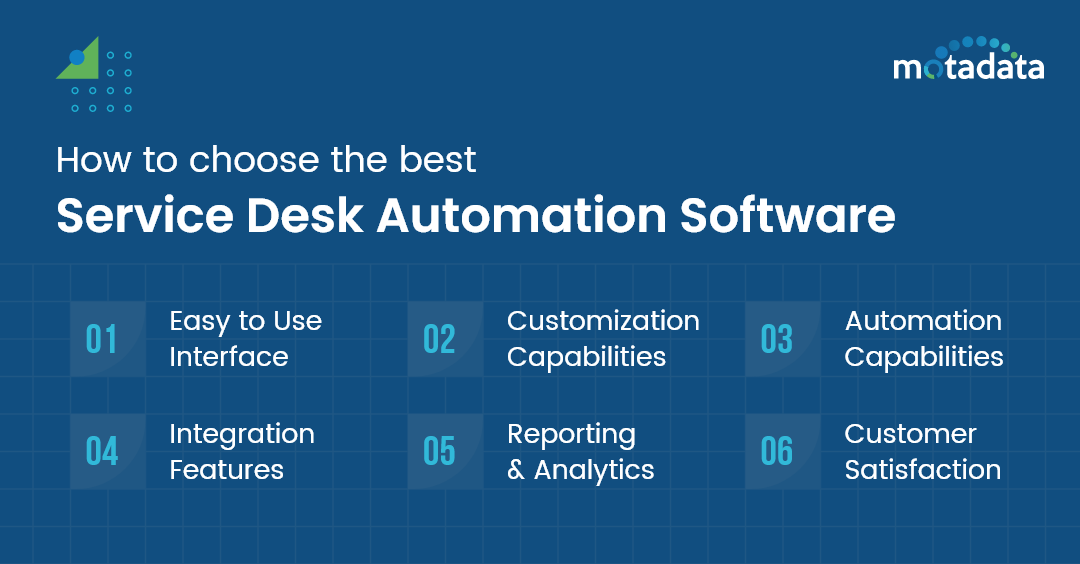 Easy to Use Interface: The look and feel of the software should be such that the team members can easily adapt it. A good and self-explanatory interface lessens the learning process and increases efficiency.
Customization Capabilities: Verify whether the software allows you to customize the interface, workflows, and other configurations per your business requirements. It should be flexible enough to fulfill all your needs, from branding to settings.
Automation Capabilities: The automation capability is a must-have feature in service desk automation software. AI automation is vital in the service desk processes in today's fast digital world. Automation can resolve most mundane and routine tasks automatically, enabling the team to focus on more burning issues.
Integration Features: The software should be able to integrate with any third-party tool like monitoring systems, messaging apps, email apps, etc. It enables organizations to send details to and fro efficiently without purchasing another tool.
Reporting and Analytics: Proper reporting and analytics aspects are required to monitor and check the performance of the staff. Hence, look for software that provides in-depth reports on SLA compliance, ticket resolutions, customer experience, and other metric data. It helps to understand the trends followed in the organization and areas of improvement.
Customer Satisfaction: After all, the customer is the king, and satisfaction is the prime goal for all organizations. Hence, look for sellers who provide good software and best after-sales support. Check if they provide training sessions and online resources that are easily available and consumable.
Challenges in Service Desk Automation
Every coin has two sides; similarly, every feature has pros and cons. Some of the main challenges in service desk automation are: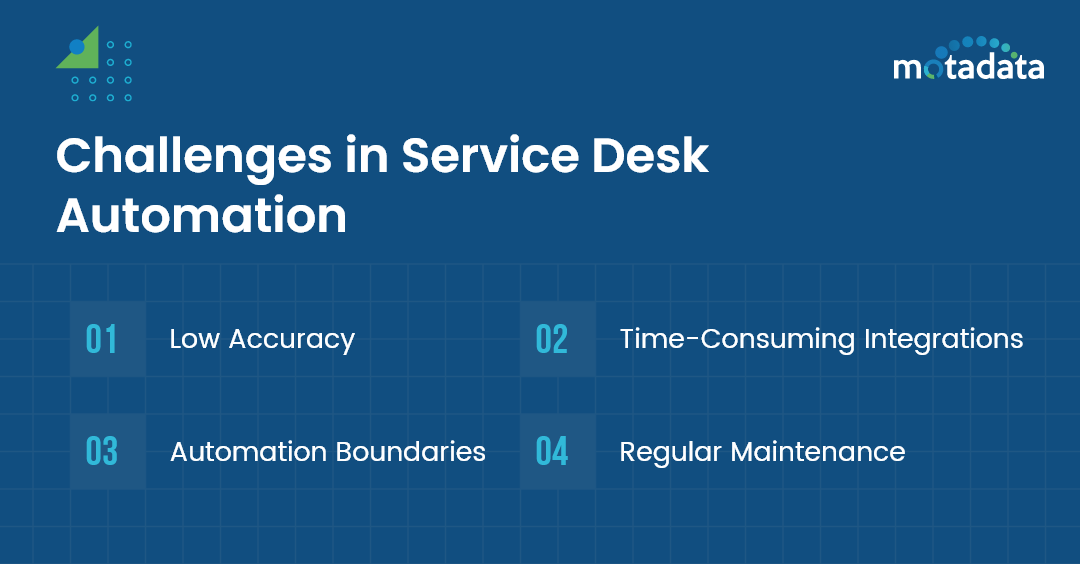 Accuracy: The result or reports provided towards the end of the day may not be so accurate. It may fail to detect the real issues and consider some as problems that are actually not. This may lead to inefficiency and wrong interpretations.
Time-Consuming Integrations: The configurations you perform to integrate the service desk with other third-party tools can be complex and time-consuming. Hence, it may require additional professional support to do the setup.
Automation Boundaries: Every software has limitations where you cannot automate all the features. You may have to perform some tasks manually, setting a boundary for automation.
Regular Maintenance: You may need to update the service desk automation software regularly for the uninterrupted functioning of its automatic components. Doing so may incur extra costs, time, and employee efforts.
Who benefits from an automated service desk?
An automated service desk goes beyond being just an organizational tool. It is a one-person army approach that efficiently handles numerous service desk tasks smoothly without any human intervention. The stakeholders who benefit from an automated service desk are:
IT Support Team: With trained chatbots, automatic request assignment, prioritization, and other automation features, you can find instant solutions. This helps the IT Support team focus on more critical requirements and resolve them quickly. Thus, the support team can attend to more clients.
Customers: With service desk automation, the tickets get assigned automatically to the relevant teams or individuals who promptly respond and resolve the issues. Thus, it aids in decreased resolution time and increased customer satisfaction.
General Employees: Messaging apps and knowledge base provide instant solutions to the general staff whenever they face technical issues. Thus, using the self-service portals, they can get their answers instantly without affecting their productivity.
How can service desk automation help your business?
Service desk automation acts as a boon for your business. It helps your IT support team, and customers get instant solutions, aiding your business performance. The following are some ways using which service desk automation can help your business:
Service Request Management: With the auto-assignment of tickets, the customers need not worry about the tickets and can get a quick response from the relevant personnel. You can meet the SLAs easily. The chatbots and available knowledgebase can serve most routine requests.
Quick Problem Resolution: Automated ticket routing via workflows and auto-assignment mechanism ensures that the tickets are assigned to the appropriate members, resulting in speedy resolution and enhanced customer pleasure.
Improved Efficiency and Productivity: Automation enhances the service desk processes so that mundane tasks get completed faster, and the team can concentrate on more risky concerns. This results in improved efficiency and productivity of the support team, creating goodwill in front of the customers.
Asset Management: Organizations possess a large number of assets, and maintaining them can become cumbersome. Hence, service desk automation helps businesses discover assets automatically using a network scan. Also, you can assign them to employees automatically and perform other operations using workflow engines. This minimizes the time and effort spent on doing all these tasks manually.
Software and Patch Updates: You can set a schedule based on which the software and patches can be applied automatically. This reduces the burden of manually checking and updating the software every time a new version is released.
Best Practices for Successful Implementation
Proper planning and devotion are required to implement the best practices for successful service desk automation. Some of the significant best practices that you should follow are:
Offer Value to Customers: Customers are the core of all businesses. Every business has the goal of having more and more happy clients. And to meet this goal, you need to hear the customer's queries and provide a quick response. Also, treat them in a way that they feel important, thereby establishing a sense of credibility.
Customer Interaction: The interaction with the customers should not be only to the extent of solving their issues but also to understand them in-depth and, if required, provide extended assistance. You can take timely client feedback, leading to improved customer experience. This helps in creating loyal customers.
Promote Self-Service Portals: Self-service portals enable customers to solve their common issues independently. Often clients look for a portal where they can find answers to their queries instead of approaching the support team. You can solve issues like resetting passwords and unblocking accounts from self-service portals.
Knowledgebase Management: Knowledgebase consisting of how-to articles, FAQs, and troubleshooting guides should be maintained. These can be linked with the self-service portals and provide assistance to the users whenever they are in need.
Managing a Configuration Repository: Best practice involves maintaining a database containing details about the organization's assets and IT configurations. You can implement an automatic asset discovery policy to add the assets to the service desk silently.
Examine the Ticket Resolution Trend: You can view the reports and analytics on the dashboard to understand the ticket resolution trend of the support team. This helps to take proactive measures in case any SLAs are about to get missed. Analyze the reports, monitor the functioning of ticket management, and implement any corrective measures before the issues turn into escalations.
Service Desk Automation Trends and Future Outlook
There is no looking back with the increasing benefits of service desk automation. Efforts to enhance automation in every aspect have now become an upward trend. The future outlook of service desk automation is optimistic, with the continuous progress made in AI, ML, and robotic technologies.
Motadata's Service Desk Automation Platform Features
Along with other service desk solutions, Motadata also provides one of the best service desk automation features, which include:
Intelligent Workflow Automation: You can create multi-level workflows using the builder without any code. Implementing workflows helps you to eliminate the excess time involved in performing repetitive tasks manually or conversations with end-users via a Virtual Agent or Messaging App.
Auto-assignment of tickets: Tickets can be assigned automatically using Round Robbin or Smart Balance algorithms. Also, using workflows, you can assign the tickets to the appropriate teams or individuals. Thus, technicians' workloads can be managed easily without affecting the SLAs.
Alerts and Notifications: You can send alerts and notifications to the end-users whenever any event occurs without human intervention.
Integrations: You can integrate ServiceOps with multiple third-party applications, like Teams, Telegram, Facebook Messenger, and WhatsApp, to create and update requests without logging into the portal. Thus, ServiceOps's bot framework can fit any use case or requirement.
Smart Suggestions: ServiceOps AI tool can provide field and resolution recommendations for new requests. These help to insert canned responses and knowledgebase articles in the request. This helps in augmenting the end-user experience.
Capability to Create Schedules: Schedulers reduce your work and time involved in creating monotonous tasks and incidents. With ServiceOps Incident and Task Schedule features, the IT team can focus on other priority tasks rather than manually creating them. Also, you can collect user surveys to understand their experience, making the software even better.
Conclusion
After going through the above topics, you must be clear which service desk automation tool to opt for. And I hope Motadata ServiceOps is the right choice for you!
Frequently Asked Questions
How can service desk automation benefit my organization?
Service desk automation can benefit your organization in the following ways:
Speedy ticket response and resolution
Increased productivity
Improvised self-service skills
Optimized logging and reporting
Cost reduction
How do I choose the right service desk tool?
To choose the right service desk automation tool, you can demo the tool or use its trial version. You can also take a hands-on approach and look for the features your business requires. For example, the tool should have the following features:
User-friendly Interface
Allows customization
Support Automation
Integration Capabilities
Reporting and Analytics
And the list is exhaustive, depending on your requirements.
What challenges should I be aware of when implementing service desk?
When implementing service desk automation, you should be aware of the following challenges:
Cost
Accuracy
Automation Boundaries
Time-consuming Integrations
Regular Maintenance
What are the best practices for successful service desk automation?
The best practices to follow for successful service desk automation include:
Offer value to customers
Customer interaction
Promote self-service portals
Knowledgebase Management
CMDB
What are the emerging trends in service desk?
The emerging trends in service desk automation include:
Automation in areas where tasks are still carried out manually
Advanced infographics in reports
Reducing the support calls
Enhancing customer engagement