With evolving technologies & innovations in every business, the thin line between the business and IT is blurred, perhaps even non-existent. IT Service Management is no longer just a "nice to have," or something that only suffices basic ticketing needs. IT Service Management tools are now the means by which IT delivers much needed business capability. Such tools are the enabler that offers real business value through the use of technology.
The day to day challenges faced by organizations have compelled IT Teams to come up with new ways that can help improve the level of services provided by them to their end users within the allotted budget. To end the tug of war for delivering quality & timely services by IT companies ITSM or IT Service Management tools come into play.
Motadata IT Service Management tool is designed keeping in focus the satisfaction of the end- users. The customers can either be the employee within the company or an end-user who is affected due to the IT issues within the organizations. For this reason, IT Service Management tools are designed to manage IT Challenges of an organization from very start to the end.
Here's an infographic which explains the importance of ITSM tool for any organization:
Importance of IT Service Management (ITSM) Tool in Business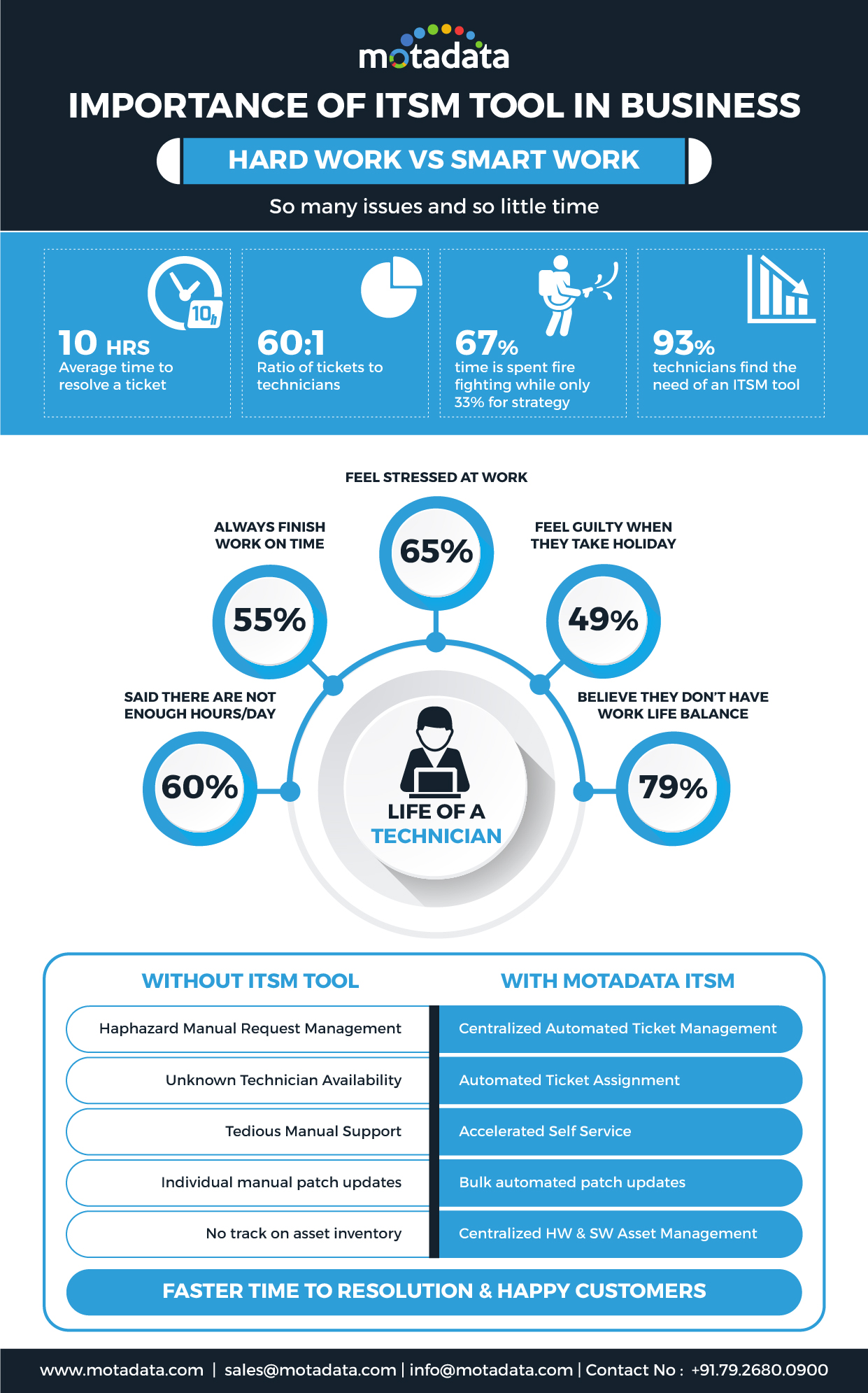 The main focus of Motadata IT Service Management tool is to provide an effective and proven ITIL framework to align and structure activities related to IT services; along with the interaction of end-users with IT technician as it is based on the priorities of the customers.
The ITIL Compliant Motadata ITSM platform organizes information, automates support workflow, eliminates manual / back-end complexities and encourages self-service for maximum productivity and superior user experience. The platform offers a modern interface, built-in templates and guides, instant universal search and meaningful insights that help your IT teams to work effectively and streamline IT service delivery.
The Platform drastically reduces the number of incoming tickets, helps in creating a centralized knowledge base, eases the complexity of managing multiple assets, enables technicians to deploy patches remotely, complies to audit requirements and improves performance of IT Service Desk.