Patch compliance indicates the number of compliant devices in your network. This means the number of computers that have been patched or remediated against security threats effectively.
The distribution and deployment of patches accomplish nothing if your devices are not compliant. So to establish a good patch management strategy, it is important to pay attention to the effectiveness and reach of your patch deployment activities.
Problems like lack of endpoint visibility to the expiration of support for software running on servers and devices can impede the patching efforts of any organization.
While several elements can impact the success of patch deployment, there are steps that your organization can follow to ensure patch compliance across all your endpoints.
But before we jump into that, let's understand why patch compliance is so important.
Why is Patch Management Compliance Important?
By addressing vulnerabilities in your IT infrastructure, the patch management process can significantly improve your organization's security. Following are five reasons why compliance with patch management is so important: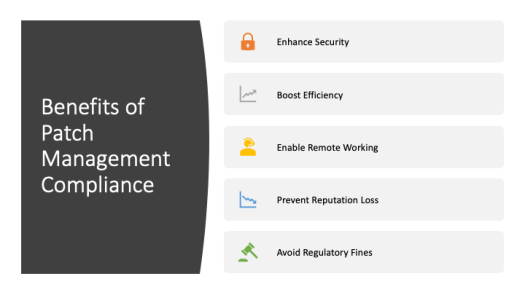 Enhance Security
Because cyber threats have grown prevalent, regulatory authorities are requiring organizations to deploy the latest available patches as security against these threats. Missing patches in operating systems and other software are the most prevalent source of network security breaches. The failure to comply can jeopardize sensitive consumer data like credit card numbers, health records, etc., and other important organizational information.
Boost Efficiency
A common cause of inefficiency and downtime in any organization is the crashing of computers due to faulty software. Installing a timely patch decreases the likelihood of crashes and downtime, enabling the workforce to perform their activities, uninterrupted.
Also, software vendors are continuously developing new features and delivering new functionality in the form of patches. By deploying such patches, your organization can take advantage of the most recent software advances to enable your staff to operate more efficiently and effectively.
Enable Remote Working
The rise of remote working induced by the COVID-19 pandemic has created a whole new set of opportunities for cybercriminals. Employees are now using their devices from their home network to get their work done, necessitating the protection of their devices in addition to the business devices.
Thus, patches need to be installed on all devices, independent of their physical location, to ensure 100% patch management compliance. Many of the problems that come with utilizing personal devices are mitigated by compliance.
Prevent Reputation Loss
Customers may lose faith in an organization if they learn that it does not comply with regulatory standards. Not managing compliance risks effectively can not only cause loss of trust that can jeopardize customer loyalty and result in a revenue drop due to the inability to deliver products and services.
Avoid Regulatory Fines
Non-compliance with US and international standards such as HIPAA and GDPR can result in the organization having to pay regulatory fines which can end up costing thousands or even millions of dollars.
How to Ensure Patch Compliance?
By now you have understood why patch compliance is so important and why enterprises for every industry are going to require the implementation of a good patch compliance strategy. So now we discuss five ways to ensure patch compliance in your organization.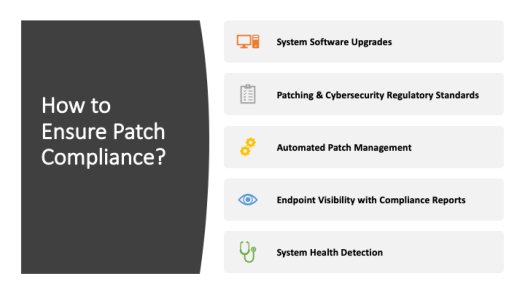 System Software Upgrades
There are many reasons why organizations choose not to upgrade systems software – from not having enough resources, to requiring considerable planning and research in advance, to being concerned about the impact of software upgrades on business operations. But compared to the damage of data infringement or ransomware attacks, these reasons appear as a minor inconvenience.
The software that is not updated nearly as frequently becomes susceptible to many vulnerabilities and is targeted for cyber-attacks.
Not only that, but continued usage of unsupported software or third-party apps not only jeopardizes the overall patch compliance, it can also hinder compliance with regulations like GDPR, HIPAA, and PCI.
To ensure compliance with new regulatory standards, all software, and third-party applications must be updated regularly.
Comply with Patching & Cybersecurity Regulatory Standards
If your organization's network devices aren't getting essential security upgrades, it can jeopardize compliance with crucial cybersecurity standards and regulations.
To safeguard data and privacy, several government institutions and agencies have developed sets of strict cybersecurity standards.
Patch compliance is required as part of security criteria by several important regulatory authorities like:
When it comes to keeping your network up to speed on security upgrades, outdated system software isn't the only problem. Deploying patches is simply the first step; confirming that they are successfully received by all endpoints is also important.
System Health Detection
Patches are often provided with different severity levels ranging from Low to Critical. Based on the severity of the missing patches, the health status of systems in a network should be classified into three categories:
Healthy Systems: These have updated patches installed.
Vulnerable Systems: These have missing patches of low or moderate severity levels.
Highly Vulnerable Systems: These have missing patches of critical severity levels.
The above categories can be used to create a patch baseline policy that could be used to create standards that determine the overall health of the IT infrastructure.
Automated Patch Management
An automatic patch management system can help you maintain complete patch compliance at all times.
By leveraging the power of automation,  Motadata ServiceOps Patch Manager guarantees that all your endpoints are always compliant with the latest version of the software and that any missing updates are automatically deployed.
Patch automation includes scanning systems for missing patches, automating deployment activities, successfully implementing the right patches to the systems, and lastly collecting data to determine whether or not the entire organization is patch compliant. As a result, automated patch management simplifies the practice of maintaining patch compliance.
Endpoint Visibility with Compliance Reports
A lack of endpoint visibility and inventory can hamper the process of making all devices compliant. A key step towards obtaining complete visibility over endpoints is maintaining a proper inventory of all the devices and third-party applications on your network.
Once the inventory is in place, a patch management tool can help you make informed decisions by automatically generating various patch reports that illustrate patch compliance across all endpoints by monitoring the patch status of each system.
We offer Patch compliance reports like missing patches and vulnerable systems reports to help you keep a check on patch compliance.
Conclusion
The main aim of any organization today is to guarantee that all managed endpoints achieve complete patch compliance due to the increasing amount of vulnerabilities.
Motadata ServiceOps Patch Manager can help your organization meet regulatory compliance requirements by detecting and remediating non-compliant endpoints with an automated patch management system, assisting regular software upgrades, establishing system health detection policy, recognizing patching regulatory standards, and providing visibility over all endpoints with robust reporting features.
To see how Motadata ServiceOps Patch Manager can help your business achieve 100% compliance, request a demo today!