Today, it's hard to think about delivering business services without the support of IT.
Since IT has become so rooted in the day to day operations of almost all kinds of business, the delivery model of IT functions resembles more of a service. This is why, majority of them have embraced ITSM as the standard way to deliver IT services.
People have accepted ITSM globally. Although the use of ITSM is meant to increase the efficiency of IT service delivery; a lot of enterprises are yet to realize all benefits associated with ITSM practices.
According to an HDI report, only 45.7% of the overall respondents consider customer satisfaction as a valid metric for their ITSM.
Customer satisfaction is one of the important end goals of ITSM; and a sizable chunk of people aren't measuring it, which supports my statement that there are enterprises that aren't fully benefiting from their ITSM solution.
In this blog, We will state the 14 benefits of ITSM if adopted properly.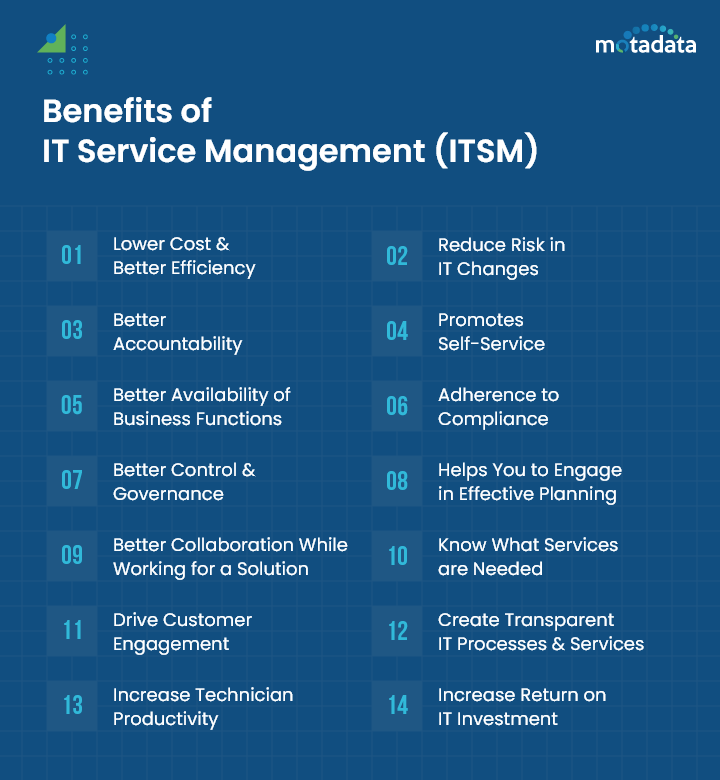 ITSM is generally implemented through a software solution.
1. Lower Cost and Better Efficiency:
Manual work leads to a lot of duplication and manual intervention. With an ITSM solution, you can create workflows, automate and optimize processes and set alerts; all of these results in a better experience while delivering IT service.
2. Reduce Risk in IT Changes
Changes in business are complex and entail a certain amount of risk; this holds true when they are poorly planned and communicated. The worst-case scenario could be service disruption.
With ITSM comes ITIL Change Management that defines a change model to implement changes in your IT infrastructure without putting your business at risk. The model has stages defined, roles, and processes to plan and communicate the impact of a change.
3. Better Accountability
ITSM brings in standardization, for front-facing service desk or for backend operations. Motadata ITSM logs the interaction between a technician and a ticket. Such activities are stored in an audit trail of a ticket that can be viewed by an admin.
4. Promotes Self-Service
An ITSM solution brings in a self-service portal, which has a knowledge base. A requester can search the knowledge base for a solution before creating a ticket; thus, reducing the inflow of tickets for common problems.
5. Better Availability of Business Functions
ITSM processes focus on restoring business-critical functions as soon as possible in the event of a disruption. Motadata Incident Management has a life cycle to manage incidents, where you can prioritize certain incidents based on criticality.
6. Adherence to Compliance
Managing digital assets also comes under ITSM. When it comes to managing digital assets, Software licenses play a critical role in compliance management.
Motadata ITAM (Part of ITSM) helps you in managing software licenses, track utilization, and set alerts for license expiration.
7. Better Control and Governance
An ITSM solution sets profile for each technician and based on the profile access rights are given.
Authorization for changes is handled through approvals. In Motadata ITSM, an admin can create different approval workflows; for example, he/she can create a workflow that creates an approval for all tickets belonging to a specific category.
8. Helps You to Engage in Effective Planning
An ITSM solution helps your technicians to be more organized with their planning. For example, Motadata Change Management has a dedicated stage for planning where a technician can record time-related data, impact, rollout plan and back-out plan.
9. Better Collaboration While Working for a Solution
Multiple technicians can work on a single ticket in an ITSM solution. Motadata ITSM has the collaboration feature to facilitate a smooth flow of information from one technician to another.
10. Know What Services are Needed
With a service catalog in place, you will know exactly what services are in demand. In Motadata ITSM, you can generate matrix reports to show counts of each service category for a particular timeframe.
Apart from services, the knowledge base will let you know what people are searching for, which will aid you in deciding whether to create new services.
11. Drive Customer Engagement
An ITSM solution provides a platform for customers to avail services, report incidents, interact with technicians, and search a knowledge base. Apart from these, a technician can send a feedback form along with the ticket-resolved email in Motadata ITSM.
12. Create Transparent IT Processes and Services
With a service catalog, people will know exactly what to expect from a service. The back-end processes behind each service will be clearly defined as well. Motadata ITSM supports dedicated workflows, SLAs, Approval workflows, and task schedules for a service.
13. Increase Technician Productivity
An ITSM solution gives technicians the necessary tools to be better at their job. Motadata ITSM is optimized to make people work faster. Technicians can relate one ticket with another to create context, add content from the knowledge base, reply to a requester from templates, etc. All of these, so technicians can resolve issues faster.
14. Increase Return on IT Investment
Proper adoption of ITSM results in better availability of business functions, which has a direct impact on the bottom line of the business. Apart from availability, our ITSM establishes a robust CMDB, with which an organization can manage and track their IT and non-IT assets.
Conclusion
If after reading this blog, you realized that you can do a lot more with your ITSM, then you might need to rethink your approach. Try Motadata ITSM for 30 days. Motadata ITSM is a robust tool that is simple and powerful and comes equipped with all ITIL processes out of the box.